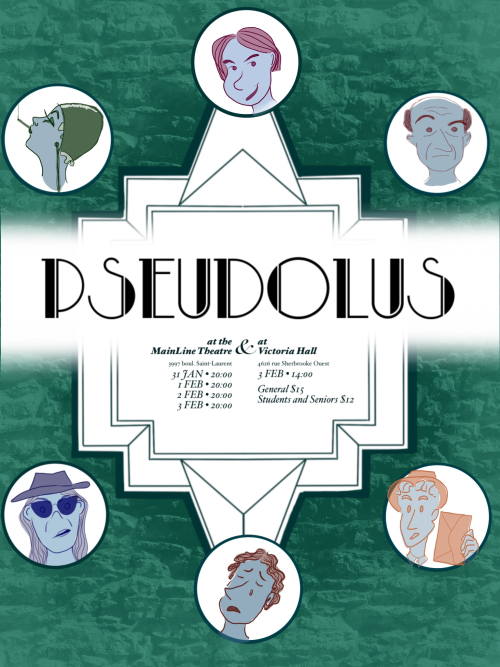 2018 Plautus' Pseudolus
A worthy but impecunious young man has met the girl of his dreams. There's just one hitch - she's a courtesan, and she's about to be sold to a rich soldier from abroad. Can a wily, witty, fast-taking servant find a way to bring this farce to a happy ending? The Roman writer Plautus's 2,000-year-old comedy gets a 1930s makeover in this adaptation of a classical romp. 
Directed by Celia Taylor
Translation by Celia Taylor and Manuela Galindo-Carvajal
Cast: 
Abigail Drach, Kateryna Fylypchuk, Roshane Jochum, Jen Gahrns, Marina Martin, Blair Huang, Emily Vaillancourt, Meghan O'Donnell, Barbara Regan, Matthew Hawkins, Kristy Mualim, Manuela Galindo-Carvajal, Sangitha Jeyaseelan, Sara Merker, Liéna Croquette, Daniel Whittle, Lyna Khellef, Jitika Shah, Ashley Bissonnette, Anthony Pavoni, Avery Warkentin
Performances:
Mainline Theatre, 3997 St-Laurent: 31st January-3 February, every night at 8pm, tickets $15/$12 students/seniors/QDF (please note that this venue is not accessible)
Victoria Hall, 4626 Sherbrooke St W, Westmount: 3 February, 2 pm, pay-what-you-can, accessible venue
2018 Annual Classics Play Talk
Anne Feltovich (Hamilton): "Masculinity and Power on the Roman Stage"
February 2nd, 2018, 3pm, PETH 116
CALL FOR PROPOSALS
The McGill Classics Play invites proposals from possible directors for its 2019 production. Applicants may be undergraduates or post-graduates, studying any discipline, from any university in Montréal, though McGill students will be given priority in the case of proposals deemed of equal merit. Proposed plays must be based on Ancient Greek or Roman texts, with English as the preferred production language. Each proposal should be 1-2 pages, in English or in French, submitted without any names on it, and should detail the following: the play or adapted text proposed; the general concept for the play's translation/adaptation (this can include visual and musical considerations); whether or not the proposed director(s) will do the translation themselves; possible production venues in Montreal; any further comments on design, concept, tie-in events, possible guest speakers or community organisations that we might exchange with, or the reasoning behind choosing this play. If you have additional team members confirmed for your production, please include their roles (not their names) as well. All proposals should be submitted in .pdf form with the title ClassicsPlayProposal to classicsplay [at] gmail.com by February 15th. Proposals will be blind-reviewed, and results will be announced by March 1st.
For further information, please email classicsplay [at] gmail.com or message us on Facebook.
Le McGill Classics Play invite des propositions de metteurs possibles pour sa production en 2019. Les candidats peuvent être des étudiants de premier cycle ou des post-diplômés, étudiant n'importe quelle discipline, de n'importe quelle université à Montréal, mais les étudiants de McGill auront priorité dans le cas de propositions jugées égales. Les pièces proposées doivent être basées sur des textes grecs anciens ou romains et l'anglais est la langue de production préférée. Chaque proposition doit contenir une ou deux pages, en anglais ou en français, sans aucunnom et doit préciser: la pièce de théâtre ou le texte adapté proposé ; le concept général de la traduction / adaptation de la pièce (cela peut inclure des considérations visuelles et musicales); que le ou les directeurs proposés effectuent eux-mêmes la traduction; les lieux de production possibles à Montréal; tout autre commentaire sur la conception, le concept, les rencontres, les conférenciers invités ou les organismes communautaires avec lesquels nous pourrions échanger ou le raisonnement qui sous-tend ce choix de cette pièce. Si vous avez des membres d'équipe supplémentaires confirmés pour votre production, veuillez inclure leurs rôles (pas leur nom) ainsi. Toutes les propositions doivent être soumises en format .pdf avec le titre ClassicsPlayProposal à classicsplay [at] gmail.com (subject: ClassicsPlayProposal) , avant le 15 fév. Les propositions seront examinées à l'aveugle et les résultats seront annoncés d'ici le 1er mars.
Pour plus d'informations s'il vous plaît contacter Lynn Kozak au classicsplay [at] gmail.com, ou messagez nous sur Facebook.
The McGill Classics Play is a non-profit venture committed to giving Montreal university students a unique educational experience, while fostering cultural exchanges with our Montreal community around ancient texts. We offer free shows and free performance and translation workshops open to the community, and we bring in guest speakers for public lectures on Classical drama and performance. Any support you can give in helping us continue this kind of programming is so appreciated. You can donate directly to the McGill Classics Play here, and you will automatically receive a tax receipt for your donation. Thank you for supporting the McGill Classics Play!
The McGill Classics Play is a member of the Quebec Drama Federation, and its community partner, Oimoi Productions, is a member of the Freestanding Room.