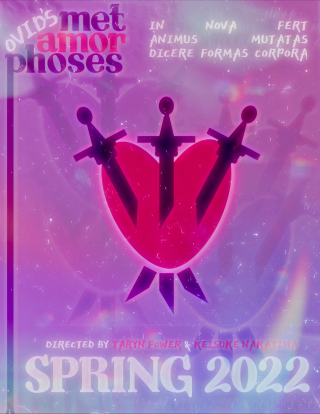 2022 Ovid's Metamorphoses
Directed by Taryn Power and Keisuke Nakajima
The McGill Classics Play will be back in person, NOTE THE NEW DATES!, 31 March, 1 April, 7-8 April, at Le Théâtre Sainte-Catherine, if all public health measures allow. Any questions can be directed to classicsplay [at] gmail.com (subject: Classics%20Play) . Tickets are now available here. Please note that if you bring cash, pay-what-you-can tickets are available on the door at all of our performances.
Classics Play Talk
We are pleased to announce this year's Classics Play speaker will be Prof. Jennifer Ingleheart (Durham), who will be speaking about queer approaches to Ovid's work, in conversation with our two directors, Taryn Power and Keisuke Nakajima. This event will be held virtually, on April 5th from 1-2:30 pm EST on zoom. All welcome!
Fundraising:
The McGill Classics Play, generously supported by the McGill Department of History and Classical Studies John MacNaughton bequest fund, is a non-profit venture committed to giving Montreal university students a unique educational experience, while fostering cultural exchanges with our Montreal community around ancient texts. We offer free shows and free workshops open to the community, and we bring in guest speakers for public lectures on Classical drama and performance. Any support you can give in helping us continue this kind of programming is so appreciated. You can donate directly to the McGill Classics Play here, and you will automatically receive a tax receipt for your donation. Thank you for supporting the McGill Classics Play!
In acknowledging our presence on Tiohtià:ke, the un-ceded territory of the Kanien'kehà:ka, the 2022 production of Metamorphoses will also be raising funds for and donating a portion of our revenues to the Montreal Native Women's Shelter. You can donate to them here! Given current events, and the themes of our production, we will also be donating to AGIR Montreal, supporting queer refugees. You can donate to them here!
The McGill Classics Play is a member of the Quebec Drama Federation, and its community partner, Oimoi Productions, is a member of the Freestanding Room.
APPLICATIONS NOW OPEN!
The McGill Classics Play invites proposals from possible directors for its 2023 production. Applicants may be undergraduates or post-graduates, studying any discipline, from any university in Montréal, though McGill students will be given priority in the case of proposals deemed of equal merit. Proposed plays must be based on Ancient Greek or Roman texts, with English as the preferred (but not mandatory) production language. Each proposal should be 1-2 pages, in English or in French, submitted without any names on it, and should detail the following: the play or adapted text proposed; the general concept for the play's translation/adaptation (this can include visual and musical considerations); whether or not the proposed director(s) will do the translation themselves; any further comments on design, concept, tie-in events, possible guest speakers or community organisations that we might exchange with, or the reasoning behind choosing this play. If you have additional team members confirmed for your production, please include their roles (not their names) as well. All proposals should be submitted in .pdf form with the title ClassicsPlayProposal to
lynn.kozak

[at]

mcgill.ca
by April10th. Proposals will be blind-reviewed, and results will be announced by April 15th.
For further information, please email
lynn.kozak

[at]

mcgill.ca
.