Luc Mongeau
Academic title(s):
Professor
Department of Mechanical Engineering
Associate Member
Department of Bioengineering
Department of Biomedical Engineering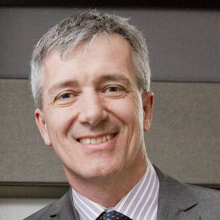 Areas of expertise:
With collaborators in fields as diverse as medicine and aeronautics, our researchers employ a wide range of techniques and instruments—both conventional and novel—to solve real-world problems. From developing better treatment options for patients with voice disorders and a phonation-induced perfusion bioreactor to building computer models to reduce jet engine noise, our lab is on the cutting edge of vocal fold tissue engineering, biomechanics and aeroacoustics research. By cooperating with colleagues in the medical sciences, our studies take into consideration a wide array of factors, from the biological and physiological to the chemical and genetic. Our team is at work in both the lab and clinic to make the diagnosis and treatment of vocal cord injury and disease, including vocal fold scarring and laryngeal cancer more effective, less invasive, more personalized, and ultimately more successful.
Research areas:
Biomaterials and Tissue Engineering
Imaging and Microscopy
Biomedical Modelling
Area(s):
Biomechanics
Human Voice Production
Tissue Engineering
Mechanobiology
Finite Element Modeling (FEM)
Nonlinear Laser Scanning Microscopy (NLSM)
Atomic Force Microscopy (AFM)
Soft Tisssue Rheology