Student-Initiated Seminar on Critical Race Theory
Organized by Anne-Karine Dabo, Manpreet Dhaliwal, Emily Elder & Alexander Ostroff
Sponsored by Professor Adelle Blackett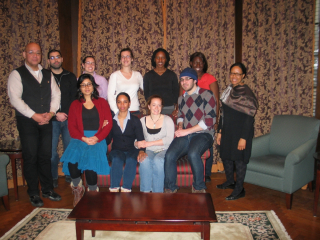 In the Winter 2013 semester, the Faculty of Law offered a three-credit student-led seminar on Critical Race Theory, supervised by Dr. Armel Brice Adanhounme.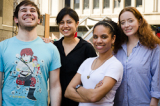 Please click here to listen to the audio version of the CRT seminar.
---
Our Interns
Angela Slater
Selected for the Labor Law and Development internship, which is supported by LLDRL and the Faculty of Law, Angela will be entering her third year at McGill Law. She is originally from The Pas, Manitoba and completed her undergraduate degree in Politics at the University of Winnipeg in 2009. Her studies focused on both international and local development.
She sat three years on the board of directors of the Spence Neighbourhood Association and spent a summer in Fort Portal, Uganda working for the Kabarole Research Centre. Before entering law school, Angela worked for the Federal Department of Labour in the area of employment standards.
At McGill, Angela has been involved with PINAY, an organization dedicated to assisting Filipino live-in caregivers working in Quebec. She also works as a volunteer coordinator for Pro Bono Students Canada.
2013 LLDRL Internship on Decent Work for Domestic Workers, LAWA-Ghana
The partnership between Leadership and Advocacy for Women in Africa (Ghana) Alumnae Inc. (LAWA-Ghana) and LLDRL provides a McGill law student with the opportunity to work with an NGO supporting progressive legal change. LAWA-Ghana is a group of women lawyers who advocate for the rights of women and children in Ghana. Many LAWA programs involve a focus on Labour Law. In 2010 LAWA members participated in the drafting of the convention on decent work for domestic workers. LAWA also collaborated with government in 2007 to draft labour regulations focussed specifically on domestic workers.
Over the course of the 12 week internship, under the supervision of the LAWA-Ghana coordinator Angela engaged in a comprehensive study of statutory, customary and international law governing domestic work in Ghana. Angela drafted a policy document based on the research which will be used by LAWA in its advocacy work with government and other stakeholders in support of its goal in having the Parliament of Ghana adopt the Domestic Worker Regulations (2007) and the Convention and recommendations on Decent Work for Domestic Workers. Angela also produced several articles for LAWA's annual report, including an article on the property rights of spouses in Ghana.
---
Our Alumni
The following students have been involved in the lab as researchers or interns:
Kathleen Kaufman, B.C.L./LL.B. 2010, McGill
Margaret Williams, PhD Candidate in Education, McGill
Tatiana Gomez, B.C.L./LL.B. 2008, McGill
Alika Hendricks, B.C.L./LL.B. 2009, McGill
Adrienne Gibson, B.C.L./LL.B. 2008, McGill
Mélyssa Rinaldo, Maîtrise en droit (M1, 2004, Paris; M2, 2005, La Rochelle)
Kathleen Hadekel, B.C.L./LL.B. 2009, McGill
Sarah Goldbaum, B.C.L/LL.B. 2011, McGill
Gregory Ko, B.C.L./LL.B. 2010, McGill  
Marie-Alice Remarais, B.C.L./LL.B. 2009, McGill
---
Please consult Law's Student Affairs Office's website, under Current courses & registration to obtain more detailed information about labour law courses offered at McGill.