The Labour Law and Development Research Laboratory (LLDRL) housed at McGill University's Faculty of Law in Montreal, Canada, brings together international and interdisciplinary researchers interested in the links between labour law, development and the social contradictions of gender, race and ethnicity.
The Laboratory is financed by the Canada Foundation for Innovation, an independent corporation created by the Government of Canada to fund research infrastructure.
The International Development Research Centre (IDRC) is currently funding a project focused on regulatory innovation on the implementation of decent work for domestic workers. A description of the project is available here.
---
September 19, 2016: Professor Afua Cooper (U. Dalhousie) joined Professor Blackett's class on Law and Slavery to discuss her book, The Hanging of Angélique, for an Author Meets Readers session.
---
Bravo, Sabaa!
Bravo to new Doctor of Civil Law Sabaa Ahmad Khan (centre), who successfully defended her thesis on May 9, 2016. Her thesis, titled "Limits of Formalization and Horizons of Urban Citizenship: Insights on Law and Informality through the Lens of Electronic Waste" was written under the supervision of Professor Adelle Blackett (third from right).
---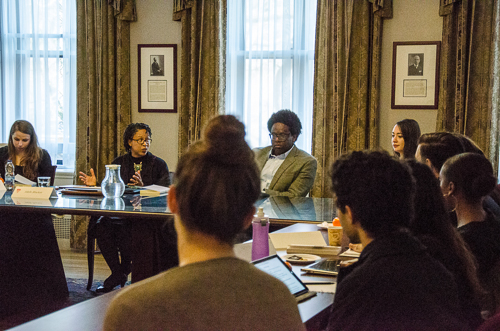 March 17, 2016: Author-meets-readers Critical Race Theory seminar with Prof. Osagie Obasagie.
---
April 10, 2015: Author-meets-readers Critical Race Theory seminar with Prof. Glenn Coulthard.
---
10 March 2015: during an Author-meets–Readers session, Prof. Tanya Hernandez interacts with participants in Professor Blackett's Critical Race Theory seminar.
---
Partners:
---
Contact Information
Labour Law and Development Research Laboratory
New Chancellor Day Hall, Room 619
3644 Peel Street
Montréal, Québec, H3A 1W9

Phone: 514.398.2743

E-mail: lldrl [dot] law [at] mcgill [dot] ca (LLDRL)