World Bank Group and the UN: Cooperation through Independence
Speaker: Maurizzio Ragazzi (Senior Council, World Bank)
When: 11:30-12:30, September 23, 2009
Where: Room 202, NCDH
Speaker's Bio: Maurizio Ragazzi, LLM (Columbia) and DPhil (Oxford), is Senior Counsel, specializing in international law, at The World Bank.
Child Soldiers as War Criminals
Speaker: Mark Drumbl
When: 11:30-12:30, September 25, 2009
Where: Room 16, OCDH
Speaker's Bio: Mark Drumbl is the Class of 1975 Alumni Professor at Washington & Lee University, School of Law, where he also serves as Director of the University's Transnational Law Institute. Professor Drumbl's research and teaching interests include public international law, global environmental governance, international criminal law, postconflict justice, transnational legal process, and contracts. His book, Atrocity, Punishment, and International Law (Cambridge University Press, 2007), which has received critical acclaim, rethinks -- in theory and in practice -- how individuals who perpetrate genocide and crimes against humanity should be punished.
Film Screening and discussion: Violence against Women in Zimbabwe
Kudakwashe Chitsike (RAU)
When: 1:00-2:30, September 29, 2009
Where: Room 202, NCDH
In 2008, political violence erupted throughout Zimbabwe as a result of highly contested national elections. Between May and July alone, local organizations estimate that state-sanctioned groups abducted, raped, tortured, and beat over 2,000 women and girls due to their political affiliations. Hear Us - Women Affected By Political Violence in Zimbabwe Speak Out - a video co-produced by Zimbabwean Research and Advocacy Unit (RAU) and WITNESS - features four of these women who have come forward to demand justice from the Zimbabwean government and the Southern African Development Community (SADC).
Violence against women and the due diligence standard - CANCELLED
Speaker: Rashida Manjoo (UN Special Rapporteur on Violence against Women)
When: 12:30-2:00, October 5th, 2009
Where: Room 312, NCDH
Human Rights Internship Information Session
When: 12:30-2:00, October 7th, 2009
Where: Moot Court, NCDH
This event is aimed at law students who are interested in applying to the 2010 Human Rights Internship Program. Internship sites and the application process will be covered.
Temporary Foreign Workers in Canada: The Low-skilled Stream
Speaker: Judy Fudge, Professor and Lansdowne Chair, Faculty of Law, University of Victoria
When: Friday, October 9, 2009
Where: Room 16, OCDH
Time: 11:30 - 1:00
The Canadian federal government is promoting temporary foreign migration, especially of low-skilled workers, to promote economic growth. This presentation places the Canadian Low-skill Temporary Foreign Migrant Workers Program within the international approach to managed migration. It begins by sketching the three dominant approaches to managed migration – neo-liberal, social development, and migration as development – and identifies some of the limitations in each of these approaches. A more inclusive framework for evaluating temporary foreign worker programs (TFWP) is constructed, and it is used to evaluate the Canadian Low-skill Temporary Foreign Migrant Workers Program. The changes that have made the program more "employer-friendly" are discussed, and the mechanisms designed to protect temporary foreign workers are examined. The presentation concludes by characterizing the Canadian TFWP in light of the international approaches, and considers what Canada should do to ensure that temporary foreign workers are neither exploited nor used to lower the wages of Canadian residents and citizens.
Speaker's Bio: Judy Fudge is Professor and Lansdowne Chair in Law at the University of Victoria, Canada, where she teaches employment and labour law. She began her academic career at Osgoode Hall Law School, York University, and she has written extensively on labour law, employment law, labour law history, pay equity, and human rights at work. Her current research is on the regulation of working time, constitutionalization of workers' rights and the rights of temporary workers admitted to Canada to perform low-waged work that is not attractive to citizens and permanent residents. Recent research includes: "The Temporary Foreign Worker Program in Canada: Low-skilled Workers as an Extreme Form of Flexible Labour", Comparative Labour Law and Policy Journal, forthcoming (with Fiona McPhail); "The Supreme Court of Canada, Substantive Equality, and Inequality at Work" in Ockert Dupper and Christoph Garbers, eds., Equality in the Workplace (South Africa, Juta Legal Publisher, forthcoming); "Conceptualizing Collective bargaining under the Charter: The Enduring Problem of Substantive Equality," (2008) 42) Supreme Court of Canada Law Review 213-247. She was awarded the Bora Laskin National Fellowship in Human Rights from the Social Sciences and Human Research Council for 2009- 2010 for her research project Labour as Human Rights: Unions, Women and Migrants.
The role of international law in the Middle East Peace Process
Speaker: Daniel Taub
When: Tuesday, October 13th, 2009
Time: 4-5.00 PM
Where: Common Room, OCDH
Speaker's Bio: Daniel Taub, the Principal Deputy Legal Adviser of the Israel Ministry of Foreign Affairs. Mr. Taub's responsibilities include counter-terrorism, international organizations and humanitarian law. In addition this, he has been extensively involved in the Middle East peace process, having been a member of Israel's negotiating teams on both the Israel-Palestinian and Israel-Syria tracks.
Lights and Links
Networking event co-sponsored by the Career Development Office
When: 12:30-2:00, October 14th, 2009
Where: Common Room, OCDH
The second annual Lights and Links event provides the opportunity to students who want to undertake a summer internship to connect with former interns and ask questions in an informal setting. Registration, in advance, is required on myFuture.
The Trial of Charles Taylor: Inside the Prosecution
When: October 19th, 2009
Time: 12:30 - 2:00 pm
Where: Room 202, NCDH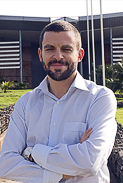 Abstract: Former Liberian President, Charles Taylor, is on trial for war crimes and crimes against humanity committed during Sierra Leone's brutal civil war. Since mid-July, Taylor has been testifying on direct examination at a courtroom of the Special Court for Sierra Leone in The Hague. As prosecuting attorneys prepare to cross-examine Taylor, the Special Assistant to the Chief Prosecutor, Jeremy Waiser, presents an inside look at the Prosecution in this trial of tremendous international importance. Mr. Waiser will also discuss the Special Court's other cases and achievements, and lessons from the Court in the larger context of international criminal law today.
Speaker's Bio: Jeremy Waiser has been the Special Assistant to the Chief Prosecutor of the Special Court for Sierra Leone since October 2006. Previously, he was an associate at the law firm of Paul, Weiss, Rifkind, Wharton & Garrison in New York, and a human rights officer with the UN Office of the High Commissioner for Human Rights in Phnom Penh, Cambodia. Mr. Waiser received his LLB and BCL degrees from McGill Law School.
Interning at the Special Court for Sierra Leone: A student's perspective
When: 12:30-1:30, October 21th, 2009
Where: Room 312, NCDH
Miguel Bernal Castillero will be speaking on his experiences as an intern at Special Court for Sierra Leone.
Women's Rights as Human rights: How Are We Doing Today?
Speaker: Pearl Eliadis, Introduction by: Melissa Ann Gaul, LL.B./BCL student
Annie Macdonald Langstaff Series, the McGill Institute for Gender, Sexuality and Feminist Studies, McGill Centre for Human Rights and Legal Pluralism.
When: Friday, October 23, 2009
Time: 11.30 to 1
Where: NCDH Room 202, Faculty of Law
Pearl Eliadis, (B.C.L., L.L.B. (McGill), B.C.L. (Oxon)) is an international human rights laywer who works primarily with the UN and the EU, as well as with international NGOs and consortia. Her talk will focus on current issues facing women's equality today. Her interests and current areas of work include the the reasonable accomodation debate in Quebec, sexual violence agaisnt women, women migrant workers in China, and violent attacks on women political candidates. Using examples, she will examine, through case studies, some of the pressing issues facing women today, asking whether as a society, we are asking the questions that matter in our public discourse on equality rights.
Does "Genocide" matter? International Justice and Cambodia
A Holocaust Education Series Lecture
When: 5:30-8:00, October 28th, 2009
Where: Moot Court, NCDH
A rountable event with Robert Petit and Payam Akhavan on the Extraordinary Chambers in the Courts of Cambodia, the challenges of prosecuting mass crimes 30 years after the events and the semantics of victimization.
VIEW the recorded presentation (available as Webcast, MP3, WMV and MP4).
Robert Petit is a Canadian lawyer was co-prosecutor for the Extraordinary Chambers in the Courts of Cambodia from 2006 to 2009. The Chambers are aiming to try Khmer Rouge leaders for violations of international criminal law in Cambodia between 1975 and 1979. In 2009, the trial of Duch (pictured on left), the infamous former director of Tuol Sleng (S21) prison, began. Maître Petit shared his experiences in the Chambers and told us about the effects the Chambers have had on Khmer Rouges victims and the larger population.
Legal Challenges and Successes in Defending Human Rights in Israel and Palestine
Presented by CHRLP and Rabbis for Human Rights
When: Wednesday, November 4th, 2009
Time: 12:30 - 2:00
Where: Room 312, NCDH
Introducing Rabbis for Human Rights (RHR): Rabbis for Human Rights (RHR) was established with the purpose of giving voice to the Zionist ideal and the Jewish religious tradition of human rights. Since its inception in 1988, RHR has championed the cause of the poor in Israel, supported the rights of Israel's minorities and Palestinians, worked to stop the abuse of foreign workers, endeavored to guarantee the upkeep of Israel's public health care system, promoted the equal status of women, helped Ethiopian Jews, battled trafficking in women, and more.
While recognizing Israel's obligation to secure the safety of its citizens, RHR also insists upon respect for Palestinian rights. RHR works both through the legal system and on the ground to stop settlers from preventing Palestinians from reaching their fields and taking over private Palestinian lands and tries to prevent demolitions by Israeli authorities of Palestinian homes. In the legal field RHR conducts a continuous supervision of the legal authorities' actions, submit objections to planning/supervision committees as well as legal petitions to the high court. It rebuilds houses that have already been demolished, plants olive trees to replace those that have been purposefully uprooted, and assists Palestinians to carry out their agricultural work safely and minimize the violence during their work. Where possible the activity is coordinated with the IDF and security forces.
RHR has no affiliation with any political party or ideology. RHR received in 1993 "The Speaker of the Knesset's Award for the Quality of Life in the Field of Enhancing the Rule of Law and Democratic Values, Protecting Human Rights, and Encouraging Tolerance and Mutual Respect." In 2006, RHR was awarded the prestigious Niwano Peace Prize for its efforts to promote peace in an interfaith context.
Speaker's Bio: Rabbi Arik W. Ascherman was born in Erie, Pennsylvania. He graduated from Harvard University in 1981 and from 1981-1983 worked for Interns For Peace, a community work program in which Israeli Jews and Arabs as well as Jews from around the world, work together to bring Israeli Jews and Arabs together in positive interaction. For most of this time Rabbi Ascherman lived in the Israeli Arab village of Tamra. Rabbi Ascherman was ordained by HUC-JIR in New York in 1989. During his rabbinic school years, Ascherman was also instrumental in setting up a student/faculty run soup kitchen and was active in homeless shelters and advocacy for the homeless. After ordination, Rabbi Ascherman spend two years as the Rabbi/Director of UC Davis Hillel, and three years as the Rabbi of Beth Hillel in Richmond California, where he also set up a homeless shelter which rotated between churches and synagogues. In 1991 Rabbi Ascherman and his wife, Rabbi Einat Ramon, spent 2 weeks in the former Soviet Union working with nascent liberal congregations and schools. After returning to Israel in 1994, Rabbi Ascherman served for three years as the director of Congregation Mevakshei Derech, and three years as the part time rabbi of Kibbutz Yahel, a Reform kibbutz near Eilat. Beginning in 1995 Rabbi Ascherman served as co-director of Rabbis For Human Rights, becoming executive director in 1998. RHR and Rabbi Ascherman have been the recipients of numerous awards for their human rights work. Rabbi Ascherman is married to Rabbi Dr. Einat Ramon, the first Israeli born woman to ordained as a rabbi. They are one of two rabbi-rabbi couples in Israel.
Omar Khadr ou l'insuffisance du droit?
Intervening in the Omar Khadr case: new and old questions, with Nathalie Des Rosiers
When: November 17th, 2009
Time: 12:30 PM - 2:00 PM
Where: Room 316, NCDH
This talk will be in English and French
The seminar will discuss the following questions :
Judicial uncertainty surrounding the laws of citizenship and citizen's rights: judicial, political and moral issues
The use of diplomatic relations: discretion as a filter of rights?
Why Omar Khadr is a symbol of what went wrong after September 11th 2001
Speaker bio: Nathalie Des Rosiers has been General Counsel of Canadian Civil Liberties Association since July 1, 2009. She was previously Acting Vice President – Governance of the University of Ottawa. She was Dean of the Civil Law Section of the University of Ottawa's Faculty of Law from 2004 to 2008. She obtained an LL.B. from Université de Montréal in 1981, an LL.M. from Harvard University in 1984, and an honorary doctorate from the Law Society of Upper Canada in 2004. She became a member of the Québec Bar in 1982 and of the Law Society of Upper Canada in 1987.
Nathalie was president of the Law Commission of Canada from 2000 to 2004. From 1987 to 2000, she was a member of the University of Western Ontario's Faculty of Law. She served as law clerk to Supreme Court of Canada Justice Julien Chouinard from 1982 to 1983 and then worked in private practice until 1987.
She has served several non-profit organizations : she was President of the Canadian Federation of Social Sciences and Humanities, Chair of the Canadian Council of Law Deans, President of the Association des juristes d'expression française de l'Ontario (AJEFO), and President of the Canadian Association of Law Teachers. She was a member of the Environmental Appeal Board from 1988 to 2000 and a member of the Ontario Law Reform Commission from 1993 to 1996. She received the Médaille de l'Université Paris X in 2007, the Association of Professional Executives of the Public Service of Canada (APEX) Partnership Award in 2004, the Medal of the Law Society of Upper Canada in 1999, and the Order of Merit from AJEFO in 2000.
Nathalie has authored several publicaitons. She is the co-author of the first book on compensation for victims of sexual violence in Québec and has authored numerous articles in constitutional law, law reform and tort law. See her complete list of publications .
The Promise of International Law for Civilian Victims of War: The Goldstone Report
Please join the ALSA and the Centre for Human Rights and Legal Pluralism for Ms. Hina Jilani's lecture. A question and answer period will follow.
Date and time: Wednesday 25 November 2009, 6.00pm.
Venue: Moot Court (Room 100), 3644 Peel Street, New Chancellor Day Hall, McGill Faculty of Law.
Information: Tel. 514-582-4391/ E-mail: alsamcgill [at] gmail [dot] com
Ms. Hina Jilani is Advocate of the Supreme Court of Pakistan and was the Special Representative of the Secretary General on Human Rights Defenders from 2000 to 2008. She has fought for human rights for over 30 years, especially in the areas of the rights of women, minorities, children and prisoners. She is internationally recognized for her expertise in critical human rights investigations.
Ms. Jilani will provide a first-hand account of the Gaza Mission, its methodology, and the challenges it faced in carrying out its mandate. She will address the Mission's findings of violations of international humanitarian and human rights law by Israeli and Palestinian parties, and the potential of international law to ensure accountability for victims of the conflict.