Truth to Reconciliation: Towards a Just Future for the Indigenous People of Canada
8-9 March 2016
Jointly organised by the McGill Centre on Human Rights and Legal Pluralism and the International Institute for Genocide and Human Rights Studies (IIGHRS – a division of the Zoryan Institute, Toronto), the conference's highlights were the two keynote addresses by Chiefs Phil Fontaine and Doug White. However, all speakers brought experience, depth and wisdom to the complex issue of how to respond today to the deep wounds inflicted individually and collectively by the residential school system over a century, through the implementation of the 94 calls to action of the Truth and Reconciliation Commission of Canada.
We at CHRLP are proud to take an active role in McGill's collective effort to sharpen our focus on indigenous issues in Canada and abroad, thus contributing to the common goal of increased knowledge and better understanding between our communities.  – F. Crépeau, Director.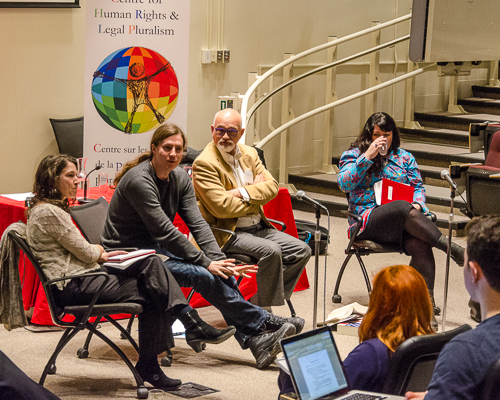 ---
15 February 2016 - Peace Mediation Experts Panel
The McGill Centre for Human Rights and Legal Pluralism and the Oppenheimer Chair in Public International Law welcomed three mediation experts who are members of the Standby Team to discuss the role and function of peace mediation. They were Michael Brown – Land & Natural Resource Conflicts Expert – Professor of Practice in Conflict Mediation, Institute for the Study of International Development (McGill University); John Packer – Constitutions & Process Design Expert – Director, Human Rights Research and Education Centre (University of Ottawa); and Marie-Joëlle Zahar (speaking at podium above) – Power Sharing Expert – Professor of Political Science & Fellow at the Centre for International Research and Studies (Université de Montréal). The well-attended event was graciously chaired by Louise Otis, judge, arbitrator and mediator in administrative and commercial matters, and former Judge at the Quebec Court of Appeal.
---
21 October 2015 - A Conversation with Dennis Edney, lawyer for Omar Khadr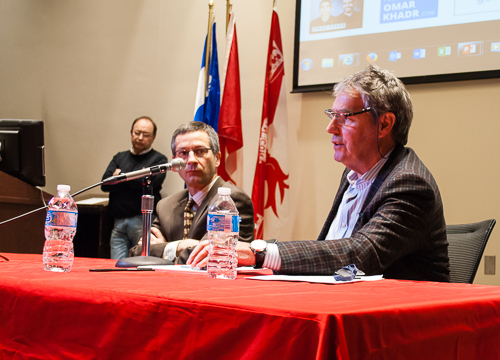 In a packed Moot Court, Mr. Edney received two standing ovations for his account of his journey and ongoing fight on behalf of Omar Khadr.  He shared the painful truth of Khadr's capture and unthinkable mistreatment for more than ten years at Guantanamo Bay.  He spoke of the impact of apathy, the mechanisms of state-sanctioned torture, and the perversion of torturers being treated as dignitaries. He movingly spoke of his inability to abandon the fight at any stage for any reason believing that others would not take it up, and also his and his family's decision to welcome Omar Khadr into their home. Listen to the audio (.mp3)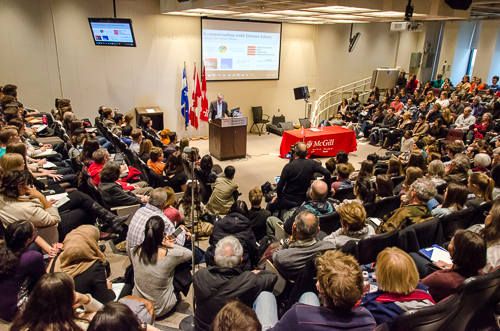 ---
30 September 2015 - The Quebec Charter of Rights and Freedoms at 40: éléments de perspective et de prospective
In a bilingual talk, Mr. Frémont discussed 40 years of the Quebec charter, the advances since its inception, and some troubling trends of late which suggest that, without vigilance, the gains are not irreversible. He also revealed the fascinating results of an extensive province-wide survey on human rights and attitudes toward diversity in Quebec, discussing in particular the evolving attitudes of Quebecers towards minorities and emphasizing the important role of sociology in understanding and shaping the process of change in the Quebec of the future.