Stephanie Wong
Academic title(s):
Assistant Professor, McGill University, Department of Surgery and Oncology
Clinician Researcher, Lady Davis Institute for Medical Research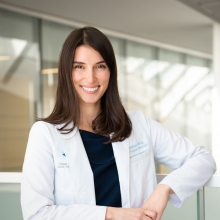 Current research:
Stephanie Wong, MD MPH is an assistant professor of surgery at McGill Medical School and a breast surgical oncologist at the JGH Segal Cancer Centre in Montreal, Canada. She received her medical degree and completed general surgery residency at McGill University, her MPH at the Harvard School of Public Health, and in 2019, completed a breast surgical oncology fellowship at Dana-Farber/Brigham and Women's Cancer Centre and Massachusetts General Hospital. Her clinical and research interests focus on surgical outcomes following neoadjuvant treatment and high-risk patient populations. She directs the High Risk Breast Clinic at the JGH Stroll Cancer Prevention Centre. In 2021, she was the recipient of the FRQS Chercheurs Boursiers Cliniciens award for research on Optimizing Surgical Decision Making and Prevention Strategies for Women at Elevated Breast Cancer Risk.