Dr. Fraser N. Gurd Day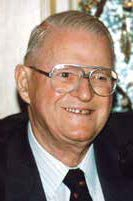 Fraser Gurd Day is our department's main event of the year. During the day the department showcases resident and staff driven research as well as presentations and activities involving our visiting professor for the year. Dr Gurd succeeded Dr. H. Rocke Robertson as Chairman of the Department of Surgery, McGill University in 1962. Throughout his career, Dr. Gurd demonstrated a remarkable interest in research with several significant investigations into the treatment of shock and trauma.
Dr. Gurd has received many honours including the Royal College's Duncan Graham Award for outstanding service in medical education but perhaps his greatest contribution to our program was the development of the surgeon scientist.
He was an Emeritus Professor of Surgery at McGill University. The presentations by the residents and fellows are a tribute to the many contributions of Dr. Fraser Gurd.
****************
The 30th Annual Fraser N. Gurd Surgical Research Forum will be held on Thursday, June 13, 2019.
The visiting professor is Barbara Lee Bass MD, FACS, is the Chair of the Department of Surgery at Houston Methodist Hospital and Weill Cornell Medicine holding appointments as the John F. and Carolyn Bookout Presidential Distinguished Chair and Professor of Surgery.
Fraser Gurd VP 2019 Dr. Bass
For more information please follow the link here: 30th Annual Fraser Gurd Research Forum 
Please see attached a full event program - 
frasergurdprogram_2019.pdf