Event
Centering Blackness in Social Work: Challenging Silence, Erasure and Stereotypes
Friday,
February
26,
2021
11:30
to
13:00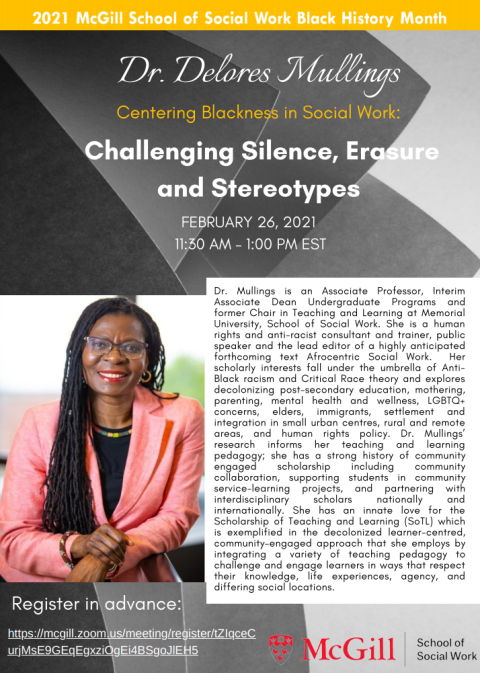 2021 McGill School of Social Work Black History Month Event
Dr. Delores Mullings presents: Centering Blackness in Social Work: Challenging Silence, Erasure and Stereotypes.
Dr. Mullings is an Associate Professor, Interim Associate Dean Undergraduate Programs and former Chair in Teaching and Learning at Memorial University, School of Social Work. She is a human rights and anti-racist consultant and trainer, public speaker and the lead editor of a highly anticipated forthcoming text Afrocentric Social Work. Her scholarly interests fall under the umbrella of AntiBlack racism and Critical Race theory and explores decolonizing post-secondary education, mothering, parenting, mental health and wellness, LGBTQ+ concerns, elders, immigrants, settlement and integration in small urban centres, rural and remote areas, and human rights policy. Dr. Mullings' research informs her teaching and learning pedagogy; she has a strong history of community engaged scholarship including community collaboration, supporting students in community service-learning projects, and partnering with interdisciplinary scholars nationally and internationally. She has an innate love for the Scholarship of Teaching and Learning (SoTL) which is exemplified in the decolonized learner-centred, community-engaged approach that she employs by integrating a variety of teaching pedagogy to challenge and engage learners in ways that respect their knowledge, life experiences, agency, and differing social locations.
Register in advance:
https://mcgill.zoom.us/meeting/register/tZIqceCurjMsE9GEqEgxziOgEi4BSgoJ... 
In our effort to make this talk as accessible as possible, live closed captions will be provided.