Reginald A. Fessenden was an outstanding Canadian scientist, inventor and engineer
Born in Knowlton, Quebec, Reginald Fessenden was an inveterate inventor. He worked with such distinguished innovators as Thomas Edison (who called him Fezzie) and George Westinghouse, inventor of the railroad air brake and the alternating current electrical system. Fessenden was inspired by Alexander Graham Bell. When he was only 10 years old, he watched Bell demonstrate the telephone in his lab in Brantford, Ontario and later make the first long distance phone call in history, from Paris to Brantford. While still in his twenties, by sheer perseverance combined with acute insight into electrical current transmission, Fessenden became Edison's assistant at his main plant in New Jersey - at the time considered to be the finest experimental laboratory in the world. He rose to become chief chemist of Edison Electrical Co. in 1890. Not long after, Westinghouse lured Fessenden away from Edison by offering him a senior position at Westinghouse Electric Corporation.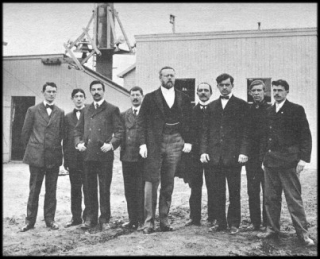 Fessenden taught electrical engineering at Purdue University, where he was able to pursue experiments on the development of sound vibration and wireless sound transmission. He left Purdue to devote all his time and energies to developing his inventions and settled in Pittsburgh at the invitation of George Westinghouse. He was named chair of the electrical engineering department at the University of Pittsburgh where he developed and patented several inventions, including microphotography. His improved telegraph system got the attention of the United States Weather Bureau, Fessenden's next employer. 
 
Bureau chief and officials were astounded when Fessenden transmitted his dots and dashes wireless signal from Cobb Island, Maryland over a distance of fifty miles. But it was the transmission of speech, not "dots and dashes," which spurred Fessenden to greater effort. Fessenden was rewarded by achieving the first wireless transmission of the human voice, even though it was over the short distance of one mile.At Cobb Island on December 23rd, 1900, for the first time in the world's known history, intelligible speech was transmitted by electromagnetic waves. Thus the honor of taking the first step in the development of what is now universally termed 'radio' deservedly belongs to Reginald Fessenden.
Convinced of the inventor's technical ability, two Pittsburgh millionaires agreed to form and finance a company, the National Electric Signaling Company, employing Fessenden on condition that he place his inventions in the name of the Company. Two wireless stations were built at Brant Rock, Massachusetts, with 400-foot antenna towers and state-of-the-art equipment. As a result of their excellent performance, three more stations were built in New York, Philadelphia and Washington. These Fessenden installations were the first to send wireless dot and dash messages over land and sea, establishing a record of 6,000 miles to Alexandria, Egypt.
For Fessenden, 1906 was a triumphant year in which he achieved the world's first two-way transatlantic radio transmission from Brant Rock. Some later milestones include the invention of a turbo-electric drive for battleships, insulating electrical tape and many other underwater sound devices. He won the Scientific American's Gold Medal in 1929 for the fathometer, which could determine the depth of water under a ship's hull. He eventually held over 500 patents, reflecting his prodigious talent for innovation.
Reginald Aubrey Fessenden, a great Canadian who gave the world so much, died in Bermuda on July 22nd, 1932. On the stone lintel across the top of the fluted columns marking his final resting place are inscribed these words:
"By his genius, distant lands converse

and men sail unafraid upon the deep."
---
The above contains excerpts from a biographical article by Dr. Jack Belrose of the Communications Research Centre of Canada.