Event
ReOrienting the Global Study of Religion - Setrag Manoukian
Wednesday,
March
10,
2021
13:30
to
15:00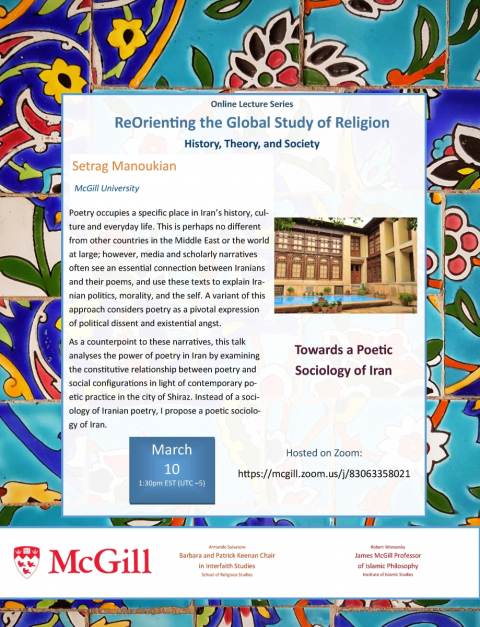 Professor Setrag Manoukian, McGill University, will speak on Towards a Poetic Sociology of Iran
Hosted on Zoom: https://mcgill.zoom.us/j/83063358021
1:30 PM EST (UTC-5).
The Keenan Chair of Interfaith Studies and the James McGill Professor of Islamic Philosophy are collaborating in a reflection on religion, Islam, and cosmopolitanism associated with McGill's academic tradition of Islamic Studies, and epitomized by scholars such as Wilfred Cantwell Smith, Fazlur Rahman, and Toshihiko Izutsu.
In preparation for the Keenan Conference on World Religions and Globalization, to be held in Montreal in May 2022, we are hosting an online lecture series titled ReOrienting the Global Study of Religion: History, Theory, and Society. While the study of the Islamosphere has stimulated a critical reconceptualization of the notion of religion, we would like to extend this reflection to how religious concepts have been embedded in broader views of history and society, including the Western colonial construction of the "Middle East" as the cradle not just of Islam but of all Abrahamic religions.
The sixth speaker in the series will be Prof. Setrag Manoukian, McGill University. The title of the lecture, which will be followed by a Q&A, is Towards a Poetic Sociology of Iran
Abstract: Poetry occupies a specific place in Iran's history, culture and everyday life. This is perhaps no different from other countries in the Middle East or the world at large; however, media and scholarly narratives often see an essential connection between Iranians and their poems, and use these texts to explain Iranian politics, morality, and the self. A variant of this approach considers poetry as a pivotal expression of political dissent and existential angst.
As a counterpoint to these narratives, this talk analyses the power of poetry in Iran by examining the constitutive relationship between poetry and social configurations in light of contemporary poetic practice in the city of Shiraz. Instead of a sociology of Iranian poetry, I propose a poetic sociology of Iran.
Prof. Setrag Manoukian is an anthropologist interested in knowledge and its relationship with power, understood both as existential and social force. He approaches cities, poems, videos and other technologies as forms of knowledge with specific existential trajectories and attends to their historicity. His special area is Iran. He is looking for ways to pursue Giambattista Vico's combination of anthropology and philology.