Arvind Sharma
Academic title(s):
Birks Professor in Comparative Religion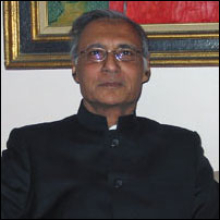 Degree(s):
B.A. (Allahabad)
M.A. (Syracuse)
M.T.S., Ph.D. (Harvard)
Specialization:
Comparative Religion; Hinduism; Advaita Vedanta
Biography:
Arvind Sharma was born in India and had his early education there. He then joined the IAS ( Indian Administrative Service) and served in the state of Gujarat (1962-68) before resuming his academic career in the United States, towards the end of which he was appointed as a lecturer in Australia in 1976 and taught at the Universities of Queensland and Sydney. He moved to McGill University in 1987 where he is currently the Birks Professor of Comparative Religion. He has also taught in the United States (Northeastern University, Boston University, Temple University, Harvard University) and in India (Nalanda University).
Selected publications:
He has published extensively in the fields of Comparative Religion and Indian Religions. Two books edited by him are widely used in the field: Women in World Religions (SUNY 1987) and Our Religions (Harper, 1993). His most recent work is entitled: Religious Tolerance: A History (2019).
Projects:
Current Projects
His two foci of current interest are : how to read the MANUSMRTI and how to offer a decolonized account of Indian civilization.
Milestone Projects
Three global conferences in Montreal on World's Religions After September 11 in 2006, 2011, and 2016 which were attended by more then 6000 delegates overall and which culminated in the release of A Universal Declaration of Human Rights by the World's Religions in September 2016.