Armando Salvatore
Academic title(s):
Barbara and Patrick Keenan Chair in Interfaith Studies 
Professor of Islamic and Interreligious Studies
Associate Member, Institute of Islamic Studies
Degree(s):
M.A. (University L'Orientale, Naples)
Ph.D. (European University Institute, Florence)
Dr. Habil. (Humboldt University, Berlin)
Biography:
Armando Salvatore is a scholar of contemporary Islamic Studies and comparative religion. His primary focus is on inter-religious and trans-civilizational dynamics. Salvatore's overall approach is interdisciplinary. His methodologies rely largely on historical-comparative sociology, social theory, and the sociology of knowledge. Salvatore has held professorial and research positions at Humboldt University Berlin, University of Naples 'L'Orientale,' National University of Singapore, Leipzig University, and Australian National University, Canberra. His most recent single-authored book is The Sociology of Islam: Knowledge, Power and Civility (Wiley Blackwell, 2016). Among his other recent publications are the chief editorships of the multi-authored works The Wiley Blackwell History of Islam (Wiley Blackwell, 2018) and The Oxford Handbook of the Sociology of the Middle East (Oxford University Press, 2022).
Selected publications:
You can find my publications at the following link: https://mcgill.academia.edu/ArmandoSalvatore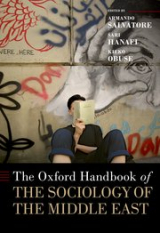 Graduate supervision:
Professor Salvatore is not taking new graduate students at this time.
Projects:
Cosmopolitan Connections in a Global Age
Areas of interest:
Islam, Civility, and Cosmopolitanism