Andrea Pinkney
Academic title(s):
Associate Professor, South Asian Religions
(on sabbatical leave in 2017-2018)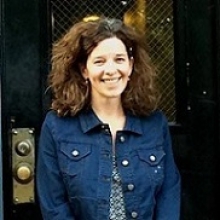 Degree(s):
B.A. (McGill)
Adv. Diploma in Hindi (Banaras Hindu University)
M.A. (University of Hawai'i at Mānoa)
Ph.D. (Columbia University)
Biography:
I discovered my interests in both religious studies and South Asian civilisation as an undergraduate at McGill in the Faculty of Religious Studies (B.A., Joint Honours). As a Commonwealth scholar, I then pursued postgraduate studies in Hindi language and literature (Banaras Hindu University, Adv. Diploma in Hindi) and in South Asian Religions (M.A., University of Hawai'i at Mānoa, Ph.D., Columbia University). I have taught in the United States, India, and Singapore; my research languages are Hindi-Urdu and Sanskrit and I have studied French and Japanese for pleasure.
Current research:
My primary research is on one of the most basic aspects of Hindu ritual: the giving, receiving and distribution of prasāda, a karmically blessed substance "tasted" by divinities and other extraordinary beings. In Hindu South Asia, restrictions on commensality (food sharing) typically reflect hierarchical norms between people; however, these norms may be superseded by unique norms of gift economics in prasāda-exchanges. Combining insights from textual research in Sanskrit literature (Purāṇa, Tantra, Āgama) and ethnographic work among Hindi-speaking pilgrims (at Yamunotri, Gangotri, Kedarnath and Badrinath), my monograph, "The Sacred Share: Prasāda and the Hindu Gods", explores the concept of prasāda in both classical and contemporary terms.