News

By the McGill Media Relations Office
The Simnovate Podcasts
Medical training along with modern health care systems are being transformed through simulation, and new collaborations between sectors that have never worked together in the past.  McGill University is hosting an international summit called Simnovate on May 5 and 6, 2016. Focussing on four themes to improve health care, the symposium will spotlight: patient safety, pervasive learning, medical technologies, and global health. Using creative approaches from business plan pitches to dance therapy, experts from a range of fields will come together discuss the future of global health care.
McGill Media Relations office spoke to three of them: Dr. Priya Agrawal, Executive Director of Merck for Mothers, Dr. Ed Fitzgerald, from the Lifebox Foundation and Jishnu Das, Lead Economist, at the Development Research Group of the World Bank. Listen to the podcasts below:
Dr. Priya Agrawal is the Executive Director of Merck for Mothers, an organization which focuses on focused on improving the quality of maternal healthcare 
Dr. Agrawal is an Obstetrician and Gynecologist and global women's health expert. She previously served as Director of Research and Development for the Women and Health Initiative at the Harvard School of Public Health, where she led the implementation research agenda and supported the development and evaluation of healthcare innovations. She continues as Visiting Scientist at the Harvard School of Public Health. She was Obstetric Lead on the World Health Organization's Safe Childbirth Checklist Program in India, working closely with Dr. Atul Gawande and Medical Director of Jacaranda Health, Kenya — a social enterprise focused on delivering high quality, affordable maternal and child health services in the slums of Nairobi — leveraging process innovation. She started her public health work in Nigeria with the introduction of simpler, one-stop shop cervical cancer screening programs delivered by nurses. She has worked and traveled in more than 45 countries using the introduction of simple and sustainable innovations to improve the health outcomes for underserved women and their families. For more on Merck for Mothers, an organization that seeks transformational and sustainable solutions focused on improving the quality of maternal healthcare women  and increasing women's access to family planning: Merck for Mothers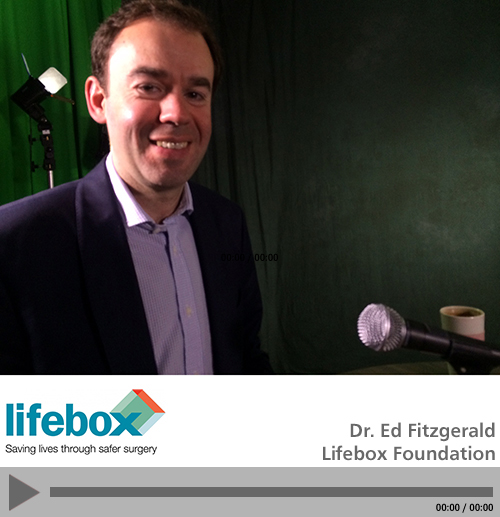 Dr. Ed Fitzgerald is a consultant for Lifebox Foundation, an organization devoted to safer surgery in low-resource countries.
Ed Fitzgerald is a surgical registrar, Past President of the Association of Surgeons in Training and an affiliate member of Ariadne Labs. His work with Lifebox® is focused around implementation of the Surgical Safety Checklist and prevention of Surgical Site Infections. He became involved with Lifebox in 2013. He said: "I wanted to help because the role of surgery in global health has been largely neglected. Working out how to deliver this safely in countries that have little capacity for healthcare will be one of the biggest challenges faced by global health in the years ahead. Lifebox is tackling this in practical and innovative ways. It's a pleasure to work with them and I've learnt a lot." For more about Lifebox Foundation: Lifebox
Jishnu Das is the lead economist of the Development Research Group at the World Bank.
Jishnu Das's work focuses on the delivery of basic services, particularly health and education. He has worked on the quality of health care, mental health, information in health and education markets, child test-scores and the determinants of trust. In 2011 he was part of the core team on the World Development Report on Gender and Development. He is currently working on long-term projects on health and education markets in Kenya, India and Pakistan. For more about Jishnu Das's work at the World Bank: Jishnu Das
For the programme of the Simnovate International Summit​​, May 5-6, 2016
For more information about the Steinberg Centre for Simulation and Interactive Learning