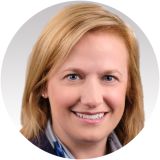 Senior Managing Director, FCLTGlobal
Alison Loat is the managing director of FCLTGlobal, a not-for-profit organization founded by the CEOs of BlackRock, CPPIB, Dow, McKinsey & Company and Tata Sons that develops practical approaches that encourage long-term behaviors in business and investment decision-making. She is also a board director and the Canadian chair of Ai-Media, a technology company that makes educational, workplace, conference and media content accessible to everyone.
Alison's career began at McKinsey & Company, where she focused on healthcare and financial services. She also worked with Commonwealth Pension Services, where she set-up a retirement income plan for Canadian charitable sector workers, and held several leadership roles in the healthcare sector, including on the founding team of the Medical and Related Sciences (MaRS) Discovery District, a 1.5 million square foot scientific commercialization facility in Toronto. 
She also has a deep commitment to public service. She co-founded the Samara Centre for Democracy, a charity that works to improve the health of democracy in Canada. She was also a Senior Fellow and instructor at the Munk School of Global Affairs and Public Policy, was a member of the Premier of Ontario's Highly Skilled Workforce Expert Panel, served as the president of the Canadian Club of Toronto, vice-president of the Banff Forum board, and as a director of the Toronto Community Foundation. She is also the co-author of the #1 best-selling book Tragedy in the Commons: Former MPs Speak Out About Canada's Failing Democracy.
Alison is currently a World Economic Forum Young Global Leader, where she serves on the program's Advisory Board, a fellow at the Public Policy Forum, and Advisory Board member at the Max Bell School of Public Policy at McGill University and a governor of Ridley College. She is also an advisor to several organizations on democracy and the future of journalism.
She received both the Queen's Gold and Diamond Jubilee Medals and was named one of the WXN 100 Most Powerful Women in Canada. She has degrees from Queen's University and the Harvard Kennedy School.