This article is the executive summary of the Supporting Affordable Housing for Canadian Seniors Living in Rural Communities report. You can access the full Policy Lab report here.
---
The Scope
This paper will outline policy options for Canada Mortgage Housing Corporation (CMHC) and the federal government to facilitate access to affordable and adequate housing for seniors living in rural areas, with particular attention to low and middle-income seniors. Affordability will be viewed broadly and will include the capacity to afford housing that is suitable for the changing and evolving needs of seniors. This paper will explore the work being undertaken in other jurisdictions. Ultimately, it will present policy recommendations on improving housing affordability for seniors living in rural areas of Canada.
This paper will not consider remote regions or Indigenous communities. While it will offer some solutions that require partnership with other departments or jurisdictions, it will focus on solutions that are within the federal government's purview and CMHC's mandate.
The Problem
Currently, many seniors living in rural communities live in inappropriate housing, with 17.5% of rural senior homeowners living in core housing need – that is, living in homes that are unaffordable, inadequate, or unsuitable.
Core housing need statistics, however, are designed to describe whether the general population resides in appropriate housing. Housing needs become more complicated as seniors age and their mobility declines. Two major challenges for policy makers are:
Many seniors prefer to age in place in private residences, and
Seniors who are open to moving to seniors' residences may not have appropriate options in their communities. Both challenges are more acute in rural areas, which this section will illustrate.
Seniors are the fastest-growing population in Canada , which will likely be mirrored by an in crease in inappropriate housing. As seniors age and their needs change, they should be able to live in appropriate housing. As supports are being developed, many solutions are targeted at urban areas and do not account for the complexities and unique needs of rural seniors.
The coronavirus pandemic has disproportionately affected seniors. At the time of writing, seniors comprised 80% of COVID-19 deaths in Canada, most of which occurred in long-term care homes. While this is leading to an investigation and potential overhaul of long-term care homes, seniors living in rural communities, which constitute the majority of rural seniors, should not be forgotten in Canada's efforts to improve quality of life for seniors. Despite their needs evolving, many seniors prefer to age in their private residences.
1. Seniors Desire to Age in Place
85% of seniors have a desire to age in place. However, this often leaves seniors living alone, contributing to social isolation, which has been shown to deteriorate health. This is an even greater problem in rural contexts, as seniors living alone are even more isolated and often live far from key resources such as medical care, pharmacies, and community centres. As seniors age, their ability to drive may deteriorate which is problematic in rural areas.
2. Seniors Lack Alternative Options
In Canada, seniors are faced with the option to age in place, move into retirement homes, or live in long-term care facilities. As described, aging in place often becomes unsustainable for seniors as their needs increase. Retirement homes are often costly and oversubscribed – a problem that will only worsen as the aging demographic grows. Long-term care facilities are intended for seniors who require significant levels of care. During the coronavirus pandemic, long-term care homes have come under scrutiny for their poor-quality care for residents. Reports have highlighted deep systemic issues with care homes, which will likely decrease the demand and investment in long-term care homes.
As such, there is a gap in housing options for low- and middle- income rural seniors who are no longer able to comfortably age in their own homes. Those with low levels of need can remain in their own homes, and those with higher need for support can access government-subsidized long-term care homes. Seniors who have moderate needs and moderately high-income levels can access retirement homes, however low- and middle-income seniors with moderate needs have very few alternatives. Seniors aging in their homes receive little or no daily home care, whereas long-term care homes provide, on average, three to four hours per day. In a rural context where accessing even half an hour of daily care can be challenging, moderate levels of care include all seniors who require some daily care, but less than three to four hours.
Our Vision
Our vision for Canada is to adequately support rural seniors' needs and desires while ensuring the housing choices made are beneficial for the development of Canada as a whole. There are social and economic benefits gained from having a population diverse in age, in line with Canadian seniors' overwhelming desire to age in place. Seniors are the social backbones of communities, ensuring connection for younger citizens to those who helped build and grow the place they are living in, those they see as mentors and vital community leaders. Seniors also control significant financial resources from working and accumulating wealth throughout their lives and, on average, have more assets and less debt than the rest of the population. Therefore, ensuring there is a range of accessible and affordable housing options for seniors to age in place and in community means that social bonds within these communities that create better mental health conditions for the young, while the elderly can remain in place. Seniors contribute to local economic development, as they typically spend more locally than younger people on retail, services, recreation, repairs, and renovations. In rural regions, this has a particularly important impact, helping socially and economically invest in these communities. The development of senior housing types with general care and health services means more employment opportunities are afforded to families living in rural settings, which would not exist if the strategy was simply to move every senior who needs medical care or assistance to urban centers. Retirement homes, for example, are a vital employer in rural areas that typically have limited employment opportunities, serving as an important source of income for families in rural regions.
Areas that can support and retain seniors by providing age-friendly communities have shown to have a higher return on investment than if seniors were simply asked to move.
Land to construct seniors' housing is less expensive in rural than urban areas, therefore, having rural seniors stay in place aligns with their expressed preferences and ensures no heavy influx of seniors into urban regions requiring them to build more senior housing in more expensive urban areas.  In addition, by having health care services in rural communities through seniors' housing, seniors will have more regular contact with health care professionals. Better access to healthcare through diverse senior housing options that offer these services within community will allow seniors to remain independent for longer, improving quality of life and mitigating negative health outcomes from arising early on. This is cost-effective not just for seniors, but also for governments, as seniors will be less likely to deteriorate psychologically or physically and more likely to age independently (with minimal support required) in their own homes, compared to in long-term care homes that are funded by provincial governments. Furthermore, this would allow for less burden of care to be placed on family members who are caregivers and allows seniors to continue to participate as active members of the economy and of rural life.
Recommendations
The following recommendations are targeted at filling the gap of housing needs for low- and middle-income seniors with moderate levels of need living in rural communities.
Collect and Disseminate Data - Collect and disseminate data on rural seniors housing so evidence-based policy decisions can be made. Data will also facilitate market research and lower barriers to private investment.
Promote Health - Promote the health of seniors so that they are less likely to need to move, allowing them to age in place and decreasing the demand for alternative housing options. 
Support Adequacy of Housing - Support provinces in ensuring rural eligibility for home renovation subsidies so seniors can afford to adapt their current homes as their needs change. This will enable seniors to affordably stay in their homes and age in place for a longer period, mitigating the issue of aging in place. 
Invest in Alternative Housing Options - Invest in affordable housing for seniors with moderate needs, such as co-hosting, supportive housing, retirement homes, and life-long units, which are being successfully employed in countries around the world. Providing alternatives directly addresses the critical concern that rural seniors lack alternative housing options. It is also likely to decrease their desire to age in place, as attractive alternatives within their communities other than just long-term care homes will be made available. 
Impact of Recommendations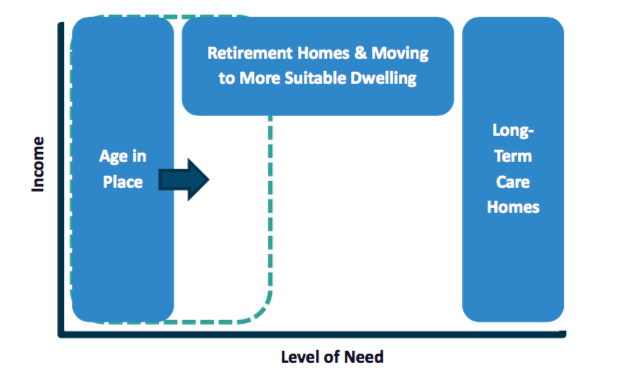 We anticipate that by promoting the health of seniors (Recommendation 2) and enabling financial support for renovations (Recommendation 3), seniors will be able to affordably and comfortably stay in their homes for longer, allowing them to age in place and mitigating the rapidly increasing demand for retirement homes and other alternative housing arrangements.
By investing in alternatives (Recommendation 4), the remaining gap can be eliminated. These alternatives can be developed directly for low- and middle-income seniors with moderate levels of need.
Measuring Success
Success will be measured by a lower number of seniors in rural communities facing housing affordability challenges. Short-, medium-, and long-term indicators will be used to show early signs of progress, as well as larger-scale solutions that will require more time.
In the short-term, newly available data being accessed would indicate that policy makers are using CMHC information to design policies for rural seniors, or that developers are using the information to inform market research.
In the medium-term, CMHC should examine the pilot projects designed to enhance the health and well-being of seniors aging in private residences to determine whether they are meeting pre-determined goals.
In the long-term, developers should be accessing the new funding streams for seniors ' residences. Further, results from CMHC's annual Seniors Housing Survey should indicate that these initiatives are increasing the availability of units with rents at the low-end of the market.
---
This Policy Lab was presented by our MPPs on July 9, 2020. Watch the video below:
---
About the Authors
MPP Class of 2020
---
MPP Class of 2020
---

MPP Class of 2020
---
MPP Class of 2020