Stories of mental suffering and struggle are shared continuously through digital formats such as internet videos, news stories, social marketing, and fundraising campaigns. Sometimes this storytelling provides a positive and critical avenue for sharing first hand accounts of mental health problems. However, often these stories are shared within a larger backdrop of negative mainstream media portrayals of mental health.
This study focuses on the process of creating digital narrative/stories, especially stories of mental and emotional suffering, and their impact in terms of inciting empathy, compassion, and good citizenship among viewers. This study aims to answer two main questions: First, how are mental and emotional suffering depicted in social marketing/fundraising campaigns (video testimonials) as compared with digital stories (digital videos made by ordinary people)?
And secondly, what is the impact of identified video depictions among viewers with respect to empathy and compassion?

Research Team: Lead investigators: Dr. Manuela Ferrari, Dr. Jai Shah, Dr. Srividya Iyer, Dr. Claudia Mitchell. Postdoctoral fellow: Dr. Sahar Fazeli. Along with Ann-Catherine Lemonde, Geoff Meugens and Dr. Judith Sabetti.
Sponsors:
SSHRC-Social Sciences and Humanities Research Council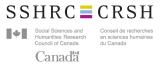 Healthy Brains Healthy Lives