Dr Kaberi Dasgupta
Academic title(s):
MD MSc FRCPC
Professor of Medicine, McGill University
Director, Centre for Outcomes Research and Evaluation, Research Institute of the McGill University Health Centre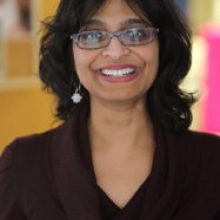 Biography:
Dr Dasgupta is a Physician, Scientist, and Professor of Medicine at McGill University and the McGill University Health Centre. Her research focus is prevention, reversal, and self-management support in diabetes. Her research is funded by the CIHR, Heart & Stroke Foundation, Lawson Foundation, and Diabetes Canada. She has published over 120 papers and her research has received a high level of media coverage because of its direct relevance to patients, practitioners, and policy makers. She is currently studying the reversal of type 2 diabetes through low energy diet and supervised exercise (CIHR-MRC grant); the impact of recurrent gestational diabetes on cardiac disease in mothers, fathers, and offspring (Heart & Stroke Foundation); the uptake and acceptability of web resources, ePlatform-based step and weight monitoring, and health coaching on health behaviour change in gestational diabetes (Lawson Foundation).
Selected publications:
Blotsky AL, Rahme E, Dahhou M, Nakhla M, Dasgupta K. Gestational diabetes associated with incident diabetes in childhood and youth: a retrospective cohort study. CMAJ. 2019;191(15):E410‐E417. doi:10.1503/cmaj.181001.
Brazeau AS, Nakhla M, Wright M, et al. Stigma and Its Association With Glycemic Control and Hypoglycemia in Adolescents and Young Adults With Type 1 Diabetes: Cross-Sectional Study. J Med Internet Res. 2018;20(4):e151. Published 2018 Apr 20. doi:10.2196/jmir.9432.
Pace R, Brazeau AS, Meltzer S, Rahme E, Dasgupta K. Conjoint Associations of Gestational Diabetes and Hypertension With Diabetes, Hypertension, and Cardiovascular Disease in Parents: A Retrospective Cohort Study. Am J Epidemiol. 2017;186(10):1115‐1124. doi:10.1093/aje/kwx263.
Dasgupta K, Rosenberg E, Joseph L, et al. Physician step prescription and monitoring to improve ARTERial health (SMARTER): A randomized controlled trial in patients with type 2 diabetes and hypertension. Diabetes Obes Metab. 2017;19(5):695‐704. doi:10.1111/dom.12874.
Dasgupta K, Rosenberg E, Joseph L, et al. Carotid femoral pulse wave velocity in type 2 diabetes and hypertension: capturing arterial health effects of step counts. J Hypertens. 2017;35(5):1061‐1069.