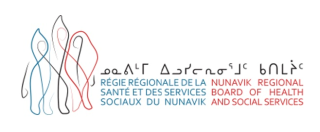 Dr Patrick Willemot was recently named GIM Service Chief for Nunavik (Région 17) and Eeyou Istchee
(Région 18).
The Division of General Internal Medicine Northern GIM service provides comprehensive, culturally safe specialized medical care to the populations of Nunavik (Health region 17) and Eeyou Istchee (Health region 18). People living in these regions reside in remote communities with particular determinants of health and health needs. Members of the Division of GIM who are involved in the Northern GIM service endeavour to improve local health of patients with complex medical conditions, in collaboration with local family physicians, nurses, midwives and pharmacists, while maximizing proximity care and cultural safety and minimizing time spent away from communities.
Since 2006, Dr Willemot has been providing GIM consultation services to the Ungava Bay Inuit communities, including daily email support to on-site physicians and nurses and week-long clinical visits to Kuujjuaq. In 2014, Dr Willemot began visits to Chisasibi, providing GIM consultation support to the James Bay coastal Cree communities, a responsibility which is now shared with Dr Romina Pace, who also makes visits to Mistissini (and by extension the inland Cree communities).
In collaboration with RUIS McGill and the Cree Health Board and Kuujjuaq Tulattavik hospital teams, Drs Willemot and Pace have implemented weekly Telehealth clinics to Chisasibi as well as to Ungava Bay Inuit communities.
In collaboration with the McGill Faculty of Medicine Distributed Medical Education office as well as the northern health boards, an innovative clinical rotation in Kuujjuaq, Chisasibi and Mistissini was developed which offered to R3 IM residents and R4-R5 GIM residents from McGill as well as other medical faculties and has been very well-regarded.
Dr Willemot has been an active advocate to further development of the Northern GIM service. The MUHC Division of GIM, in 2018, formalized the Northern GIM service by entering into Service agreements with the Nunavik and Cree Health boards to hire into dedicated positions ("Poste en Réseau Obligatoire") which will provide stability to the service and allow further growth and development. Active hiring into these positions is ongoing.
Coordination of the northern GIM service clinical, educational andadministrative duties isassured by Dr Willemot as the Nunavik GIM Service Chief and Dr Pace as the Eeyou Istchee GIM Service Chief.