roberto.benedicto

[at]

mcgill.ca

(Bobby Benedicto)
Assistant Professor, Institute for Gender, Sexuality, and Feminist Studies and the Department of Art History and Communications Studies
Bobby Benedicto is an Assistant Professor at McGill University's Department of Art History and Communications Studies and the Institute for Gender, Sexuality, and Feminist Studies. His research interests lie at the intersections of queer theory, critical race theory, urban studies, and theories of death and temporality. His first book, Under Bright Lights: Gay Manila and the Global Scene (University of Minnesota Press, 2014), received the 2015 Ruth Benedict Honorable Mention Prize for Queer Anthropology and was a finalist for the 2015 LAMDA Literary Award for LGBT Studies. He is currently working on two book projects: Fatal Sex: Essays on Queer Necroaesthetics and Queer Afterlives: Dictatorship Architecture, Transgender Performance, and the Place of the Dead. His other writings have appeared in Social Text, Antipode, and GLQ, among others. 
myriam.gervais

[at]

mcgill.ca

(Myriam Gervais)
Assistant Professor (Research)
514.398.4400 ext: 089871

Myriam Gervais est professeure associée et membre de l'axe de recherche Équité et Justice de l'Institut de même que du Réseau québécois en études féministes (RéQEF). Détentrice d'un doctorat en science politique de l'UQAM, ses intérêts de recherche sont les systèmes politiques africains et les théories du développement, et en particulier les approches féministes du développement international. En tant que chercheure et consultante pour des agences de développement, elle conduit des études sur des sujets liés à l'égalité de genre et à la gouvernance en Afrique (Rwanda, Guinée, Niger, Mali et Burkina). Ses  publications incluent des chapitres dans les ouvrages Development, Women and War (UK, Oxfam, 2004), Réformes institutionnelles et espaces politique ou les pièges de la gouvernance pour les pauvres (Paris, Harmattan, 2005),  Femmes et conflits armés (Québec, Presses de l'Université Laval, 2006), Productive Remenbering and Social Agency (Rotterdam, Éditions Sense, à paraître) ainsi que des articles dans les revues Agenda (2010) et Development in practice (2013).

Elle est  aussi l'auteure d'une étude sur la politique d'égalité des sexes au sein de l'aide canadienne dont les conclusions sont parues dans Droits des femmes et égalité entre les sexes (Montréal, Fondation W.D. Gordon et AQOCI, 2010). Elle dirige actuellement un programme de recherche multidisciplinaire (femSTEP) sur les questions de genre et de pauvreté rurale en Afrique.
alexandra.ketchum

[at]

mcgill.ca

(Alexandra Ketchum)
Faculty Lecturer, Institute for Gender, Sexuality, and Feminist Studies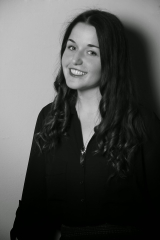 Alex Ketchum is the Faculty Lecturer at the Institute for Gender, Sexuality and Feminist Studies at McGill University. She received her doctorate from the Department of History at McGill University while focusing on feminist restaurants, cafés, and coffeehouses in the United States and Canada from the 1972-1989. Her work integrates food, environmental, and gender history. She has a MA in History with the Option in Women and Gender Studies also from McGill University and a Honors BA in Feminist, Gender, and Sexuality Studies from Wesleyan University. Ketchum is committed to accessible publishing practices. She is the founder of The Feminist Restaurant Project (thefeministrestaurantproject.com); the co-founder and editor of The Historical Cooking Project (historicalcookingproject.com), a website dedicated to food studies scholarship; the co-founder of Food, Feminism, and Fermentation (foodfeminismfermentation.com); and the author ofHow to DIY A Feminist Restaurant (Portland: Microcosm, 2018). For a full list of her publications and projects, please visit alexketchum.ca. She is currently working on a book about American feminist restaurant and literary culture in the 20th and 21st centuries.
alanna.thain

[at]

mcgill.ca

(Alanna Thain)
Associate Professor of Cultural Studies and World Cinemas, Department of English
514.398.3911/8327
Alanna Thain is Associate Professor of Cultural Studies and World Cinemas in the Department of English. She directs the Moving Image Research Laboratory (MIRL), devoted to the study of bodies in motion across forms of media. Through the MIRL she runs "Cinema Out of the Box!", a research-creation project on new expanded cinema, consisting of a completely bicycle-powered, mobile cinema that holds guerrilla screenings in unexpected sites in the city. She is the author of Bodies in Time: Suspense, Affect, Cinema, forthcoming from the University of Minnesota Press. Her work addresses questions of time, embodiment and media across contemporary cinema, dance and performance, including work by David Lynch, Tino Sehgal, Norman McLaren, Dave St-Pierre, William Kentridge and more, and has appeared in journals such as differences, Parallax, Dance Research Journal, and Intermédialités. Her essay, "Tendering the Flesh: The ABCs of Dave St. Pierre's Contemporary Utopias"(TDR/ The Drama Review, May 2014) co-authored with Virginia Preston, won the Richard Plant Award for Best Essay in English from Canadian Association of Theatre Research. She is currently completing a book on Norman McLaren. Her SSHRC-funded major research project, "Anarchival Outbursts: Dance and the Practices of Post-Digital Cinema" (2014-18), considers dance movement in screen dance and other contemporary productions as a key site for negotiating new potentials of embodiment in the digital age. Her most recent publication in the Visual Anthropology Review is "A Bird's Eye View of Leviathan".
https://mcgill.ca/english/staff/alanna-michael-thain
mirl.lab.mcgill.ca/
mcgill.academia.edu/alannathain