The Institute for Gender, Sexuality, and Feminist Studies (IGSF) invites applications for the position of Visiting Professor. These positions are open to professors who wish to spend one or two academic terms in a university environment in order to carry out research on gender, sexuality or feminist studies. The Institute offers work space and support, an ongoing seminar program, contact with other professors within McGill and in neighbouring universities - all this located at the centre of a stimulating, bilingual, urban environment.
Please see the Opportunities page for more information about the application process. 
---
Visiting Professors
2020-2021
Marnina Gonick
Muriel Gold Visiting Professor
IGSF, McGill University, Winter 2021
Visiting Professor from Mount St Vincent University
Marnina Gonick is Professor of Education/Women and Gender Studies at Mount St Vincent University in Halifax, Nova Scotia. She was Canada Research Chair in Gender from 2007-2017. She is the author of Between Femininities: Ambivalence, Identity and the Education of Girls, published by SUNY Press, the co-author of Young Femininity: Girlhood, Power and Social Change published by Palgrave and the co-editor of Becoming Girl: Collective Biography and the Production of Girlhood published by Women's Press. Her articles have appeared in journals such as:
Feminist Media Studies
,
Gender and Education
and
Young: Nordic Journal of Youth Studies
.
Jessica Roda
Visiting Professor from Georgetown University
Jessica Roda is an anthropologist and ethnomusicologist, Assistant Professor of Jewish Civilization at Georgetown University's Walsh School of Foreign Service. Her research centers on performances, religion, gender, technology, and globalization. Immersed in the French and the North American schools of anthropology and ethnomusicology, she earned Ph.Ds from Sorbonne University and the University of Montreal.
Her first monograph, Se réinventer au présent. Les Judéo-espagnols de France. Famille, communauté et patrimoine musical has been published in 2018 by the Presses Universitaires de Rennes and is finalist for the J. I. Segal Award for the best Quebec book on a Jewish theme. She is currently working on her second book Beyond the Sheitl. Orthodox Jewish Women and Performances in the Digital Age based on an ethnography of ultra-Orthodox Jewish life in Montreal and New York City. The work investigates the new female artistic scene in music and film by Hasidic and former Hasidic artists analyzing performances in relation to women's agency, relatedness, and global belonging, challenging gender and religious identities in the context of decolonizing feminism.
​Before joining Georgetown University, Roda was a postdoctoral fellow at McGill University (Jewish Studies), visiting scholar at UCLA, Columbia University (Heyman Center), Universidade Estadual de Campinas, Brazil (Department of Anthropology), and was selected by the Royal Society of Canada and the Science Council of Japan to participate in the WISET Program (Women in Science, Engineering, and Technology, http://src-rsc.com/en/events/wiset-exchange-programme).
Personal website: www.jessicaroda.com
---
2019-2020
Jean Baptista
Muriel Gold Visiting Professor
IGSF, McGill University, 2019-2020
Jean Baptista
is Professor at the Federal University of Goias, Brazil, where he teaches in the departments of Museology and Social Anthropology. As a queer historian of Indigenous descent, his studies are dedicated to the memory of political minorities in contexts of exclusion, especially in failed democracies. His current project, Rimbow Diaspora, investigates strategies of resistance based on the memory of the violence of people who were forced to leave their home countries to protect themselves from gender and sexual persecution.
Soraya Barreto
Visiting Professor from Federal University of Pernambuco (UFPE), Brazil
Soraya Barreto Januário holds a PhD in Communication Sciences and is a Visiting Professor at the Institute for Gender, Sexuality and Feminist Studies (IGSF), McGill University. She is a Professor in the Communication Department at the Universidade Federal de Pernambuco (UFPE) in Brazil as well as Professor and researcher at the Postgraduate Program of Human Rights at UFPE (PPGDH/UFPE.) She has experience in Gender Studies and Media, acting especially on subjects related to: Masculinities, Femininities, Feminisms, Consumption, Sports and Media. She is currently researching the impacts of the commoditization of feminisms on social representations and market practices.
---
2018-2019
Melinda Luisa de Jesús
Muriel Gold Visiting Professor
IGSF, McGill University, Winter 2019
Melinda Luisa de Jesús
is Associate Professor and former Chair of Diversity Studies at California
College of the Arts. She writes and teaches about Filipinx/American cultural production, girl
culture, monsters, and race/ethnicity in the United States.
She edited Pinay Power: Peminist Critical Theory, the first anthology of Filipina/American
feminisms (Routledge 2005). Her writing has appeared in Mothering in East Asian Communities:
Politics and Practices; Completely Mixed Up: Mixed Heritage Asian North American Writing and Art;
Approaches to Teaching Multicultural Comics; Ethnic Literary Traditions in Children's Literature;
Challenging Homophobia; Radical Teacher; The Lion and the Unicorn; Ano Ba Magazine; Rigorous;
Konch Magazine; Rabbit and Rose; MELUS; Meridians; The Journal of Asian American Studies, and
Delinquents and Debutantes: Twentieth-Century American Girls' Cultures.
Melinda is also a poet and her chapbooks, Humpty Drumpfty and Other Poems, Petty Poetry for
SCROTUS Girls' with poems for Elizabeth Warren and Michelle Obama, Defying Trumplandia, Adios
Trumplandia, James Brown's Wig and Other Poems, and Vagenda of Manicide and Other Poems
were published by Locofo Chaps in 2017. Her first collection of poetry, peminology,
was published by Paloma Press (March 2018).
In Spring 2019 Melinda will be Muriel Gold Senior Visiting Scholar at the Institute for Gender,
Sexuality and Feminist Studies at McGill University in Montreal, Canada where she will be co-chairing the
Pinay Power II: Celebrating Peminisms in the Diaspora conference.
See http://pinaypower.ca for more info.
She is a mezzo-soprano, a mom, an Aquarian, and admits an obsession with Hello Kitty.
More info: http://peminist.com
 
Megan Fernandes
Visiting Professor
IGSF, McGill University, Winter 2019
Megan Fernandes is a poet and academic. She is an Assistant Professor of English at Lafayette College. Her recent academic work has been focused on poetics, feminist science studies, and eco-criticism. Her writing has been published or is forthcoming in
The New Yorker, Boston Review, Chicago Review, Tin House, Ploughshares, Postmodern Culture, Configurations: Journal of Literature, Science, and the Arts,
among many others. In Spring 2019, Megan will be co-organizing with Director, Alanna Thain, a two day workshop at the Institute for Gender, Sexuality and Feminist Studies entitled "Thresholdings: Intimacies, Opacities, and Embodiments." The workshop is focused on theories of relationality, suspension, and fatigue and will include a one day reading group on the work of Édouard Glissant as well as a day of talks by scholars and artists on related topics.
2017-2018
Hee-Jung Serenity Joo
Muriel Gold Visiting Professor
IGSF, McGill University, Winter 2018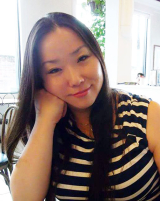 During the Spring 2018 term, I will be working on my manuscript, entitled Locating Disaster: Racial Futurity at the End of the World. Focusing on contemporary disaster film and fiction, I map the racial logics of cultural narratives of disaster to develop a theory of race that is not only embodied, but also temporal and spatial. I argue that disaster narratives constitute "speculative panic sites" wherein the fundamental divisions and boundaries that define humanity do not fall away, but rather crystalize.
For humans, futurity often assumes a capitalist and developmental linear narrative that hinges on heterosexual reproduction. My project traces the gendered and racial limits of such ideas of futurity, and I turn to authors and directors of color who reimagine the future from a non-anthropocentric perspective. These artists critically rethink almost-but-not-quite-human figures (zombies [Colson Whitehead], robots [Greg Pak], superheroes
[Jeff Yang et al.]) or turn away from the human altogether to instead focus on our relationality with non-human animals (Behn Zeitlin, Bong Joon Ho), objects (Karen Yamashita, Julie Dash), and plants (Ruth Ozeki, Octavia Butler). Together, they articulate diverse versions of a queer futurity that rejects assimilation into liberal humanism and insist on imagining otherwise. My work is inspired and informed by the queer theory of Mel Chen, Jose Muñoz, J. Halberstam, Elizabeth Freeman, and Eve Sedgwick, as well as the critical race feminism of Christina Sharpe, Hortense Spillers, and Saidiya Hartman.
 
My research provides a cultural intervention into the growing discourse of the Anthropocene (our current geological era wherein human agency is recognized as a geological force, including being responsible for climate change). The main concern of the Anthropocene involves the future survival of the human species. Yet, for whom are we saving the world? Who has more to lose? For whom has the world already ended? What other futures are possible? Have been here all along? I interrogate the race and gender politics of cultural imaginings of both the end of the world, and surviving it. My project as a whole is committed to an understanding of cultural literacy as a means of participating in a public humanities devoted to social justice.
2016-2017
Rachel Hurst
Muriel Gold Visiting Professor
IGSF, McGill University, Fall 2016
Rachel Hurst is Associate Professor of Women's and Gender Studies at St. Francis Xavier University in Antigonish, Nova Scotia.  Rachel's research is broadly concerned with the relationships between (visual) culture, embodiment, and power, from the perspectives of psychoanalysis, feminist theory, and decolonial thought.  She is the author of Surface Imaginations: Cosmetic Surgery, Photography, and Skin (McGill-Queen's University Press, 2015), which Kathy Davis reviewed as "a poetic, strong, and innovative study that develops and elaborates on issues of fantasy, photography, and the limitations of the skin."  Rachel is also co-editor of Skin, Culture and Psychoanalysis (Palgrave, 2013).  She teaches courses on historical and contemporary feminist theories, cultural studies, and embodiment.  Rachel's teaching is infused with passion for integrating creative expression and community engagement as a central component of intellectual work, combined with an ongoing reflective practice through research on pedagogy; an example of this work is the Doing Feminist Theory Through Digital Video project. 
As the Muriel Gold Visiting Professor, Rachel will be working on a book manuscript, currently titled Settler Fantasies and Colonial 'Before and After' Photography.  Focusing how colonial violence was legitimized as a part of nation-formation and the construction of citizenship in Canada from the mid-19th to the mid-20th centuries, this research looks at parallel processes within visual culture that uphold the legality of settler violence in order to 'unsettle' settler lawfulness.
More information on Rachel's work can be found on her website: http://www.rachelhurst.ca.
Dolleen Tisawii'ashii Manning
Visiting Professor
IGSF, McGill University, 2016-2017
Dolleen Tisawii'ashii Manning is an Assistant Professor at the Indigenous Visual Culture Program, Ontario College of Art & Design University (Toronto). The youngest of twelve and a band member of Kettle and Stoney Point First Nations. She was raised off-reserve in rural Southwestern Ontario by her Ojibwe Anishinaabe mother and Irish father. Her mother, who spoke Anishinaabemowin as her first language, imparted a profound sense of the world as both interrelated and living – a central theme which Manning continues to investigate through her art and scholarly practice. This work attends to the enigmatic territory where image and reality, appearance and objects, self and world, collide.
During her stay with IGSF Manning will be completing her dissertation Mnidoo-Worlding: Merleau-Ponty and Anishinaabe Philosophical Translations      (working title), which brings critical theorists and phenomenology in dialogue with Anishinaabe ways of knowing. She turns to Ojibwe concepts such as mnidoo or manitou (spirits, energy, or other-than-human persons) to propose an interrelational theory of consciousness that involves a possession by these living potencies. She contends that this possession transmits to Anishinaabe visional modes and the experience of imaging and time itself. In her usage, vision is not limited to sight but rather refers to a presencing in the absence of an immediate visual representation.
This research lays the groundwork for two book projects (in progress). The first traces the persistence of Anishinaabe traditions in everyday contemporary indigenous practices, while revealing how they have had a transformative effect on the development of western thought. The second explores the significance and structure of Anishinaabe practices of imaging, along with the implications of pathologizing these philosophies. She is a Doctoral Candidate at the Centre for the study of Theory and Criticism at the University of Western Ontario (London, Canada), and holds interdisciplinary graduate degrees in contemporary art (MFA, Simon Fraser, BC, 1997) and critical theory (MA, Western University, ON, 2005). Her publications include "The Becoming-Human of Buffalo Bill" in Intensities and Lines of Flight [Calcagno, et al, eds., 2014], and "The Murmuration of Birds: An Anishinaabe Ontology of Mnidoo-Worlding" in Feminist Phenomenology Futures [Fielding and Olkowksi, eds., Spring 2017].
Contact: dolleenmanning [at] gmail.com
Online: https://uwontario.academia.edu/DolleenManning
Marguerite Waller
Visiting Professor
IGSF, McGill University, Fall 2016
Marguerite Waller's current interests include gender and colonialism, decolonial film and media, and eco-aesthetics. Originally trained in early modern comparative literature, she has published on Dante, Petrarch, Wyatt, Surrey, and Shakespeare. More recently she has worked in the overlapping areas of dialogue between Western and nonWestern feminisms, the impact of neoliberal policies on women's poverty, and Italian, transnational, and postcolonial media studies.
She is the author of Petrarch's Poetics and Literary History (University of Massachusetts 1980) and co-editor of Federico Fellini: Contemporary Perspectives (Toronto 2002). Over the course of three co-edited volumes—Frontline Feminisms: Women, War, and Resistance (Routledge 2000), Dialogue and Difference: Feminisms Challenge Globalization (Palgrave 2005), The Wages of Empire: Neoliberal Policies, Resistance, and Women's Poverty (Paradigm 2007), and a special issue of Social Identities (2006), she has been committed to facilitating communication and collaboration among feminist projects rooted in different epistemes. Also committed to engaging visual media in these dialogues, she co-edited, with Sandra Ponzanesi, the volume Postcolonial Cinema Studies (Routledge 2012).
In the early1990s, she was a member of the women's art-making collective Las Comadres, active in the San Diego/Tijuana border region, and she has twice chaired the Women's Studies Department (renamed Gender and Sexuality Studies in 2014) at UC Riverside. She has held two Fulbright professorships, one in France and the other in Hungary.
Research Agenda for Fall 2016
One of my research projects continues a dialogue I have been having since 1997 with the thought and modes of activism of Indian feminist Corinne Kumar. In a recent essay, "Immigrant Protest and the Courts of Women" (In Immigrant Protest:  Politics, Aesthetics, and Everyday Dissent, ed. Katarzyna Marciniak and Imogen Tyler. SUNY Press), I write about the well-planned, multi-dimensional tribunals or "Courts of Women" that Kumar and a fluid, transnational network of activists and public figures have been organizing since the early 1990s to address forms of violence against women for which there are no local, national, or international legal remedies.  Courts have been held throughout the Global South and, in recent years, became a part of both the World Social Forum and more local Forums in Africa and the United States.  For a number of reasons, Kumar has more recently embarked on a lower-cost, very literally grass roots project that I would like to learn and write more about.
With characteristic originality, she and her colleagues are developing Marmara (www.mamara.org.in), whose inter-related objectives include giving voice to the "little Indias" subjugated by the grand narrative of nationalism and by the understanding of "development" solely in terms of neoliberal economics. Marmara involves listening, attuning public and political discourse, to these voices and bringing into focus today's intensification of violence against marginalized people.  Locating these activities under trees underscores the heavy, perhaps fatal, toll that development and commodification of resources is also taking on the environment. Symbolically and in fact, all barriers to participation in these urgent discussions are removed, and the people most intimately knowledgeable about their own and their environment's destruction become principle analysts and spokespeople.  I am collaborating on this project with Tanya Rawal, a feminist philosopher who teaches at California State University in Los Angeles. Tanya has been working on farmer suicides in India, particularly the discrepancy between the ways in which they have been represented in novels, films, television, and policy-making and the discourse of the farmers themselves.  She has recently turned her attention to female farmer suicides, which have been almost entirely invisible to official entities within India and to the international community.
My other project will be to research and begin writing a section of a new book I am working on about the aesthetics of "decolonial" documentary filmmaking, particularly the ways in which film and media artists address the panic with which audiences and critics sometimes respond when notions of "truth" and "reality" are challenged.  One of my objectives is to identify the means by which they make palatable and even enjoyable this kind of challenge to self and certainty.  The section of the book I will be working on this fall talks about the emergence of cinematic eco-aesthetics, at first in nonmainstream media projects such as Annie Leonards' on-line animation The Story of Stuff (2007) and more recently in documentaries focused on climate change activism, such as Avi Lewis's and Naomi' Klein's This Changes Everything (2014). In the process of writing a short piece for the 2015 conference of the Women in Black on "Climate change, Gender, and War," I found postcolonial poet/theoretician Édouard Glissant's "poetics of relation" a particularly powerful way, not just of connecting the dots, but of making entirely different kinds of connections. The danger lies in the single story, according to a German group that calls itself "subtramas" (subplots), not in the proliferation of them.  Drawing on feminist and decolonial epistemological projects, I frame mainstream knowledges in terms of the losses they entail, no less life-threatening than the losses of species, livelihoods, cultures, languages, drinkable water, and breathable air that we more commonly associate with climate change. 
---
2015-2016
Brian Martin
Muriel Gold Visiting Professor
IGSF, McGill University, 2015-2016
Brian Martin is Associate Professor of French and Comparative Literature at Williams College in western Massachusetts (USA), where he teaches courses on nineteenth- and twentieth-century French and Scandinavian literature and film. Martin's research focuses broadly on gender and sexuality in France, and on Nordic masculinities from Scandinavia to Québec. He is the author of the book
Napoleonic Friendship: Military Fraternity, Intimacy, and Sexuality in Nineteenth-Century France
(2011), a history of queer soldiers in the French military, from Napoleon to the First World War. Among other prominent reviews, the book was praised by the
American Historical Association
as "a remarkable contribution to historical, literary, military, and queer studies," and by
H-France Review
as "the postmodern military history that Foucault never wrote." Nominated for a Lambda Literary Prize in 2012,
Napoleonic Friendship
was awarded the Laurence Wylie Prize in French Cultural Studies in 2013. As the Muriel Gold Visiting Professor at the Institute for Gender, Sexuality, and Feminist Studies at McGill University, Martin is working on a new book project, tentatively titled
Queer Lumber: Forest Fraternity, Masculinity, and Sexuality from Loggers to Lumbersexuals
. In
Queer Lumber
, he argues that northern loggers and lumbermen are iconographic figures of both Northern European and North American masculinity, fraternal intimacy, and homoerotic sexuality. 
Wendy Cumming-Potvin
IGSF, McGill University, February 2016
Born and raised in Canada, Dr Wendy Cumming-Potvin is currently an Associate Professor at the School of Education, Murdoch University in Western Australia.  A recipient of a Vice-Chancellor's award for excellence in teaching, Wendy coordinates graduate courses about research methods and literacies. Focusing on literacies and human rights, Wendy is a qualitative researcher with a strong interest in LGBTQI+ topics, gender democratisation, teacher education and technology. Wendy is chief investigator of a Young and Well Cooperative Research Centre project, which is funded by the Australian government, a consortium of universities and approximately 80 community organizations. Through literacy and technology, the study aims to develop inclusive and safe schools for all students, highlighting the need for LGBTQI+ friendly curricula. Wendy is also a research collaborator for a Social Sciences and Humanities Research Council (SSHRC) project, headed by Professor Wayne Martino (University of Western Ontario). This multi-site study examines policies and practices of gender democratisation and transgender equality in Ontario, California, Colorado and Western Australia. A list of Wendy's publications can be found at: 
http://researchrepository.murdoch.edu.au/view/author/Cumming-Potvin,_Wendy.html
Lisa Henderson
Visiting Professor
IGSF, McGill University, Winter 2016
Lisa Henderson is Professor of Communication, recent past Chair of the Department of Communication, and Affiliate Faculty in American Studies at the University of Massachusetts Amherst, USA.  Her research and teaching interests include cultural production, sexual representation, feminist media studies, and cultural studies of social class, with essays in a number of collections and such journals as
Feminist Media Studies, GLQ, International Journal of Communication, Journal of Communication, Key Words: A Journal of Cultural Materialism,
and
Screen
. Her recent book,
Love and Money: Queers, Class and Cultural Production
(NYU Press, 2013) argues that we can't understand contemporary queer cultures without looking through the lens of social class.  
In 2011, Henderson received the Roy F. Aarons Award for Outstanding Contribution to GLBT Education and Research from the Association for Education in Journalism and Mass Communication.  Her new work looks at collaborations between cultural scholars and artists, at friendship as a political form, and the relationship between cultural participation and thriving. Professor Henderson will give a talk titled "Making Things Together, a research-creation swerve on Howard Becker's Doing Things Together"  in the Winter edition of the Esquisses series, on February 24. See our events page for more information.
Dont Rhine
Visiting Professor
IGSF, McGill University, Winter 2016
Dont Rhine co-founded the international sound art collective Ultra-red in 1994. He serves on the advisory board of the needle-exchange program, L.A. Community Health Project (formerly Clean Needles Now), which he co-founded in 1992 while a member of the Los Angeles chapter of ACT UP (AIDS Coalition to Unleash Power). He attended the Whitney Independent Study Program in 1994-95 and in 2006 received his MFA from UCLA in Interdisciplinary Studio with artist, Mary Kelly. Dont is currently the co-chair of Visual Art at Vermont College of Fine Arts where he has taught part-time since 2007. Dont has received fellowships from California Community Foundation in 2007 and from the Los Angeles Department of Cultural Affairs in 2010. Dont is co-facilitator of the Los Angeles branch of Ultra-red's mentorship program, School of Echoes, as well as co-founder of the L.A. Tenants Union. He lives in Hollywood.
Ultra-red are a sound art collective founded in 1994 by two Los Angeles AIDS activists. Today, with twelve members in Germany, United States, and the U.K., Ultra-red conduct research embedded within social movements. Sound and listening are the medium and the site of inquiry. Ultra-red have released dozens of albums, published numerous texts, and conducted workshops around the world. Ultra-red have received commissions and residencies with the Department of Interior of Ireland (2003); Raven Row Gallery (2009) and Serpentine Gallery, London (2009-2013); Arika, Scotland (2009-2012); Vera List Center for Art and Politics at The New School, New York (2010); Fritt Ord Institute, Oslo (2010); Akademie der Künste der Welt, Cologne (2014); and the Social Practice Art Research Center at U.C. Santa Cruz (2013-2015).

Contact: info [at] ultrared.org
Online resources: https://www.facebook.com/ultraredcollective/
Ultra-red, "Re-Assembly" (2013): https://vimeo.com/63868467
Ultra-red, "Practice Sessions" (2014): http://welcometolace.org/lace/practice-sessions/ultra-red/
Ultra-red, "URXX: Second Encounter" (2014): https://vimeo.com/110452615 
---
2014-2015
Colin Johnson
Associate Professor in the Department of Gender Studies
Indiana University Bloomington
crj2 [at] indiana.edu (Email)
1 January 2015 - 31 May 2015
Colin R. Johnson is Associate Professor of Gender Studies and Adjunct Associate Professor of American Studies, History and Human Biology at Indiana University Bloomington where he teaches courses of feminist theory, queer theory, and the history of gender and sexuality. He is the author of
Just Queer Folks: Gender and Sexuality in Rural America
(Philadelphia: Temple University Press, 2013), which was named a finalist for the 2014 Lambda Literary Award in LGBT Studies.  Johnson is also co-editor, with Brian Gilley and Mary L. Gray, of a forthcoming collection of essays entitled
Queering the Countryside: New Directions in Rural Queer Studies
.  To date, Johnson's research has dealt primarily with the history of gender and sexual non-conformity in the rural United States during the late nineteenth and early twentieth centuries.  His second book project, which will be the focus of his research during his tenure as a Visiting Professor at the IGSF, considers the historical relation between misanthropy and sexual alterity.  In addition to his term as a Visiting Professor at McGill, Johnson has held fellowships and other visiting scholarly appointments at the University of Helsinki, the Johns Hopkins University, the Smithsonian Institution, and the University of Michigan, where he completed his PhD in the Department of American Culture.  Johnson also recently concluded serving a three year term as a member of the governing board of the Committee for Lesbian, Gay, Bisexual and Transgender History (CLGBTH), an affiliate organization of the American Historical Association.
Sujata Moorti
Professor in Gender, Sexuality, and Feminist Studies
Director of the Program in Gender, Sexuality, and Feminist Studies
Middlebury College
smoorti [at] middlebury.edu (Email)
1 January 2015 - 31 May 2015
Sujata Moorti is a feminist media studies scholar who has specialized in analyzing the representations of race and gender. She has also published extensively about the transnationally circulating media of the South Asian diaspora and about Indian cinema.  She is completing a manuscript,
iFeminism
, exploring how social media have helped transform transnational gender justice activism. Her most recent book manuscript,
All-American Crime Drama
(co-authored with Lisa Cuklanz), examines the US television series
Law and Order: Special Victims Unit
. Her first book
The Color of Rape: Gender and Race in Television's Public Spheres
(SUNY Press, 2002) was honored by the Gustavus Myers Center for the Study of Bigotry and Human Rights in North America. She is the co-editor of
Global Bollywood: The Transnational Travels of Hindi Song and Dance
and
Local Media, Global Violence: Feminist Analyses of Gendered Representations
. She is professor of Gender, Sexuality and Feminist Studies at Middlebury College.
Brenda Weber
Associate Professor in the Department of Gender Studies
Director of Graduate Studies
Indiana University Bloomington
IGSF Muriel Gold Senior Visiting Professor
breweber [at] indiana.edu (Email)
15 August 2014 - 31 December 2014
My work engages with a wide archive of mostly discredited cultural texts, including non-canonical nineteenth-century transatlantic women's literature and contemporary media, specifically literature, film, and television. As it relates to these texts I have particular interest in how identity is discursively gendered, constructed, and embodied through written and mediated means, as well as how gender, sex, sexuality, race, and class work together to inform notions of the "normative" self. Celebrity, masculinity, and American religious cultures have become important themes offering a framework for coherency across the many modalities in which I work.
While at the IGSF, I am working on a new book project on mediated Mormonism. Based on both unpublished materials and mass-produced entertainment,
Gendered Modernity and Mediated Mormonism
charts contemporary media across multiple platforms (blogs, novels, memoirs, television, film, Facebook, Twitter, YouTube) to demonstrate how the idea of Mormonism as a faith fixes the meanings of a gendered modernity marked by flexible domestic labor practices, "progressive" social relations, fluid interpersonal communication styles, and deliberative family structures. The book examines how Mormonism is variously used by those within and outside of the Church and by both amateur media producers and professionals to reinforce and renegotiate codes that align with contemporary American ideals of egalitarianism, meritocracy, and self-actualization in an orientation toward screens, self-reflexivity, and the monetization of identity or self-branding that typifies modernity.
Enakshi Dua
Associate Professor in the Department of Equity Studies
School of Gender, Sexuality, and Women's Studies
edua [at] yorku.ca (Email)
15 August 2014 - 31 December 2014
Enakshi Dua is currently the out-going Director of the Centre for Feminist Research, at York University. She teaches critical race theory, anti-racist feminist theory, post colonial studies and feminist theory.  She has extensively published on theorizing racism and anti-racism, the racialised and gendered histories of immigration processes, racism in Canadian Universities, equity policies and anti-racism policies and the racialisation of masculinity and femininity. She has also published on women and health and globalization and biodiversity. Her notable publications include
Scratching the Surface: Canadian Anti-Racist Feminist Thought,
The Hindu Woman's Question, From Subjects To Aliens: Indian Migrants, The Racialisation of Canadian Citizenship and Decolonising Anti-Racism
. She has a forthcoming co-edited publication
Theorizing Anti-Racism: Linkages in Marxism and Critical Race Theories
(University of Toronto Press). She has more than 30 years of experience in anti-racist work in the community as well as within the academy. Within the academy, she has held a number of administrative positions that deal with gender, anti-racist, and equity issues. She has served as Chair of the CAUT Equity Committee, the co-chair of the Sub-committee to the Joint Committee of the Collective Agreement on Equity, at Queen's University, as well as the York University Faculty Association's Equity Officer.
---
2013-2014
Felicia Kornbluh
Professor in the Department of History and Director of Gender, Sexuality and Women's Studies
University of Vermont
IGSF Muriel Gold Senior Visiting Professor
14 January 2014 - 31 May 2014
felicia.kornbluh [at] uvm.edu (email)
Dr. Felicia Kornbluh directs the Gender, Sexuality, and Women's Studies Program and is Associate Professor of History at the University of Vermont. She is the author of The Battle for Welfare Rights: Poverty and Politics in Modern America (University of Pennsylvania Press, 2007). Kornbluh is currently writing about the African American, women's, LGBT, and disability rights movements in a book entitled Constant Craving: Economic Justice in Modern America. She argues that the movements that are often known for "identity politics" in fact sought access to the labor market for their members and tried to reform the public welfare system. She is also writing, with Audra Jennings, Rethinking the Disability Rights Movement, which will be published in 2016 by Routledge Press.
Kornbluh has written for journals including Feminist Studies, the Journal of American History, The Nation, the Women's Review of Books, and the Los Angeles Times op-ed page. She holds a Ph.D. in history from Princeton University and a B.A. from Harvard-Radcliffe. Kornbluh is one of 16 Commissioners who serves on the Vermont Commission on Women.
Julie Lavigne
Professor in the Department of Sexology
Université du Québec à Montréal
15 August 2013 - 31 May 2014
lavigne.julie [at] uqam.ca (email)
Julie Lavigne is an Art Historian and a professor in the Sexology Department at Université du Québec à Montréal (UQAM). After completing a PhD in Art History from McGill, she did postdoctoral research at the Centre de recherche en éthique de l'Université de Montréal (CRÉUM). She is a member of the Institut de recherches et d'études féministes (IREF), and the Réseau québécois en études féministes (RéQEF). He research examines contemporary art, feminist reappropriation of pornographic codes, the representation of sexuality in art and television, feminism and ethics. During her stay at IGSF, she will be conducting research for her FQRSC-funded project Le rapport éthique à soi et à autrui dans les œuvres de femmes artistes: portrait de la représentation de la sexualité en art contemporain. The project explores the notion of self-sexual objectification, sexual agency and ethics, as addressed by several works of art in the corpus, including works by Andrea Fraser, Jemina Stehli, Madeleine Berkhemer, Cecily Brown, Marilyn Minter, Natacha Merritt, Jenny Saville and Malerie Marder. Lavigne will start another research that examines critical feminist, queer and lesbian pornography and the concept of post-pornography in the Internet age.
---
2012-2013
Stacy Gillis
Professor in Modern and Contemporary Literature
Newcastle University, UK
IGSF Muriel Gold Senior Visiting Scholar
Yvette Taylor
Professor in Social and Policy Studies
London South Bank, UK
2011-2012
Karen Houle
Associate Professor in Philosophy
University of Guelph, Ontario
IGSF Muriel Gold Senior Visiting Scholar
Lisa Adkins
Professor of Sociology, School of Humanities and Social Science
Newcastle University, Australia
2010-2011
Sheenagh Pietrobruno
Fatih University, Istanbul, Turkey
IGSF Muriel Gold Senior Visiting Scholar
Tracy Y. Zhang
The School of Communication
Simon Fraser University, Vancouver, B.C.
Elizabeth Bullen
School of Communication & Creative Arts
Deakin University, Melbourne, Australia
2009-2010
Naima Larbi Benlarabi
English Studies, Ibn Tofail University, Morocco
IGSF Muriel Gold Senior Visiting Scholar
Heidi Epstein
Department of Religion and Culture, St. Thomas More College, University of Saskatchewan
Caroline Bassett
Department of Media and Film, University of Sussex, UK
2008-2009
Ellen Waterman
Lisa Guenther
Tanya Fitzpatrick
Isabel Arredondo
2007-2008
Margaret Denike, Carlton University
Maryanne Dever, Monash University