​
Student may vary in their reasons for pursuing graduate studies
The motivation to do a graduate degree often includes both personal and professional goals. While the outcomes of the degree are not entirely controllable, a graduate degree will lead to qualifications for further study or employment. Discussions between student and supervisor about the student's motivations can help shape the training environment.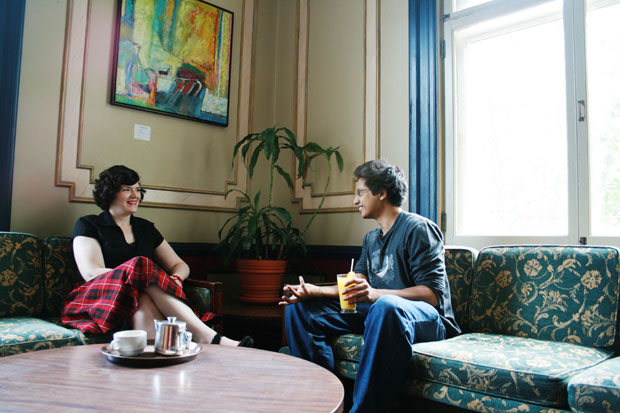 ​
Students often look up to their supervisors as role models in teaching and research, so talking with each other about motivations and goals can help both parties to understand why they do what they do. These discussions can provide a basis for clarifying expectations, on topics such as the expected skills training and types of support required.
You or your supervisee may decide, or may have already decided, that the purpose of the degree includes one or more of the following:
to get a particular job, whether academic or not (see the Careers page for more information);

to master the skills and knowledge in a particular field, and thereby gain confidence in abilities; or

to pursue a change of career or a pause in employment.
Those in research-based programs may also consider purposes such as:
advancing scholarship with contributions that are judged significant by the academic community;

preparing future researchers whose publications, teaching, and methodologies can benefit them individually and in academic, industrial, governmental, or other contexts; and

creating and applying knowledge for the sake of the public good and other societal concerns (such as the natural environment, judicial justice, health care etc.).
The product to produce vs. the person to become
At both the Master's and doctoral levels, an important question is whether the degree aims to produce something (i.e., a thesis) or to produce somebody (a kind of person defined in part by having completed the degree). The debate is whether it makes more sense to focus on the production of the person, or whether education has a more systematic purpose.
The following quotation, from a paper written by three McGill professors, addresses the differences between degrees from the perspective of membership—that is, to what extent students are considered members in the scholarly community in their disciplinary fields.
Undergraduates are eavesdroppers, listening in on the disciplinary conversation and reporting it back to the professor (an actual member); Master's students are ventriloquists, able to sound like participants, but really only channeling the voices of the true members; doctoral students – if they are fortunate – find themselves increasingly involved as participants in work that matters, in work that will be public and that might affect others. Their access to and engagement in the range of practices that constitute the community's work results in [a] "deep participation" …. That transformation, and the growing sense of agency and engagement it brings, marks the beginnings of membership. (Paré, Starke-Meyerring, & McAlpine, 2006, p. 10)
Is this perspective appropriately focused on the person rather than the product? Do you think it accurately describes each degree?
Another opinion on this topic comes from Dr. Richard Rose, the former associate chair of Electrical and Computer Engineering at McGill, who said:
"[The doctorate is] a journey that will transform your perspective on knowledge [and] change you from a consumer of knowledge to a creator of knowledge."
To what extent do the terms "consumer" and "creator" here maintain an emphasis on the person, and is it a sufficient emphasis?
Qualification and employment outcomes of graduate degrees
The Master's degree is often a step toward the PhD or to other qualifications or employment. Research on the doctorate has focused on two slightly different purposes of the PhD: to make an original contribution to knowledge and to prepare independent researchers. The qualifications of graduates in terms of transferable skills applicable to both academic and non-academic contexts further the outcome possibilities.
You will probably agree that a "Master's education can be many things to many people" (CAGS, 2006). Still, it largely functions as a stepping stone to doctoral studies especially in STEM fields (science, technology, engineering, and mathematics). Globally, Master's programs aim to enhance students' professional skills, as well as multi-disciplinary, interdisciplinary and trans-disciplinary competencies (CAGS, 2006). A study of supervisors in the UK suggests that developing a questioning perspective as well as learning to defend decisions and conclusions are purposes of the Master's thesis (Anderson, Day, & McLaughlin, 2006). Related skills are described by the Council of Ministers of Education in Canada:
[Master's] graduates will have the qualities needed for either further study in the discipline or for employment in circumstances requiring sound judgment, personal responsibility and initiative, in complex and unpredictable professional environments (2007, table 1, p. 4).
Overall, the purposes of the Master's degree depend on the goals and structures of individual programs, especially whether the focus is on coursework, research, or training for a specific profession.
Views on the purpose of the doctorate can vary (Park, 2007), and discussions on this topic have centered on two key questions (Mullins & Kiley, 2002; Sinclair, Barnacle, & Cuthbert, 2014).
Is the primary purpose to make an original contribution to knowledge? (i.e., focus on the product)

Is the primary purpose to prepare independent researchers? (i.e., focus on the person)
There may be disciplinary differences in the adherence to of each of these purposes, as demonstrated by slight variations as to whether examiners focus on the text of the thesis or the student and their potential. Those in the humanities tend toward the former and those in the other fields tend to the latter (Mullins & Kiley, 2002).
Many academics still place an emphasis on the doctorate as preparation for academia, however it is important to also consider the doctorate as preparation for non-academic careers, and even non-research careers, due to the large proportion of graduates entering such fields (Aanerud, Homer, Nerad, & Cerny, 2006; Bernstein, Evans, Fyffe, Halai, & Hall, 2014). Doctorate graduates gain transferable skills that are applicable in a variety of contexts (Enders, 2005; Bernstein et al., 2014). This is exemplified in the following quote from the Council of Ministers of Education in Canada:
Holders of doctorates will have the qualities needed for employment requiring the ability to make informed judgements on complex issues in specialist fields, and innovation in tackling and solving problems (2007, table 1, p. 4).
See the Careers page for more information on career paths after graduate school.
Aanerud, R., Homer, L., Nerad, M. and Cerny, J. (2006). Paths and perceptions: assessing doctoral education using career path analysis. In P. Maki & N. Borkowski (Eds.), The assessment of doctoral education: Emerging criteria and new models for improving outcomes (pp. 109-140). Sterling Virginia: Stylus Publishing.
Anderson, C., Day, K., & McLaughlin, P. (2006) Mastering the dissertation: lecturers' representations of the purposes and processes of Master's level dissertation supervision. Studies in Higher Education, 31(2), 149-168.
Bernstein, B. L., Evans, B., Fyffe, J., Nelofer, H., & Hall, F. L. (2014). The continuing evolution of the research doctorate. In M. Nerad & B. Evans (Eds.), Globalization and its impacts on the quality of PhD education: Forces and forms in doctoral education worldwide (pp. 5-30). Rotterdam: Sense Publishers.
Canadian Association for Graduate Studies [CAGS] (2006). A profile of Master's degree education in Canada.
Council of Ministers of Education, Canada (2007). Ministerial statement on quality assurance of degree education in Canada. Retrieved from http://www.cmec.ca/Publications/Lists/Publications/Attachments/95/QA-Sta...
Enders, J. (2005). Border crossings: Research training, knowledge dissemination and the transformation of academic work. Higher Education, 49(1-2), 119-133.
Mullins, G., & Kiley, M. (2002). 'It's a PhD, not a Nobel Prize': How experienced examiners assess research theses. Studies in Higher Education, 27(4), 369-386.
Paré, A., Starke-Meyerring, D., & McAlpine, A. (2006, April). Entering the text: Learning doctoral rhetoric. Paper presented at the annual meeting of the American Educational Research Association, San Francisco, California.
Park, C. (2007). Redefining the doctorate. Higher Education Academy discussion paper.
Sinclair, J., Barnacle, R., & Cuthbert, D. (2014) How the doctorate contributes to the formation of active researchers: What the research tells us. Studies in Higher Education, 39(10), 1972-1986.
Salmon, P. (1992). Achieving a PhD: Ten students' experiences. Stoke-on-Trent: Trentham.