This year's pitch competition took place on March 23, 2023 during the John D. Thompson Entrepreneurial Development Seminar. 
During the event, 6 TechIdea finalists pitched their idea to a panel of judges from the business and technical community. The top 3 pitches won cash prizes of $500, $250 and $100. The audience also got a chance to select their favorite pitch and the winning team received $50!
The competition encourages McGill students, working in teams, to propose new technologically-based ideas/solutions in the form of new products, services and/or ventures to solve real world problems.
---
Winning Teams
1st Place
Flashify
Athavan Thambimuthu (Software Engineering, Undergraduate) and Akash Sasitharan (Pharmacology, Undergraduate)
Flashify aims to increase student productivity and studying habits by automatically generating flashcards for your course content. This state-of-the-art machine learning application utilizes advanced AI algorithms to convert PDF notes into flashcards with unparalleled efficiency and accuracy, leading to better academic performance. The app boasts three main features that set it apart from the competition: bullet point conversion, image generation, and question-answer generation.
---
2nd Place & Audience Favourite
SOYstainable
Iris Sun (Bioengineering, Undergraduate), Gillian Helliwell (Mechanical Engineering, Undergraduate), Jessica Coulson (Bioengineering, Undergraduate), and Lachlan Holbrook (Mechanical Engineering, Undergraduate)
SOYstainable aims to provide "soy-silk", a high quality and lightweight thermal fabric made from soy whey, a waste by-product of soy and tofu production. Traditional soy proteins are cross-linked using formaldehyde, a carcinogenic, whereas our process uses polycarboxylic acid, a safe and reusable chemical. This solution aims to prevent waste from over-burdening sewer systems while allowing for a circular economy and providing an environmentally sustainable alternative to traditional fashion materials.
---
3rd Place
AR-X
Toufic Jrab (Bioengineering, Undergraduate) and Serena Elzein (Biology & Computer Science, Undergraduate)
Introducing a new type of visualization technology to medical imaging that can transform an X-Ray scan to a 3D model that can be superimposed on its body part source using augmented reality (AR) technology. The AR-X addresses an unmet need for more evolved technology that can help doctors visualize an injury in real-life on the person's original injury in 3D, derived from the X-Ray scan while being user-friendly and integrated into a doctor's workflow to improve medical condition diagnoses and treatments
---
Remaining TechIdea Finalists
Ensemble
Simon Wang (Software Engineering, Undergraduate), Edwin Zhou (Computer Engineering, Undergraduate), and Brandon Wong (Software Engineering, Undergraduate)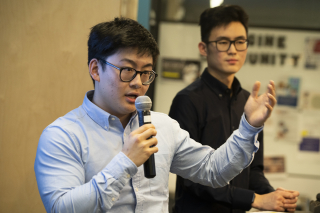 Business founders often have great ideas, but many lack the technical expertise to execute them, especially in the early stages of their ideas. While hiring a consultant is a viable solution, the associated cost is often expensive, another possibility is finding a CTO, which will be difficult without traction, and might require a high equity package. Finally, hiring interns, although more affordable, will require technical management to bring value to the idea.
At Ensemble, we bridge the gap between founders and their tech ideas. We translate the business ideas that non-technical founders have into tangible requirements, and connect them to developer teams tailored to their needs through our platform. Instead of the founder going through an entire hiring process, we are their 1-way stop from ideation to realization.
---
EXPIDER
Longyu Li (Mechanical Engineering, Undergraduate), Oliver Guy (Mechanical Engineering, Undergraduate), Megan Millet (Mathematics, Undergraduate), and William Grant (Mechanical Engineering, Undergraduate)
Expider will be a customizable, multi-terrain, exploration and mapping robot which will use spider-like locomotion to navigate obstacles and climb near-vertical surfaces. Cave and mine shaft exploration can be dangerous involving deadfalls, narrow passages, and collapsing tunnels. Expider's objective is to explore these dangerous environments without exposing a human operator to dangerous conditions. By mimicking the motion of the spider, Expider will provide an excellent stability and flexibility.
---
PowerPledge
Warren Amsellem (Materials Engineering, Undergraduate) and Steven Squire (Materials Engineering, Undergraduate)
Coop EV supercharging network where each charger is a crowdfunded asset
1. Ability to invest on a high return asset (superchargers) and vote on location with your money
2. Ability to use well located and reliable superchargers
---
TechIdea Judges
Samuel Bruneau, CEO & Co-Founder, Taiga Motors
Shortly after graduating from McGill's Faculty of Engineering in 2015, Samuel Bruneau co-founded Taiga Motors with two fellow McGill Engineering students, Gabriel Bernatchez and Paul Archard. Combining their passion for electric vehicles developed during their time as leaders of the McGill Undergraduate Electric Vehicle Design teams and their love for the great outdoors, Taiga was launched with the mission to electrify powersports with cutting edge technology that delivers performance without compromise. Since then, Taiga has built a team of more than 300 employees and has begun deliveries of the world's first production electric snowmobiles and electric personal watercraft. 
---
Felicity Meyer, Analyst, BoxOne Ventures
As a current master's student in McGill's Department of Bioresource Engineering, Felicity quantifies the environmental impact of construction in Montreal to provide actionable support towards sustainable urban development. In addition to her studies, Felicity is part of the investment teams at both Front Row Ventures - Canada's leading student-focused VC firm - and BoxOne Ventures.
Prior to studying at McGill, Felicity was the first scientific hire at two early-stage startups, as well as Lab Operations Manager at a newly constructed biotech accelerator. Felicity holds a B.S. in Chemistry and B.S. in Physics from Simmons University in beautiful Boston, Massachusetts, US.
---
Gary Berdowski, Principal, Blue Vision Capital
Gary Berdowski is a Principal at Blue Vision Capital, a Montreal-based VC Climate Tech Seed Stage Fund, with over 4 years of Venture Capital experience. He worked at Cycle Capital, a leading Canadian Cleantech VC firm, for 3 years. Gary also has 7 years of experience in Engineering and Strategic Planning at Velan, an industrial manufacturer. He earned a bachelor's degree in mechanical engineering from McGill and an MBA from Concordia University's Goodman Institute of Investment Management. He holds a CFA Charter and serves as a member of CFA Montreal's ESG Committee.