5 TechIdea finalists will pitch their ideas during the seminar. Each team will have 5 minutes to present their idea or solution in an "elevator pitch" format to a panel of judges from the business and technical community. This will challenge students to present themselves, and their idea, in a concise and convincing way. Judges will have 2 minutes to ask questions and give feedback. The top 3 pitches will win cash prizes of $500, $250 and $100.
Pitch winners were selected by a team of three judges based on:
Degree of innovation, feasibility, competitive advantage of solution
Degree of economic and/or social impact
Effectiveness and enthusiasm of pitch
Answers to questions from the panelists and the audience
Congratulations to the Winners! 
---
1st Place - $500 Prize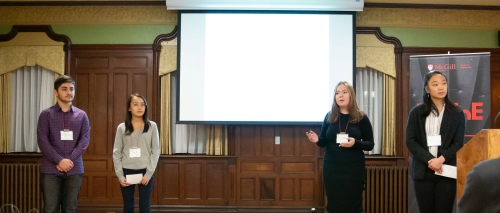 Dyslexia Reader app 
Emily Chen (Computer Science), Monami Waki (Geography), Matthias Arabian (ECSE), Diana Nigmatullina (Architecture), all undergrads
Dyslexia Reader aims to develop a phone app that will help dyslexia sufferers to read by using a specially adapted font set to help them overcome their difficulties at identifying written text.
---
2nd Place - $250 Prize
Telesphorus -brain age prediction system
Alba Xifra-Porxas (Bioengineering, PhD), Arna Ghosh (Neuroscience, Master's)
By combining non-invasive brain scan technology such as MRI with Deep Learning technology, Telesphorus will measure brain age and compare this against biological age, to provide an early marker for potential neurological issues, before any cognitive symptoms have been detected.
---
3rd Place (Tied) $100 Prize
Sherpa-Personalized travel itinerary builder
Afreen Aliya (Electrical, Computer and Software Eng.-ECSE undergrad)
Sherpa offers travelers a customized vacation itinerary developed using AI techniques. "Travel your way, now.
---
3rd Place (Tied) $100 Prize
HaloGuard: medical headband device designed for athletes
David Peinturier (Management), Nathan Lafrance-Berger (ECSE), Raphaella Moock (Management), Joseph Kinning (Management), all undergrads
HaloGuard is targeting the collegiate sports market with a headband that would help prevent through early detection the three main causes of death and disability that occur during the practice of amateur and professional sports: heat illness, concussion and sudden cardiac arrest. The lightweight system would be paired with an app that would give coaches the real-time ability to monitor athletes and pull them out of dangerous situations before they arise.
---
Audience Favorite - $50 Prize
HaloGuard: medical headband device designed for athletes