---
Welcome to the School of Physical & Occupational Therapy (SPOT)
Excellence in research and teaching is the foundation and tradition of the School of Physical and Occupational Therapy, situated on McGill University's upper campus in a gracious downtown area of the beautiful city of Montreal, Quebec.The Faculty educates rehabilitation professionals and, through research, generates the body of knowledge which guides our professions to advance the health, function and participation of the individual in society. Welcome to the School!
---
---
SPOT in the news
---
June is ALS (Amyotrophic Lateralizing Sclerosis) Month – see the information about new breakthroughs and treatments for this debilitating disease, also known as Lou Gehrig's disease, here. 
---
A warm welcome to our newest alumni!
Spring Convocation 2015 revealed our first graduating cohort of the Physiotherapy Extension Program (Bachelor of Science in Physiotherapy) at Université de Québec à Chicoutimi (UQÀC).
And the first cohort of the interprofessional online Graduate Certificate of the Chronic Pain Management Program. More info and recent newsletter and success story click here .
---
SPOT's Name-Tag Ceremony, the annual celebration of the transition from classroom learning  to clinical education, took place recently. Hosted by Director and Assistant Dean, Dr. Annette Majnemer, invited guests included the Dean of the Faculty of Medicine, Dr. David Eidelman, representatives of the two national professional associations: Mme Martine Brousseau from the Canadian Association of Occupational Therapists, and Mr. Jason Blow, from the Canadian Physiotherapy Association. Invited speakers were OT Victoria Stuhec, and PT Martha Visintin and OT student Carl Majdalani and PT student Anthony Teoli.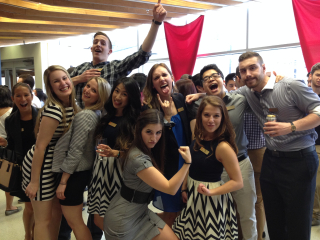 ---
---
Congratulations to Dr. Keiko Shikako-Thomas working with Dr. Annette Majnemer, for the successful publicity surrounding their emerging "app" JOOAY, which will be released shortly in 5 Canadian provinces… see the CTV News interview with Keiko by following this link.
... And also the recent article in The Gazette.
---
Congratulations also to Keiko: she has secured new funding for her project: CP2 (Community Partners for Children's Participation), with a CIHR planning grant, a REPAR/OPHQ partnership grant, and, from the American Academy of Cerebral Palsy and Developmental Medicine, the "Pedal-with-Pete" Research Grant.
Congratulations also to Dr. Laurence Roy, who received a funding commitment by way of a Knowledge-to-Action grant for 2 years for her project titled: Troubles mentaux, itinérance et judiciarisation: des connaissances à l'action. 
And Congratulations to Dr. Marc Roig who recently has been notified of his successful NSERC Discovery Grant application, for his project Motor memory interference (covered for 5 years)!

Congratulations to Prof. Suzanne Rouleau, who has been named to this year's Faculty of Medicine's Honour List for Excellence in Teaching! Save the date: June 11, for her talk at the FoM Honour List Symposium… stay tuned for more details… 
---
Please see below for some photos of our amazing OT students in action, participating in a Dreamcatcher's Workshop, organized by Jessica Monteferrante. Well done, ladies!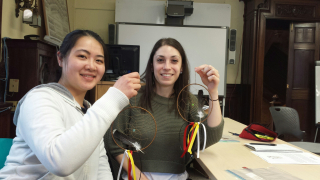 ---
SPOT Trains the trainers, in Haïti, bringing new skills through a series of workshops in Port-au-Prince. Pictured here are SPOT champions, Dr. Matt Hunt, Dr. Aliki Thomas and Prof. Crystal Garnett with a group from the February 2015 workshop organized by NGO Handicap-International. 
---
McGill Homecoming 2014
... was a success with a very well-attended Director's Wine and Cheese Reception. Celebrating all alumni, but specifically those from 5, 10, 15, … to 55 years ago, here are some of our favourite photos: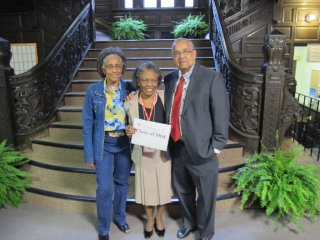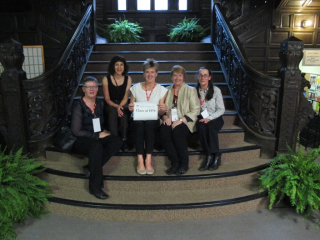 Click here for more photos!
McGill's 2014 Alumni Award of Merit
Congratulations to Dr. Dorothy Thomas-Edding, retired professor in the PT Program at SPOT and tireless promoter of physical therapy and rehabilitation, on her nomination for the 2014 SPOT Alumni Award of Merit. The Medicine Alumni Global Awards, launched in 2009 by the Dean's Leadership Council, are bestowed upon alumni from McGill's Faculty of Medicine who have made extraordinary contributions to the health care professions, to McGill University and to their local and global communities. Annually, the Alumni Award of Merit is presented to alumni who have enhanced the reputation of McGill University and their profession/research discipline through their contributions of exceptional leadership, community service and/or scholarly excellence. For more information on the awards, click here.
McGill's 2014 Lois Radcliffe Memorial Award
Congratulations to Alexander Trotsky, SPOT's inaugural recipient of the Lois Radcliffe Memorial Prize, shown here receiving the award from SPOT Director and Associate Dean, Dr. Annette Majnemer. This award was established in 2013 by the family of the late Lois Radcliffe, in recognition of the importance of excellent practitioners in the field of Physical Therapy.  Lois Radcliffe, Dip (PTH) 1948, was one of the earliest graduates of our School's pioneering program in Physical Therapy that began in 1943. Born in Ottawa, Lois grew up in Montreal West, when she attended McGill's program. After she married, 1950, she and her husband moved all over the country before settling in Calgary. During her 20 plus years in Calgary, Lois held many important offices, including President of the Alberta Hospital Association. This prize is awarded to an outstanding undergraduate student entering the Master's in Physical Therapy program on the basis of high academic standing, excellent clinical skills and commitment to the profession.
---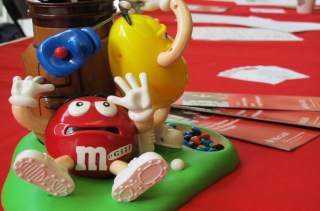 The SPOT kiosk welcomed 140 potential students, their families, parents, brothers and sisters, cousins and grandparents. A fun time was had by all, highlighting all the interesting things going on at the School, describing the various programs, explaining the admissions procedures, and meeting so many great people!
---
Dr. Gaétan Tardif spoke to the assembled crowd on the value of diversity among all people.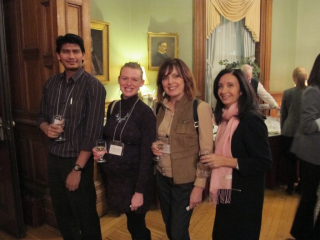 Click here for more photos!
---
Are you looking for SPOT classmates?
The School wants to help you reconnect with old classmates, network for career opportunities, and maybe even learn about SPOT's programs and newest research! The School wants to stay in touch with you, whether you are currently working in the field or not. Did you know that there are now more than 50 faculty members, 700 students, and 5 diplomas or certificates at McGill's SPOT? If you are on Facebook, please join the McGill SPOT group.
---

- Excellence Through Growth -