2015 Annual Report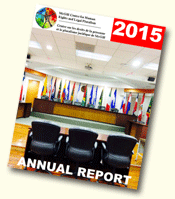 The year 2015 marks the tenth anniversary of the McGill Centre for Human Rights and Legal Pluralism. It also marks the passing of the torch from the Centre's second Director to its third. 
It was a memorable year for the Centre: as our annual report will attest, our program of activities and events is as thought-provoking as it is relevant.
Read our annual report [2Mb, pdf].
---
Call for applications: Arnold & Blema Steinberg Post-Doctoral Fellowships in International Migration Law and Policy
The vision and generosity of the Steinberg Foundation is at the heart of this new and exciting Fellowship opportunity. We are delighted to be able to offer two Postdoctoral Research Fellowships beginning in the 2016-2017 academic year. 
Funded by the Arnold and Blema Steinberg Foundation and the appointment(s) shall be for an initial duration of one year with a possibility of renewal for one more year. The Fellowships are valued at 50,000 Canadian Dollars per annum. 
The Postdoctoral Fellow(s) will work as part of a research team in collaboration with the Oppenheimer Chair in Public International Law and the Centre for Human Rights and Legal Pluralism (CHRLP) under the leadership and supervision of Professor François Crépeau, who holds the Oppenheimer Chair in Public International Law and who directs the Centre.
Deadline to apply: 30 April 2016 at 11:59 pm EST.
---
Truth to Reconciliation: Towards a Just Future for the Indigenous People of Canada
8-9 March 2016
Jointly organised by the McGill Centre on Human Rights and Legal Pluralism and the International Institute for Genocide and Human Rights Studies (IIGHRS – a division of the Zoryan Institute, Toronto), the conference's highlights were the two keynote addresses by Chiefs Phil Fontaine and Doug White. However, all speakers brought experience, depth and wisdom to the complex issue of how to respond today to the deep wounds inflicted individually and collectively by the residential school system over a century, through the implementation of the 94 calls to action of the Truth and Reconciliation Commission of Canada.
We at CHRLP are proud to take an active role in McGill's collective effort to sharpen our focus on indigenous issues in Canada and abroad, thus contributing to the common goal of increased knowledge and better understanding between our communities.  – F. Crépeau, Director.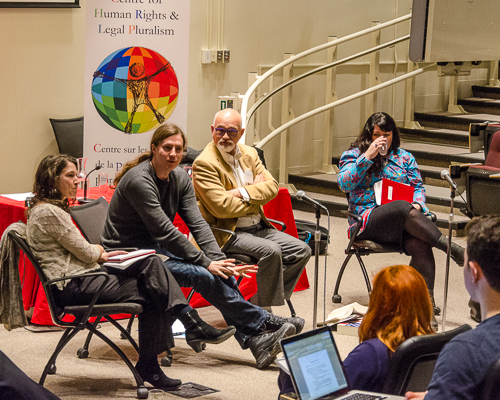 ---
15 February 2016 - Peace Mediation Experts Panel
The McGill Centre for Human Rights and Legal Pluralism and the Oppenheimer Chair in Public International Law welcomed three mediation experts who are members of the Standby Team to discuss the role and function of peace mediation. They were Michael Brown – Land & Natural Resource Conflicts Expert – Professor of Practice in Conflict Mediation, Institute for the Study of International Development (McGill University); John Packer – Constitutions & Process Design Expert – Director, Human Rights Research and Education Centre (University of Ottawa); and Marie-Joëlle Zahar (speaking at podium above) – Power Sharing Expert – Professor of Political Science & Fellow at the Centre for International Research and Studies (Université de Montréal). The well-attended event was graciously chaired by Louise Otis, judge, arbitrator and mediator in administrative and commercial matters, and former Judge at the Quebec Court of Appeal.
The continuing relevance of human rights
Human rights evoke concern with the lives of individuals and the well-being of communities. Relevant to our understanding of history, the present, and inter-generational justice, human rights have been on institutional, legislative, constitutional, and international agendas, and have been embraced by diverse social movements in countries all over the world. Human rights concepts have been relied upon in efforts to promote peace, cooperation, and intercultural dialogue.
Plurality in a globally connected world
Human rights concepts are increasingly being applied in diverse social and cultural contexts, reflective of a legally plural world. This plurality prompts new thinking about the relationship between law and society. Connecting the study of human rights to legal pluralism brings to light the importance of multiple legal and normative orders, ethical inquiry, local knowledge, individual and systemic relationships, and social power within the institutions and communities of civil society.
An innovative legal and interdisciplinary approach
The Centre for Human Rights and Legal Pluralism is a focal point for innovative legal and interdisciplinary research, dialogue, and outreach on human rights and legal pluralism. The Centre's mission is to provide students, professors and the larger community with a locus of intellectual and physical resources for engaging critically with how law impacts upon some of the most compelling social problems of our modern era.