Intrepid Beta Testers may have noticed something new in their list of blocks called the "Standard Block." If you've been wondering what this is, here's the scoop!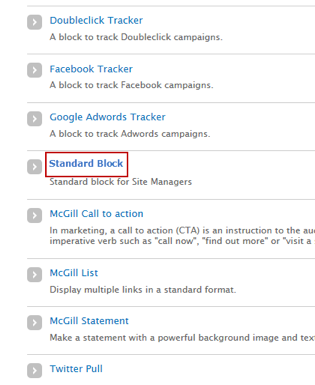 Currently, you create a regular block by going to Structure > Blocks > Add block. With the intro of the Standard Block, this is going to change. Why? Because we've seen how great the new template blocks are in Beta so the same module that's used for these blocks is going to replace the regular blocks that you're used to.
With the Standard Block, you can customize your regular block more efficiently by setting the View Mode to full, half, or third — just like you do with the other template blocks in Beta.
So what's being worked on to get the Standard Block ready for wide release? One thing we're looking at now is how to migrate content from the existing regular blocks into Standard Blocks. This will be a seamless process. We also know that you want blocks to be translatable so we're working on that too. What a busy summer it's been!
Since all regular 'legacy' blocks will become Standard Blocks down the road, why not get a head start? As Beta Testers, you can jump in and create new blocks using Standard Blocks. These blocks won't need to be converted in future and you can easily customize their layout widths with the full, half, and third options. Create a Standard Block by completing the fields as you normally do and once the block is created, find it under Structure > Blocks to configure the page region and page visibility as usual. Easy peasy!