---
Overview
Chemical engineers design the processes and systems required to scale something a chemist produces in the lab (like plastics, pharmaceuticals and chemicals) into mass manufacturable products.
Studying chemical engineering at McGill will prepare you to design, run, model and optimize all kinds of systems — these can range from production and manufacturing systems, to corporate systems, economic systems, and even weather, population or global systems.
We need to produce things faster, cleaner and in a smarter way in order to sustain our growing population and the increasing demand on our world's natural resources. Chemical engineers consult with many different industries to address this issue.
---
Careers
Chemical engineers are in demand across fields. You can work in industries like pharmaceuticals, pulp and paper, food and beverage processing, petrochemicals, energy and advanced materials, mining, environmental engineering, and production and manufacturing.  
Your skills in designing efficient, safe and effective processes will make you an asset in any industry. Chemical engineers develop strong project management skills and many go on to managerial and executive positions.  
You could become a professional: 
Energy manager 
Production manager 
Analytical chemist 
Environmental engineer
---
Faculty
Our instructors are experts in advanced materials and polymers, biotechnology, environmental engineering, energy, and plasma sciences and engineering. Their mentorship will help you thrive in a discipline that works to solve some of society's most pressing real-world challenges.
---
Courses
As a Chemical Engineering student, you can take courses like: 
---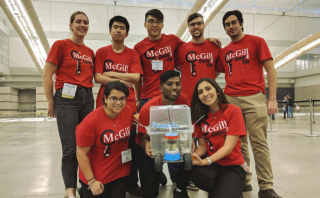 Student experience
The Chemical Engineering Student Society (ChESS) at McGill is an active undergraduate group that shares resources and internship opportunities with students.
You can join the Rocket Team to build a rocket for annual competitions, or get involved with CHEM-E, a multidisciplinary team that builds a shoebox-sized car powered and stopped by chemical reactions.
We also have groups for engineering students to network and collaborate with other students interested in sustainability and business.
---
Possible minors
Minors are a great way to customize your academic experience. Many students use minors to pursue interests outside their major, while others choose minors to complement their degree.
Minors that complement this program: