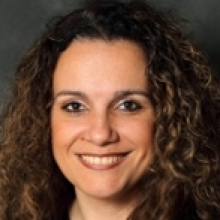 Position:
Associate Professor; Chercheur régulier, C.R.I.R. (Centre de recherche interdisciplinaire en Réadaptation) du Montréal métropolitain www.crir.ca, Research Scientist, Centre for Medical Education
Degree(s):
BSc (OT), McGill; MEd, McGill; PhD (Educational Psychology), McGill; Post-doctoral fellowship (Knowledge translation) McMaster University
Teaching areas:
POTH 612: Research Projects
POTH 680: Knowledge Translation in Rehabilitation
OCC1-550: Enabling Human Occupation
Current research:
Dr. Thomas is Assistant Professor and research scientist at the Center for Medical Education, Faculty of Medicine, McGill University. Dr. Thomas' research is on education and knowledge translation. She is interested in the development and assessment of advanced clinical competencies including evidence-based practice, clincal reasoning, decision-making and the development of professional expertise. Her work spans three major areas of occupational therapy education and practice, from admissions, to professional education (including curriculum design and assessment), and clinical practice. In addition to her research in education, she is involved in research on how to bridge the evidence-to-practice gap where she uses an educational psychology perspective to examine the use of theory in the design and delivery of effective KT interventions. She is also interested in the concept of scholarship of practice and the outcomes of clinical-researcher partnership on clinical practice.
Currently funded research:
Dr. Thomas' research is supported by:
A Fond de Recherche du Québec - Santé (FQR-S) Research Scholar Junior 1 award
The Reseau Provincial de Recherche en Adaptation-Readaptation (REPAR)
The Edith and Richard Strauss  Foundation (for Knowledge translation)
The Association of Medical Educators of Europe (AMEE)
Graduate students:
Dr. Thomas  is accepting applications from students interested in pursuing their MSc  or PhD in the Graduate Research Program in the areas of rehabilitation education, evidence-based practice and knowledge translation
Research Areas: 
clinical reasoning
curriculum design and assessment
educational research
evaluation of learning
evidence-based practice
expertise and expertise development
knowledge translation
Selected publications:
Thomas, A., Young, M., Mazer, B., Lubarsky, S. & Razack, S. (2015). Candidates' and interviewers' perceptions of multiple mini interviews for admissions to an occupational therapy professional program. Occupational Therapy in Health Care. 29(2):186-200. doi: 10.3109/07380577.2015.1012776
Bussières, E.A., Zoubi, F., Quon, A.J., Ahmed, A., Thomas, A., Stuber, K., Sajko, S., French, S. (2015). Fast tracking the design of theory-based KT interventions through a consensus process. Implementation Science, 10:18. doi:10.1186/s13012-015-0213-5
Wittich, W., Jarry, J., Barstow, E. & Thomas, A. (2015). Screening for Sensory Impairment in Older Adults: Training and Practice in Quebec. Canadian Journal of Occupational Therapy.
Demers, M., Thomas, A., Wittich, W., & McKinley (2015). Implementing a novel dance intervention in rehabilitation: perceived barriers and facilitators. Disability and Rehabilitation, 37(12):1066-72. doi: 10.3109/09638288.2014.955135
Shevell, A., Thomas, A., & Fuks, A. (2014) "Teaching professionalism to first year medical students using video clips. Medical Teacher. doi:10.3109/0142159X.2014.970620
Camden, C., Shikako-Thomas, K., Nguyen, T., Graham, E., Thomas, A., Sprung, J., Morris, C. & Russell, D. (2014). Engaging stakeholders in rehabilitation research: a scoping review of strategies used in partnerships and evaluation of impacts. (2014). Disability and Rehabilitation. doi:10.3109/09638288.2014.963705.
Thomas A and Law M. (2014). Evidence-based practice supports: A survey of Canadian occupational therapists. Canadian Journal of Occupational Therapy, 81(2):79-92.
Thomas A and Steinert Y. (2014). Faculty development and knowledge translation. In Y. Steinert (Ed.) Faculty development in the health professions: A focus on research and practice. Dordrecht, The Netherlands: Springer.
Thomas A and McCluskey A. (2014). Becoming an evidence-based practitioner. In Law M. & MacDermid, J., editors. Evidence-based rehabilitation: A guide to practice, 3rd edition. Thorofare, NJ: Slack Incorporated.
Thomas A, Menon A, Boruff J, Rodriguez AM and Ahmed S. (2014). Applications of social-constructivist theory for knowledge translation interventions in the health professions: A scoping study. Implementation Science, 9:54  doi:10.1186/1748-5908-9-54
Thomas A and Law M. (2013). Research utilization and evidence-based practice in occupational therapy: A scoping study. The American Journal of Occupational Therapy, 67(4):e55-65.
Zidarov D, Thomas A and Poissant L. (2013). Knowledge translation in physical therapy: From theory to practice. Disability and Rehabilitation, 35(18):1571-7.
Thomas A, Saroyan A and Lajoie PS. (2012). Development of an evidence-based practice reference model: Findings from occupational therapy. Disability and Rehabilitation, 34(3): 311-28.
Thomas A, Saroyan A and Dauphinee WD. (2011). Evidence-based practice: A review of theoretical assumptions and effectiveness of teaching and assessment interventions in health professions. Advances in Health Sciences Education: Theory and Practice, 16(2):253-76.
Boruff J and Thomas A. (2011). Integrating evidence-based practice and information literacy skills in teaching physical and occupational therapy students. Health Information and Libraries Journal. 28(4):264-72.
Rochette, A, Korner-Bitensky N and Thomas A. (2009). Changing clinicians' habits: is this the hidden challenge to increasing best practices? Disability and Rehabilitation, 31(21):1790-4.
Korner-Bitensky N, Menon-Nair A, Thomas A, Boutin E and Mohammad AA. (2007). Practice Style traits – Do they help explain practice behaviors of stroke rehabilitation professionals? Journal of Rehabilitation Medicine, 39:685-92.