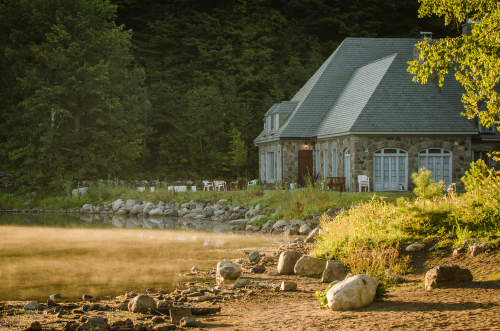 The Faculty of Science operates several unique off-campus field-stations, from the tropics to the high arctic.
The Gault Nature Reserve, situated on Mont St. Hilaire just 40km from Montreal, protects the largest remaining remnant of the primeval forests of the St. Lawrence River Valley. The mountain and its surroundings are a UNESCO Biosphere Reserve.
The Wilder and Helen Penfield Nature Conservancy features a laboratory for aquatic studies located lakeside on Lake Memphremagog, 100 km southeast of Montreal. Streams, rivers and over thirty nearby lakes and ponds offer a wide range of study sites. Research projects range from heavy metal loading to microbial growth rates and fish yields.
The McGill Sub-Arctic Research Station (MSARS) is located in Schefferville, Quebec, near the Labrador border. The station offers year-round (summer and winter) access to a vast lichen woodland (containing numerous lakes, ponds, streams, and wetlands) and alpine tundra.
Schefferville is serviced by regular air service from Montreal via Sept-Îles or Quebec City (Air Inuit) and by train from Sept-Îles (Tshiuetin Rail Transportation).
The McGill Arctic Research Station (MARS) is located 8km inland at Expedition Fjord, Nunavut, on Central Axel Heiberg Island in the Canadian High Arctic (approximately 79º26'N, 90º46'W). Established in 1960, MARS is one of the longest-operating seasonal field research facilities in the high Arctic. The station consists of a small research hut, a cook house, and two temporary structures. MARS can comfortably accommodate up to twelve persons.
MARS provides access to glacier, ice cap, and polar desert environments. The surroundings are mountainous and glaciated. MARS has the longest continuous mass balance record for any high Arctic glacier (White Glacier). Some of the most detailed environmental information in the Arctic, including topographic map data, have been collected at this station.
Current research activities include glaciology, climate change, permafrost hydrology, geology, geomorphology, limnology, planetary analogues, and microbiology.
Besides McGill, recent users have included other universities, NASA, the Polar Continental Shelf Project, the Geological Survey of Canada, and the Canadian Museum of Nature.