Event
Stones and Bones Bike Tour
Sunday,
June
13,
2021
10:00
to
11:00
Redpath Museum
859 rue Sherbrooke Ouest, Montreal, QC, H3A 0C4, CA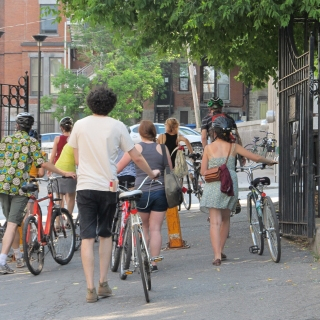 A family-friendly bike trip exploring the fossils and rocks, architecture, and archeological spots around Montreal.
Tour starts with ancient fossils at the Redpath Museum, travels west along Sherbrooke Street to the stone towers and reflecting pool at the Old Fort, heads up the cart track with the country's oldest milestone that leads to Leonard Cohen's boyhood home and visits the site of an archeological dig in 1895. The tour finishes with a glide downhill through the St. Henri Tanneries in the Glen and ends with the ghosts of Griffintown at the old Lowney chocolate factory
English only
Suitable for family audience ages 10+
Registration for this event is now closed. Look for your zoom link in an email from redpath.museum [at] mcgill.ca.