In addition to visiting the museum's exhibits and attending its public programme's lectures, workshops and special events, you can also help out and support the museum in various ways. Whether it's volunteering in the Friends of the Redpath Museum, as a student in the Redpath Museum Society, everyone is welcome! Click on a link below to find more information about how you can be a part of the Redpath Museum.
A Highlights of 2017 Newsetter describes recent research by Museum faculty and staff, public program activities and events, and fundraising work at the Museum.
MUSEUM HIGHLIGHTS 2017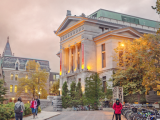 You can also help support museum activities by renting museum spaces: all proceeds go to developing the collections and the public program. To make inquiries, follow this link.