April 2019
Congratulations to Noosha Yousefpour for winning the Travel Award and Trainee Research Award from the Canadian Pain Society, 40th Annual Scientific Meeting. As the only basic science trainee in Canada to win, this is a big achievement!
October 2017
New MOU with Japan's National Institute of Physiological Sciences (NiPS)
Dr. Bowie recently hosted a delegation of researchers from Japan's National Institute of Physiological Sciences (NiPS) who spent two days visiting the McGill campus and participating in a research symposium at McGill's Faculty Club. The visit culminated in the signing of a Memorandum Of Understanding (MOU) in the presence of Mr. Hideaki Kuramitsu, the Consulate General of Japan in Montreal. The MOU permits the neuroscience communities of McGill and NiPS to begin the exchange of student and postdoctoral fellows as well as to establish joint research projects. The event was reported in the McGill Reporter
http://publications.mcgill.ca/reporter/2017/10/mcgill-signs-mou-with-leading-japanese-research-institute
New research could impact Alzheimer's disease prevention
Researchers move closer to understanding enzymes that play a role in amyloid generation
Amyloids are aggregates of proteins that stick together and have been implicated in various human diseases, including Alzheimer's disease. As the enzyme that initiates amyloid formation in Alzheimer's disease, the beta-secretase (BACE1) enzyme has become a prime target in the efforts to prevent the disease. Until now however, the cellular state of the enzyme has not been well understood.
A study led by researchers at McGill University's Faculty of Medicine offers a step forward in understanding the cellular state of BACE1 and identified an unexpected role of the enzyme. The results of the study were published recently in the Journal of Biological Chemistry.
"In the context of Alzheimer's disease, the ultimate goal is to develop small molecule inhibitors, which could precisely decrease the production of amyloid," says Dr. Gerhard Multhaup, Chair of the Department of Pharmacology and Therapeutics at McGill and the study's senior author.
Full Story: http://publications.mcgill.ca/medenews/2017/10/04/new-research-could-impact-alzheimers-disease-prevention/
September 2017
McGill Pharmacology & Therapeutics MD/PhD student Tianwei (Ellen) Zhou is the recipient of the 2017 Dr. Robert and Sharon Francis Canadian Medical Hall of Fame (CMHF) Award, one of 16 student awards announced by the CMHF on September 22.
Full Story: http://publications.mcgill.ca/medenews/2017/09/22/mcgill-medical-student-receives-2017-canadian-medical-hall-of-fame-award/
July 2017
Congratulations to Dr. Bernard Robaire on being selected to receive the Gabriel L. Plaa Award of Distinction at this year's Canadian Society of Toxicology Meeting. This award recognizes individuals who have made outstanding and sustained contributions to the science of toxicology in Canada and service to the Society of Toxicology of Canada.
Full story: http://publications.mcgill.ca/medenews/2017/07/12/mcgills-bernard-robaire-awarded-2017-gabriel-l-plaa-award-of-distinction/
June 2017
Congratulations on your latest research publication in the Journal of Biological Chemistry
Filip Liebsch, Mark R. P. Aurousseau, Tobias Bethge, Hugo McGuire, Silvia Scolari, Andreas
Herrmann, Rikard Blunck, Derek Bowie, and Gerd Multhaup
BACE1 Trimerizes and Regulates Copper Homeostasis
The "sheddase" BACE1, a prime target in Alzheimer disease research, forms trimers and regulates cytosolic copper compartmentalization
The "sheddase" beta-secretase (also known as the aspartic acid protease BACE1) catalyzes the first step in the production of amyloid beta (Aβ) peptides, which are central players in the pathology of Alzheimer disease. BACE1 depletion almost completely abolishes Aβ production, rendering this protease a prime target to attenuate amyloid production. Importantly, we have found new links between BACE1 and copper homeostasis. Copper is an essential bioactive trace metal and altered copper homeostasis has been implicated in both physiological and pathophysiological aging. In our study by Liebsch et al. we highlight that full-length cellular BACE1, independent of the subcellular localization, exists as trimers. Trimerization in cells creates a potential binding pocket for copper ions in the transmembrane region that is essential for BACE1-mediated regulation of copper homeostasis. Therefore, current therapeutic strategies aimed at decreasing BACE1 protein levels should consider the role of this protease in copper homeostasis.
May 2017
Congratulations to Han (Aileen) Yan, PhD trainee in Dr. Barbara Hales' lab, who won a Certificate for Best Presentation at the 8th International Symposium on Flame Retardants.
BFR 2017
Hosted by Fera Science Ltd, May 7, 2017- May 10, 2017 in York, UK.
The 'International Symposium on Flame Retardants' is a series of conferences on safety aspects of flame retardants. It will bring together international experts from industry, governments and academia to exchange latest research results and to propose measures to reduce risk from the use of flame retardants.
April 2017
Congratulations to Jace Tabah-Jones who was recently awarded a CIHR Frederick Banting and Charles Best Canada Graduate Scholarship
Congratulations to Marc-Olivier Turgeon, a recent MSc graduate of Dr. Daniel Bernard's lab, for his paper selected as the featured article in the April issue of Endocrinology
https://academic.oup.com/endo/pages/issue_158_04/
Congratulations to Gauthier Schang, a Ph.D student in Dr. Daniel Bernard's lab, for his win of a Presidential Poster Award at ENDO2017 in Orlando
November 2016
Congratulations to Océane Albert for 1st place and Luisina Ongaro for 3rd place as winners for best platform presentations at the 9th Symposium of the Réseau Québécois en reproduction that took place on November 8th and 9th 2016 at the Espaces Dalhousie in Vieux-Québec.
http://www.rqr.umontreal.ca/index.php/en/
January 2016
The Discovery of CEA, Dr. Phil Gold
In 1965, Dr. Gold and his colleague Dr. Samuel Freedman published a seminal paper on their groundbreaking discovery of carcinoembryonic antigen (CEA), the first clinically-useful human tumour marker and one that is found in 70% of cancer patients. It was a concept-shifting discovery and helped shape the modern era of cancer immunology and tumour markers. This marker remains the most frequently used blood test in oncology around the world today, in addition to being the standard against which other human tumour markers are measured. Through this work, Dr. Gold is credited for developing the field of Human Tumour Marker Biology. His subsequent demonstration that CEA was found in embryonic and fetal tissue initiated the field of Oncodevelopmental Biology.
July 2015
Nazem El Husseini, graduate student in Barbara Hales' lab, just won the Wilson presentation award for the best doctoral student talk at the Teratology Society meeting.
---
June 2015
Ted Wilson, graduate student in Claudio Cuello's lab, won the 2015 William Mahon Trainee Presentation Award for his talk at the Canadian Society of Pharmacology and Therapeutics Conference, in Toronto on June 9th.
---
Pharmacology undergraduate students at their convocation, June 2.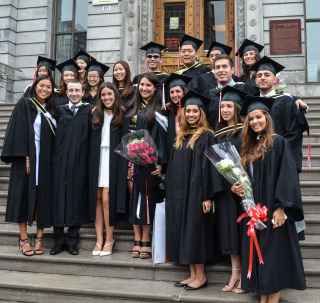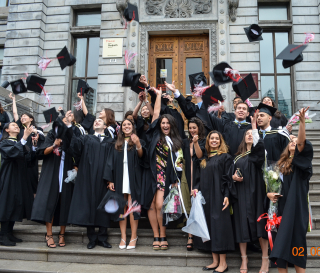 See the Pharmacology flickr site for more photos.
---
May 2015
Ankush Madaan, graduate student in Sylvain Chemtob's lab, won the FRSQ award for the best oral presentation at the 30th Research Day of Hôpital Sainte Justine.
---
April 2015
Océane Albert, post doctoral fellow in Bernard Robaire's lab, was awarded the "Anna Steinberger Research Excellence Award" of the American Society of Andrology at the Society's annual meeting, for her poster entitled: "Sperm Chromatin Quality Assessment: Optimization of the High Throughput Comet Assay".
---
March 2015
A celebration was held in the atrium of the Bellini Building in honour of three members of the department. Dan Bernard (who was not able to be present) was recently named director of the Centre for the Study of Reproduction. Derek Bowie was recently promoted to full Professor and became director of the Groupe d'étude des protéines membranaires. Serge Gautier was appointed to the Order of Canada for his contributions to advancing our understanding of Alzheimer's disease and dementia, and for fostering the development of research networks in his specialty.
---
January 2015
The Pharmacology Carreer Day was held on January 19, in the Martin Amphitheatre. Among the presenters were Tara Barton-Maclaren, a former PhD student from our department, and Elaine Davis, Associate Dean; Biomedical BSc, Graduate and Postdoctoral Affairs; Faculty of Medicine. Here are links to their presentations:
career_day_2015_dr_barton_health_canada.pdf
career_day_2015_dr_davis_research_and_grad_studies_office.pdf
---