Latest News
2020-06-29 Prof Reza Salavati: New Director for the Institute
Professor Reza Salavati has been appointed Director of the Institute of Parasitology for a 5-year term starting July 1, 2020. Professor Salavati is an Associate Professor at the Institute of Parasitology and an Associate Member of the Department of Biochemistry at McGill University. His research programs focus on the biology of the protozoan parasites of global importance and drug discovery. He has developed computational and experimental methods to determine the functions of poorly annotated parasite genomes to target unique pathways for drug discovery. He has authored 66 publications in leading journals. Dr. Salavati has served as the Director of the Biotechnology Program and the Graduate Programs at the Institute, an expert reviewer for national and international funding agencies, and as an Associate Editor for the journals PLOS Neglected Tropical Diseases and Scientific Reports.
---
2020-05-28 Dr Vivian Liu
Dr Vivian Liu is a new Assistant Professor of the Institute of Parasitology, starting in September 2020. After receiving her B.Sc. degree in biotechnology at the Ocean University of China in 2008, Dr Liu moved to Washington State University for her graduate studies at the Center for Global Animal Health, where her projects focused on viral entry and membrane fusion. She completed postdoctoral training at the University of British Columbia from 2016 to 2020 where she conducted research on virus assembly and budding, and super-resolution microscope development and image analysis.
---
2019-11-06 Dr Thavy Long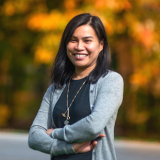 Dr. Thavy Long is a new Assistant Professor in the Institute of Parasitology, starting in September 2019. Dr. Long obtained her MSc thesis in Genetics and Microbiology and Ph.D. in Cell Biology from the University of Lille (France). It was during her Ph.D. that she really developed an interest in the molecular and cellular biology of helminths and particularly of Schistosoma mansoni, a parasitic flatworm of humans. Her research will focus on finding new ways to monitor the development of drug resistance in helminth parasites.
---
The Institute of Parasitology is one of the oldest recognized centres of interdisciplinary research in Canada. We focus on parasitic organisms, the relationship with their host and the means to limit the impact of parasitic disease on health and wellbeing.
The Institute maintains a close working relationship with the McGill Centre for Tropical Diseases, the Faculties of Agricultural and Environmental Sciences, Medicine, and Science of McGill University. 
We host an active Graduate Research program with students from Canada and around the world at the MSc and PhD level. An MSc degree typically can be completed in 2 years and a PhD in 5 years. Students wishing to apply for a graduate student position should review the information on our programs and the application procedures here.
Visit the different sections of the website to find information on our Research Labs, Graduate Application procedures, our weekly Seminar Series, our Research Facilities and Equipment and more ...
Contact Information:
Institute of Parasitology
Macdonald Campus, McGill University
21,111 Lakeshore Road, Ste Anne de Bellevue, H9X 3V9

Tel: (514) 398-7722  |  Fax: (514) 398-7857