Artists-in-Residence Program
The Artist-in-Residence (AiR) position is held by an individual who is both a practicing artist and an arts educator, and who works with students and Faculty across a range of programs. The role of this Artist-in-Residence is to work with the community of Education in building their understanding of the languages of art, and the ways in which the arts can be integral to building knowledge across disciplines. Students and future teachers and researchers have an opportunity to work with this artist, and to become immersed in questions of form, epistemology, and pedagogy. There is also provision for short-term Visiting Artists-in-Residence.
This dedicated position ensures expertise, collaboration, coherence and continuity including:
expertise and support for non-arts professors across various disciplinary areas in Education wanting to integrate arts themes, strategies and/or assignment options in their classes
mentoring in arts and education for undergraduate and graduate students
planning, coordinating, and implementing exhibitions, digital display, and other art spaces in the Faculty of Education, and organizing art events including workshops, presentations, panels, and/or various other types of arts related scholarly activities
communication and coordination across the specialized art courses on themes related to pedagogy and social change, as well as across courses in which the arts are developed (as appropriate)
Our Artists and their Contributions
McGill Art Hive Initiative (MAHI)
Starting in September 2015, the Faculty of Education launched McGill's first Art Hive, facilitated by our inaugural Artist in Residence, Maria Ezcurra, later succeeded by Lori Beavis in the 2016-2017 school year. Art materials and creative guidance were available to everyone who joined in to make art. The Art Hive quickly became a space for creating community through the arts. The facility was frequented by students, faculty, staff, as well as some invited school groups and other visitors.
With the support of the Rossy Family Foundation, the Art Hive was officially launched in November 2017, as an open studio space with regular programming housed within the Faculty, but seeking to be university-wide in scope. The launch, which attracted more than 100 people, drew together faculty members and students from the Faculty of Nursing, Communications, Education, Anthropology, Architecture, Philosophy, Art Therapy and the Institute for Gender, Sexuality and Feminist Studies. Supporters of creative arts therapies, along with artists, art educators and colleagues from the Montreal Museum of Fine Arts were also in attendance.
In an effort to further open up the Art Hive to more people within the McGill Community, particularly students seeking seeking an artistic outlet to manage stress and improve mental health, the Art Hive was relocated to McGill Student Services as part of the Student Wellness Hub as of November 2019. Located on the third floor of the Brown Building  (3600 McTavish, Montreal), the facility continues to be managed by Arts Educator, Maria Ezcurra.
Indigenous Film Series
The weekly (now monthly) Indigenous film series was started in November 2016 by then artist-in-residence Lori Beavis as part of her arts programming for DISE in the Faculty of Education. Lori continues to curate the film series into the spring of 2019 – with upcoming film screenings on Feb 14th and March 14th.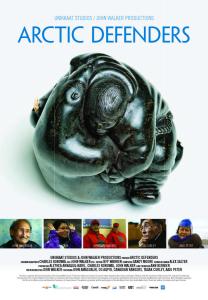 The intention of the series has always been to show work by Indigenous directors, writers and artists that tell Indigenous stories from an Indigenous perspective. We have viewed films from across Turtle Island and into the far North and the Arctic, as well as the work of Indigenous directors, writers and actors in Australia and New Zealand. The film series has included feature films, including amongst others Rhymes for Young Ghouls (Barnaby, 2013); Smoke Signals (Eyre, 1998); Rabbit Proof Fence (Noyse, 2002); Hunt for the Wilderpeople (Waititi, 2016); Before Tomorrow (Marie-Helene Cousineau & Madeline Ivalu, 2008); and Kissed by Lightning (Niro, 2009).
The series has included a significant number of documentaries by filmmakers such as Alanis O'Bomsawin (We Can't Make the Same Mistake Twice (2016), The People of the Kattawapiskak River (2012), Hi- Ho Mistahey (2013), Kanehsatake: 270 Years of Resistance (1993), Rocks at Whiskey Trench (2000), Our People will be Healed (2017) and more from this prolific director.
In addition we have viewed Nicole Bauberger's film of Kwanlin Dun beadworkers Diane and Annie Smith in Needle, Bead and Voice (2016), Loretta Todd's kainayssini imanistaisiwa/ the people go on (2003), Christine Welsh's Finding Dawn (2006); Birth of a Family (2017) directed by Tasha Hubbard and the documentary that explored the Indigenous origins of rock and roll, Rumble: The Indians who Rocked the World (Bainbridge and Maiorana, 2017) and amongst others a series of short films by Wapikoni Mobile, and the NFB's First Voices series; Caroline Monnet (Mobilize, 2015), and Lisa Jackson (Savage, 2009), Jerry Evans (Red Ochre, 2009); Michelle Latimer (She Dances for People, 2015); and Red Path (2015) by Theresa Ottawa.
Very occasionally we have screened films that have related to events or situations that have arisen within the Faculty of Education – these films have included Ai Weiwei: Never Sorry (2011) and Born into Brothels.
Whether documentary or fictional, each of the films inform in their own way ordinary human experiences. It is more than apparent that the stories need to be told by the people themselves. The films, each in their own way, would be a valid resource for the classroom, because as we continue to work toward implementing the recommendations/ Calls to Action of the Truth and Reconciliation Commission into our educational experiences, these and other films can be an entry point to education, by telling the story and sharing knowledge.
---
Arts in Education Events
The Art of Sense | Altar for the Day of the Dead | Perform! | Sound and Space Work Group
On Thursday November 1st 2018, we presented the The Art of Sense: Inclusive & accessible art-making based on the five senses in the Education Building Library and in the Art Hive (MAHI).
This event introduced the McGill community to the art of the 2018-19 P. Lantz Artists-in-Residence: Lou Sheppard and Deborah Maia de Lima.
Deborah presented the result of the movement workshops she has been developing with students of Education for the last couple of months, and she also facilitated a dancing activity for the participants of the event.
---
Altar for the Day of the Dead: Honouring the Life of Jackie Kirk & Other Teachers Who Have Worked to Make a Better World 
---

Pauline Smith, the P. Lantz donor, joined us on March 22nd 2018 for an afternoon of performances to celebrate the arts in the Faculty of Education and culminate the work done by the Artists-in-Residence (AiR) 2017-18. The Art Hive was abuzz with a video screening of Sing the Brave Song (Mindy Carter, DISE & Hala Mriwed, PhD student), exhibitions of students' work – "zines as artful educational method" ( Layal Shuman's EDEA 241 students) and "conceptualizing the image of the child" (Sheryl Gilman- Smith's EDEE 253 students), and a paper quilling workshop. Visiting AiR Jai Nitai Lotus sampled music at his mixing station and AiR Victoria Stanton unveiled her movable installation of giant pillows, Lobby Oasis. The pillows, imprinted with architectural elements found in the Education Building were, and continue to be, a comfortable seat to fall into in the McGill Art Hive Initiative (MAHI).
---
A weekly meeting of experimental practices exploring sound, space, and the dynamics of collective action. With AIRs Victoria Stanton and Aaron Richmond.
Music Education
Project Staccato: Early Childhood Music for a Smart and Fun Start in Life! 
Research in music education clearly shows that an early start is a key to success. It has been linked with better social bonds, developing a feeling of trust, regulating emotions, stimulating long term memory, attention development, increased memorisation skills, developing the whole brain, helping developing creativity, literacy and math skills, and more. 
There are areas in Montreal where poverty and socio-economic factors prevent young children from accessing a fun and stimulating musical education. The goals of this project was to offer music stimulation to preschool age children (babies to five year olds), to help parents interact with their young child which is not obvious for all new parents, to give an opportunity to the parents to create connections with other adults living a similar experience, and to offer our McGill students a possibility to gain teaching experience while being supervised. Three of our music students (Corey Craigmyle, Heather Worling, Rachel Norris) oversaw creating a series of music lessons and taught the lessons to various groups. 
Fiesta Finale
Fiesta Finale was an opportunity for students enrolled in their final year of the B.Mus./B.Ed. Concurrent Degree Program and the B.Ed. Music Degree Program to be celebrated for their student compositions. Student compositions written for beginner concert band, as part of EDEA 442 Music Methods I, were judged by two members of the McGill Association of Student Composers (MASC). Criteria included originality, suitability for beginner concert band, and overall format/publishability. Award winners were announced at a reception attended by faculty and students of the Music Education Area. A firsts prize scholarship of $250 was awarded to Maxwell McLarty and a second prize of $100 was awarded to Naomi Garrett.
Plans to record the compositions are underway so that all students from EDEA 442 (Fall 2015) can include a professional quality recording in their teaching portfolios. The student compositions are intended for future use in a school or community setting and it is anticipated that several will become part of the curriculum and repertoire of Quebec school band programs.
Recycling Campaign
One of the great drivers of the Art Hives Movement is a commitment to the creative reuse of resources. The artistic potential of recycled materials was explored via a Recycled Art Workshop on Dec 6th in the Lobby of the Education Building. The workshop, facilitated by Lori Beavis (P. Lantz Initiative Coordinator), Maria Ezcurra (MAHI Art Facilitator), and Zeynab YousefZadeh, also marked the start of the MAHI's recycling campaign for the coming year.
Special collection boxes have been placed at the 1st and 2nd floor entrances of the Faculty of Education, as well as at the entrance of the Art Hive itself in the Curriculum Resources Centre.
The MAHI encourages the McGill community to embrace this spirit of creative reuse and generously donate to the cause in the form of art and craft supplies (new or gently used) and reusable materials such as wood, paper, fabric etc. Help us make this initiative as sustainable as possible.
Art Talk, Art Walk
Life is everywhere – and so is Art! P. Lantz Artist-in-Residence Victoria Stanton invites you to explore art in the everyday. Wanting to make something but feeling shy? Wanting to incorporate creative expression into daily activities? Over tea and a chat, let's see what could transpire…
P. Lantz Artist-in-Residence Victoria Stanton invites you for a silent art walk on the mountain. Beauty is right here in our backyard – and everywhere once we start to notice it. The Weekly Art Walk is a moment to reflect and recharge; to move and unwind. Come be enchanted by simplicity! Open to individual and group walks.
From the artist:
Sitting at the foot of Mount-Royal, the Faculty of Education overlooks the incredibly lush terrain of one of this city's most important landmarks. The Weekly Walk takes advantage of this proximity, inviting students, faculty and staff to come join me every Friday to journey up the steps and onto the trails from 3 – 4pm. The Weekly Walk is a moment to reflect, recharge, or to reconnect (with oneself, with nature); to problem-solve, zone out or just get outside for an hour… It is generally a silent walk, but exceptions can be made to have a Walk & Talk if this is specially requested by a participant.
Brown Bag: Conversations on art and difficult subjects
Shelley Ruth Butler (McGill, Institute for Study of Canada) and Jennifer Carter (UQAM, Director of Museology programmes and Professor in the Department of Art History) and project research assistants, were the speakers at our Brown Bag Lunch series. Carter and Butler are affiliated with the Curating & Public Scholarship Lab (CaPSL) located at Concordia University – a research centre that translates academic scholarship into exhibitions, responding to critical social issues. CaPSL projects speak to the legacies of colonialism, genocide, slavery, and human rights abuses through the exhibition of (potentially) difficult subjects and imagery.
The talk introduced the MAHI audience to the research project, "Beyond Museum Walls: New Methodologies for Public Dialogue Around Difficult History and Cultural Conflict" designed to support the creation and mobilization of knowledge via new methodologies for critical museum-scholar-community collaborations and engagement with difficult subject matter. With researchers and research assistants from all four Montreal universities, the project supports the development, debate, and dissemination of shareable pedagogical tools to engage scholars and publics in critical, creative dialogue with museums.
Jennifer Carter (PhD McGill University) is a critical museologist and historian of art and architecture. Her research focuses on the history and theories of museums, museum architecture and expography, and the museology of human rights and social justice.
Shelley Ruth Butler (PhD York University) is a cultural anthropologist who researches museums, curating, and heritage sites in Canada and South Africa.
Compassion Day
On Thursday May 10th, 2018, the MAHI was one of the sites for McGill's Compassion Week, hosting a Compassion Day in collaboration with the McGill Council on Palliative Care. We were joined by a number of people from across the McGill community including faculty and students. A number of art activities and workshops took place throughout the day.
There were two on-going art projects hosted by Maria Ezcurra, the MAHI Art Facilitator. One was a participatory work called "before I die, I will…" inspired by Candy Chang's work, for which people could make their declaration or comment on a post-it notation and the other was a colourful undertaking to fill in a compassion hive with words and decorative markings.
Lori Beavis, the P. Lantz Coordinator, lead a one-hour cloth collage workshop in which participants could work with cloth and simple materials to create a collage that reflected their identity and family stories or simply to play with the materials.
In the hour before noon, the people who joined P. Lantz Visiting AiR Deborah Maia de Lima were able to open their minds and muscles in a spirited movement of stretching and other actions that took them through time and space with a good Latin beat.
At noon, P. Lantz AiR Aaron Richmond facilitated a modeling workshop, in which people could shape each other's face on clay, as a way of inviting us to get really aware of the expressions of the people around us.
Yukon artists Teresa van der Meer-Chassé and Nicole Bauberger presented their large collaborative project, Scavenging for the many faces of Raven. The artists' starting point has been based on examining how, in the north, the shattered tires found by the roadside can look like ravens. Nicole and Teresa recently received a grant from Canada Council for the Arts to create Ravens out of tire remnants as well as to study and share stories of Raven. They have been presenting community-based projects that bring together building and discussions of what ravens mean in different contexts, in First Nations and non-First Nations, and how these different meanings interact with each other.
The workshop attracted many participants – students and community members, who painted ravens in wonderfully strong, colourful and luminescent paints. Others worked with raven stencils to create a more sculptural representation of the bird in its many incarnations. Many good conversations were had around the tables as people worked – often with people relaying where and in what situations they had encountered ravens (or as southerners, more often having met crows).
MAHI at the EGSS Conference
The theme of the Conference:
Let's Get Learning: The importance of mental health and well-being in education
We at the Art Hive believe it is important to be mindful of the need to disconnect from stress, and to "reconnect" with others. MAHI aims to achieve this by utilizing creative experiences to foster a sense of togetherness along with individual well-being.
The MAHI collaborated in the EGSS Conference 2018 by hosting and facilitating creative communities for wellness in the Faculty of Education, through the following activities:
MAHI ongoing open studio during conference (including a final exhibit in the lobby, during the Conference's closing wine & cheese)
Art workshops for wellness
Panel: A growing community of artists-in-residence: New conversations for social, artistic and pedagogical exploration in a faculty of education
Lobby Oasis
The Concrete Pillar Pillow, The Pliant Part of Brick and The Spongy Waffle.
Translating hard surfaces into friendly soft ones, these Giant Pillows create an interruption; periodically placed in the lobby of the Education Building (otherwise living in the Art Hive), they offer the possibility for an unexpected moment of rest – in the middle of a busy lobby (and probably an equally busy schedule).
Arts-based Healing Practices around Rape Culture and Gender-based Violence on Campus
In collaboration with the McGill's Institute for Gender, Sexuality, and Feminist Studies (IGSF) and the Atwater Library and Computer Centre, the MAHI hosted and facilitated two arts-based workshops to explore the reality of on-campus gender-based sexual violence and rape culture, with a spirit of collaboration and collective reflection.
Hands-on, Hands-off
A textile workshop facilitated by Maria Ezcurra (MAHI Art Facilitator)
This workshop focused on our hands' creative and caring potential, but also intended to create awareness about their damaging power. Hands-on, Hands-off encouraged participants to share their experiences, thoughts and needs, and invited them to listen, understand and respect those of others. In a safe and supportive environment, participants were invited to use their hands to transform fabric gloves to represent experiences related to gender-based violence that may be hard to express in words.
The gloves were creatively transformed to address and understand gender-based sexual violence and rape culture on campuses, allowing our bodies to become sites for healing, resistance, communication, and commemoration.
The work done in this workshop will form part of a collaborative ongoing art installation in the MAHI. For the installation, the gloves will be suspended from threads at the ceiling, inviting visitors to walk among them.
---
Picturing Consent
A Photovoice Workshop facilitated by Milka Nyariro, Ph.D. Candidate, Department of Integrated Studies, McGill University
This Photo-voice activity explored the concept of consent in academic contexts and university campuses. The audience used their hands to make symbols and gestures of "consent." They took pictures using a digital camera, printed the photo on site and wrote a small caption on the meaning of the picture. The pictures were displayed in the space to show the different meanings of consent and sexual-gender-based violence within an academic context, and were exhibited in the Art Hive during the event.
Resting, Walking, Place-Making
How do we talk about invisible, liminal spaces in art? A Day of Reflections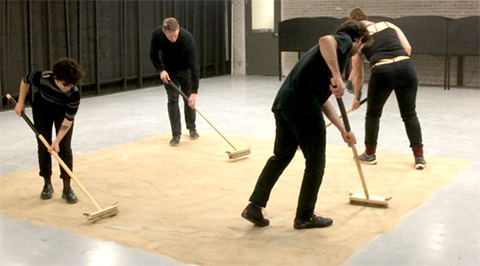 Taking the student demonstrations of 1968 as his point of departure, Sanded Steps, Standing Over Stones conceived by Robert Luzar asked the question: "After the protests, then what? Who deals with the debris?" As if in an elaborate (and never finishing) gesture, 4 people (RL, Julie Laurin, Nick Yeretsian and Frédérique Blanchard) swept a square of sand that never quite disappeared, but was merely displaced over a larger area.
Delivering a combination of personal stories and historical facts, Lori Beavis performed a bannock-cooking demonstration, turning the space of the art hive into her kitchen-lab. In recounting anecdotes from her grandmother's past, her wish to dialogue with this close ancestor became an extended invitation to dialogue with us.