The BSc (Nutr Sc) Dietetics Major leads to eligibility to join a regulatory body in one of the provinces in Canada, and to be "registered" or "licensed" to practice as a dietitian.  The purpose of each provincial regulatory body is to protect the public. In Quebec, the name of the regulatory body is the Ordre des diététistes-nutritionnistes du Québec (ODNQ) (previously named Ordre professionnel des diététistes du Québec (OPDQ)). The Dietetics Major is recognized by ODNQ to meet the academic and internship requirements to be a registered dietitian/nutritionist in Quebec. The 3.5 year (115 credit) program includes 40 weeks of internship called "Stage". These weeks of Stage are sequenced throughout the program starting with the first term of year 1.
The Dietetics Major program is an accredited program with stage (internship) placements integrated with academic courses. It is based on competencies known as the Integrated Competencies for Dietetic Education and Practice (ICDEP) version 3.0 (2020) from the Partnership for Dietetic Education and Practice (PDEP). It prepares students for eligibility to join a provincial regulatory body in Canada. The majority of our graduates apply to join ODNQ in Quebec upon graduation.
Program Vision and Mission
To improve human health and promote healthier societies by training future professional dietitian-nutritionists.
In Quebec, the two titles, dietitian and nutritionist, are protected and equivalent with respect to training background.  Dietitian-nutritionists promote health through food and nutrition in various domains including clinical nutrition care, foodservice management, and/or population and public health roles. 
Program Goals and Values
We are committed to excellence, education, collaboration and professionalism. We meet both provincial requirements and national accreditation standards. We strive to enhance dietetic practice in Canada through excellence in teaching and training of the dietitians of tomorrow.
---
Getting Started
Is the Dietetics Major for you?
If you are passionate about food, cooking, and healthy eating, then this profession may be for you!  You should have a strong science background, and enjoy communicating with others about food. You should be curious about food and nutrition, like reading scientific references, and enjoy sorting out fact from fiction.  Most dietitians enjoy trying new foods, experimenting with a new recipe or cooking, shopping for foods, growing vegetables, reading nutrition labels, uncovering facts….   these are all clues towards an interest in the field of nutrition.
What does a dietitian do?
Many dietitians work in hospitals or clinics providing nutritional advice/care for persons who have acute or chronic disease conditions.  Dietitians can also work in community agencies to help prevent disease and promote healthy eating.  Dietitians can also work in foodservice management, providing the guidance and supervision which is necessary to link safe and nutritious meals with nutritional needs.  Some dietitians work in media, marketing or communications with the food industry or other food-related businesses.  Some dietitians run their own consulting business.  The selection of opportunities for dietitians is very wide since food and nutrition touches us all in so many ways.
Language Requirements for Professional Practice (Stage)
All placement sites within the McGill network are bilingual and require students to have, at minimum, a working knowledge of both English and French. Students are expected to have a functional knowledge of the French language (reading and verbal comprehension, and functional spoken French). French proficiency requirements for admission (effective Fall 2022) can be found at https://www.mcgill.ca/undergraduate-admissions/french-proficiency. English skills need to be adequate for the working environment of the placement site.
Students who are not meeting the language requirement will have more limited clinical placement opportunities. This may result in delayed graduation from the program. More details can be found in our Policies and Procedures, available below
Immunization Requirements
A compulsory immunization program exists at McGill which is required for Dietetics students to practice. Students must complete their immunizations by the end of the first year of the Dietetics Major. The process should be initiated in the first fall semester of the first year; please be prepared to have your vaccination records available. More details related to the Student Wellness Hub and immunizations will be provided in NUTR 208.
What are the policies and procedures, including dress code and student roles, for Professional Practice (Stage)?
Policies and procedures and supporting documents are available for every Stage. Policies and procedures including language requirements, dress code, evaluation/progress, roles and responsibilities and more can be found both in the Stage manual and here
Am I a registered dietitian when I complete the program in the Dietetics major?
The profession of dietetics is regulated in each province in Canada.  When you complete the program, you are eligible to register in any province in Canada.  You need to apply to the province that you wish to work in, and then be registered for that province in order to practice.  Once you are a registered in one province, you are automatically able to be registered in any other province should you choose to relocate and wish to apply to a different province.  Registered dietitians need to be able to prove that they are working in the field and staying up to date with current knowledge.  Each province's regulatory body inspects the dietitians to ensure that the public is safe and that a high standard of professionalism is maintained.  Dietitians have a responsibility to continue to work and learn in the field of dietetics after graduation, in order to maintain their credentials and registration.
Is there a national exam in Canada to be a dietitian?
If you are applying for the first time to be a registered dietitian in the province of Quebec, there is a language requirement through the Office québécois de la langue française (OQLF).
If you are a new graduate and applying for the first time to be a registered dietitian in any province except Québec, there is an exam to write (the CDRE). Once the CDRE has been passed, it does not need to be re-written even if the registered dietitian chooses to move and to be registered in another province.
If I have taken required courses at another University, will I be able to complete the program in less time than 3.5 years?
No, due to the sequencing of the Stages at the undergraduate level, 3.5 years is the minimum amount of time that the program will take, even if course equivalency or transfer credit is given for some courses.
Program Term by Term
Required Courses: 112 credits
Elective: 3 credits

Required courses and Professional Practice (Stage) courses are sequenced in a specific order over 9 terms (3 ½ year program).

Advising Notes for Professional Practice (Stage):
The School firmly applies prerequisite requirements for registration in all required courses in the Dietetics Major. All required and complementary courses must be passed with a minimum grade of C.  Undergraduate registration for Professional Practice (Stage) is restricted to students in the Dietetics Major with CGPA greater than or equal to 3.0. The CGPA requirement is firmly applied.  Students in the Dietetics major who have a CGPA below 3.0 for two consecutive years will not be allowed to continue in the program.  Successful completion of each rotation of each level of Stage (Professional Practice) is required to pass that level of Stage. Each level is a prerequisite for the next level and must be passed with a minimum grade of C. If a student fails one level of stage, certain conditions will apply to have the option to repeat the stage and this may include an interview to assess suitability for the profession and potential to successfully complete the program. Students are reminded that ethical conduct on Professional Practice (Stage) rotations is required. The Faculty reserves the right to require the withdrawal of any student if at any time the Faculty feels the student has displayed unprofessional conduct or demonstrates incompetence.
Visiting and Special students are advised that registration in Professional Practice (Stage) courses is restricted to Dietetics major students, and due to space limitations we do not have the capacity to accept students who are not in our degree program. Entrance to NUTR courses that are program restricted to the Dietetics major are not guaranteed.
Elective Course
There is an elective course listed for Fall of Year 1, but it is not required that it be taken in Year 1. It could be taken in any term where it fits (normal credit limit per term is 18 credits). The elective can be taken during a summer semester if desired. A popular choice for elective is one of the CHEM 180 "World of..." courses, such as CHEM 183. Another popular choice is an Intermediate level French course for Dietetics students, FRSL 219 (placement test required, https://www.mcgill.ca/flc/registration/placement-tests/placement-tests-dates-0).
Complementary course is being phased out
No complementary course for students admitted to the program Fall 2021 or later:
Starting in Fall 2021, we have replaced the complementary course with a required course: NUTR 511 Nutrition and Behaviour, which is a third year course (500 level). For students admitted prior to Fall 2021, you have the choice of either a 3 credit human behaviour complementary or the new NUTR 511 Nutrition and Behaviour course. For students admitted Fall 2021 or later, NUTR 511 is the required course and there is no complementary course.
Dietetics Major Summary Sheet (Students starting Fall 2021 or after)
---
TERM BY TERM PROGRAM OF STUDY
TERM 1
TERM 2
SUMMER
TERM 3
TERM 4
SUMMER
TERM 5
TERM 6
TERM 7
ELECTIVE COURSES
Professional Practice (Stage) Placement sites:
The School of Human Nutrition is responsible for organizing and securing placement sites and rotations for Stage. Students are exposed to a variety of learning environments in clinical nutrition, food service and community settings.  Students are not permitted to organize their own placement site or rotation. The specific dates for each Stage are published about one year in advance in the Important Dates on the McGill website. The School plans both undergraduate and graduate Stages at McGill teaching hospitals and other placement sites. A total of close to one thousand rotations are scheduled per year. While every effort is made to accommodate students' preferences, the top priority lies in securing placements and rotations for all eligible students. Placement schedules are planned to meet the needs of the class as a whole, i.e. to match the learning needs of the students with the available resources, while also meeting the placement site requirements. Students will have a variety of locations throughout their four levels of Stage.  Placement schedules are subject to change. Students should expect that all or most placements/rotations will be in Quebec, with the majority in Montreal or surrounding areas. Students who do not meet the language requirement for English and French may have more limited opportunities for Stage. These students may encounter delays in their program. Placements at a long distance and outside Quebec are restricted to Level 4 Stage only, if available, and some restrictions apply.
Time Commitment and Travel for Stage Level 2B NUTR 311, Level 3B NUTR 409 and Level 4 NUTR 508/509:
Students will be placed in a variety of locations.  Some locations may be convenient from a travel perspective, and some may require travel of approx. 1.5 hours for one way direction. Similarly, some locations may be easily accessed by public transport whereas some locations may have additional expenses related to travel.  The Stages are normally 8 hours per day, 5 days per week (with the exception of statutory holidays), during regular business hours (some exceptions may occasionally apply).  Students should expect approximately 1 to 3 hours homework each night. As Stage has a significant time commitment, students are advised not to engage in additional courses or part-time work (in excess of 8 hours per week) during the dates of the Stage.
Advising
Prerequisites for the first semester of Year 1:
The first Professional Practice (Stage) course, NUTR 208 Level 1a Stage, occurs in Fall of the first year.  In order to be eligible for this course, all entrance science pre-requisite or "freshman" courses must be complete prior to the Fall semester that you wish to take this course, NUTR 208. The Professional Practice (Stage) courses are carefully sequenced over the 3.5 years of the program starting with this course, and therefore if any science entrance pre-requisites are not complete it means that effectively the program will take at least one year longer, i.e. minimum 4.5 years. We therefore recommend that science entrance pre-requisites are completed in a freshman year or prior to first year.
Admission Information
Admission Information can be found in the Program Calendars, in the section that pertains to the Dietetics Major, found here.  Both the Health Sciences calendar and Undergraduate calendar contain information about the Dietetics major.
The admission requirements of science pre-requisite courses (mathematics, chemistry, biology, physics) that are required for admission to the first year of the Dietetics major for all applicants can be found at https://www.mcgill.ca/applying/requirements.  Students admitted from high school from other provinces or countries are usually admitted to a Freshman year (Nutrition Major) to complete these science pre-requisites or they may complete them at another university. Similarly, mature applicants who are missing science entrance prerequisites would be admitted to the Nutrition Major. If these students want to apply to year 1of the Dietetics Major, they would apply to transfer.
Freshman Year
For those who need to complete a "Freshman" year of pre-requisite science courses (mathematics, chemistry, biology and physics), consult here for more information.
Transferring to Year 1 of the Dietetics Major
Students who are already at McGill in a freshman program or another program, may apply to transfer to year 1 of the Dietetics major.  Transferring is competitive and based on the number of places available in the program. Generally speaking, a CGPA of at least 3.30 or higher is required to transfer.
Transfer/Readmission Information
For McGill students who wish to transfer to Dietetics, or students who wish to be readmitted to the Dietetics Major after a short absence, please see here for transfer and readmission guidelines and dates.
Leave of Absence policy
Students registered in the Dietetics Major, who will be not registered for one or two terms should see their advisor and consult with the Student Affairs Office in Laird Hall.. These students will need to re-apply for readmission via Minerva. If any changes to the program have occurred during their absence, then a readmitted student is readmitted under the new program guidelines. 
Length of Time to complete the program
This is a professional program and therefore needs to be completed in a timely manner, in order for course content to be current and up-to-date.  Normally the program is expected to be completed in 3.5 years, and should be completed within a maximum of 5.5 years.  Any potential longer programs need to be discussed and reviewed with the University Coordinator (Stage), in order to ensure that the program meets accreditation standards.  It is not possible to complete the program in less than 3.5 years, even if transferring from another program or another university, due to the sequencing of the Stages.
Senior clinical nutrition courses (Clinical Nutrition 2 and Clinical Nutrition 3) must have been completed at McGill University within 3 years prior to commencing Level 3 and /or 4 Stage. Students who have had extended delays and exceed this 3 year maximum will be asked to repeat Clinical Nutrition 2 and/or 3 prior to Level 3 and/or 4.
Recognition of Prior Learning for Professional Practice (Stage) courses
The Stage courses are specifically sequenced to meet all competencies.  In general, it is not possible to have course equivalency exemption for any Stage courses since a variety of competencies are addressed at each level.  It may be possible to have exemption of certain weeks of Level 4 Stage, based on supervised non-paid learning/training experience that occurs after Level 3 Stage and prior to Level 4 Stage (during the Summer of U3). Confirmation needs to occur by the beginning of July for planning purposes. Consult with the University Coordinator (Stage) for more details.
Course Equivalencies
If you are in your first semester at McGill, and if you have previously done a course(s) at another university (prior to your admission to McGill), please consult course equivalency information. This needs to be done before the end of the your first semester at McGill (based on Government guidelines) and includes courses for second or third year (not just first year courses).
Dates for the Professional Practice (Stage)
The dates for each Stage are available/posted one year or more in advance. The Stages must be done in the scheduled dates, i.e. alternate dates are not available.  Each Stage is sequenced in a particular order and at particular dates.  It is not possible to have the Stages in a different sequence or "back-to-back".  
Policies and procedures for Professional Practice (Stage)
Detailed policies and procedures that relate to each Level of Stage are available in each Stage manual and on this website under the 'Getting Started' tab.
Exam Deferral in a required course
Pre-requisites are firmly applied.  Courses must be successfully passed with C grade or higher.  If an exam is deferred in certain courses that directly precede a level of Stage, then the student will not be eligible to participate in Stage, and this could add one year to the program due to the sequencing of the Stages and courses.  Contact the University Coordinator (Stage) to know which courses or which semesters this would apply to.
Requests for Visiting/Special status in Professional Practice (Stage) courses
Due to limited capacity, it is not possible to provide internship, training, refreshing, upgrading or Stage to students who are not registered in the undergraduate Dietetics Major degree program or Graduate level degree.  Entrance to NUTR courses that are program restricted to the Dietetics major are not guaranteed. Applicants are expected to possess the pre-requisite courses for NUTR courses. Contact the University Coordinator (Stage) if further clarification is needed.
Professional Practice
What is Professional Practice (Stage) in Dietetics?
For students in the Dietetics Major, a 40 week internship is integrated in the program, to meet requirements for eligibility to register with provincial regulatory bodies as a registered dietitian. "Stage" is the French word for internship. The Stages are integrated and sequenced throughout the program, starting with fall of year 1. There are four Levels of Stage.
Is it possible to enter a freshman program in the Dietetics major?
No, the freshman courses, for students who need to do a freshman year, are only available in the Nutrition Major.  This is because the Dietetics major is a professional program and admission is based on marks achieved in the entrance science courses (or freshman science courses or equivalent Quebec CEGEP science courses),
What will I do in Level 1a (NUTR 208) and Level 1b (NUTR 209) Stage? When do these Stages occur?
The first Level of Stage occurs mainly on campus. Level 1a Stage occurs in the fall of first year. In this Stage, students are introduced to professional practice.
Level 1b Stage occurs in May/June after first year. In this Stage, students have the opportunity to practice interviewing and teaching normal nutrition at the Steinberg Centre for Simulation and Interactive Learning. They also participate in a variety of nutrition education activities.
What will I do in the other Levels of Stage?
Levels 2, 3 and 4 occur at a variety of placement sites in Quebec. The majority of the placements are on the Island of Montreal in hospital, geriatric or community centres. Placements provide exposure to Clinical Nutrition, Management and Community nutrition. Because the Stages are divided into 4 levels, students get to see a variety of placement sites, since normally they are placed in different sites for every level of Stage. In the clinical nutrition rotations, students are involved in individualized care for patients who require specialized therapeutic diets for their medical condition. In management rotations, students participate in projects and learn about practical applications of food and nutrition in both traditional (hospital) and non-traditional (community) settings. In community rotations, students are exposed to working with groups to promote healthy nutrition.
Are there opportunities for Stage in other provinces in Canada or other countries?
Yes, but this would only occur for a portion of the last Stage, Level 4, and further details are discussed once students are within about 6 months of the final Stage. Opportunities in other provinces are limited, and we cannot guarantee that a rotation in another province will be secured. We have some international opportunities in the Caribbean and Africa that are available for those students who are interested. Students need to pay certain costs for these international opportunities (such as travel and accommodation).
Can I find my own placement, or does the University arrange the placements for Stage?
The university arranges the placements, and students are not permitted to arrange placements themselves. Students complete their preferences prior to each Stage, and while it is not possible to meet all preference requests, the majority of students do get many of their preferences met at certain points over the course of the program.
FAQs
Where can I go with a Dietetics degree? Where do dietitians/nutritionists work?
As a clinical nutritionist/counsellor in health care settings (42%, OPDQ 2000)

in medical or surgical units
in nephrology, endocrinology and gastroenterology
in oncology and immunology
in geriatrics, etc.

You will assess the nutritional health of individuals and plan, implement and evaluate nutrition interventions as a member of the health care team.

As a food service manager (9.6% , OPDQ 2000)

in residential centres, hospitals, seniors' homes, prisons and schools
in sports centres, cafeterias and companies

Organizing and managing the food system, from planning food purchase standards and nutritionally adequate menus to staff education, budget management and marketing will challenge your time and personnel management skills.

As a community nutritionist (10.3%, OPDQ 2000)

in a CLSC, school board, health club
in community clinics
in international settings

Teaching individuals and groups about meeting their specific nutrient needs and monitoring their nutrition wellness will be your main goal.

As researchers and teachers (6.2%, OPDQ 2000)

Dietitian-nutritionists capitalize on an advanced degree and study all the varied aspects of nutrition from the level of the cell to nutritional status of populations.

As communications, public relations and marketing specialists (4%, OPDQ 2000)

In food and nutrition with food companies and medical enterprises you will use your food and nutrition knowledge to promote specially formulated nutrition products, advocate on behalf of people with special nutrition needs, or develop educational materials for the public.

In combination food and nutrition positions (8.4%, OPDQ 2000)

in private practice
in government
in product development
in public education

The dietitian-nutritionist is a food and nutrition consultant to physicians, food scientists, teachers, community workers and others, synthesizing nutrition science for application by the public.
I can't register on Minerva for NUTR 208 (Professional Practice Stage 1a), what should I do?
For NUTR 208, which is the first Stage course in Fall of U1, instructor approval is required. You need to e-mail the instructor,
sandy.phillips

[at]

mcgill.ca
with your ID number and requesting permission to register. 
How will I be notified once I can register for NUTR 208?
We will always use your McGill e-mail to communicate with you, so be sure to check your McGill e-mail and use that e-mail for communication.
How many credits do I need to be full-time?
Twelve (12) credits is full-time. You may take up to 18 credits in one semester. Most students take 15 or 17 credits per semester.
Useful websites and contact info
Photos
2022-2023
2021-2022

Class of 2020-2021

Class of 2019-2020

Class of 2018-2019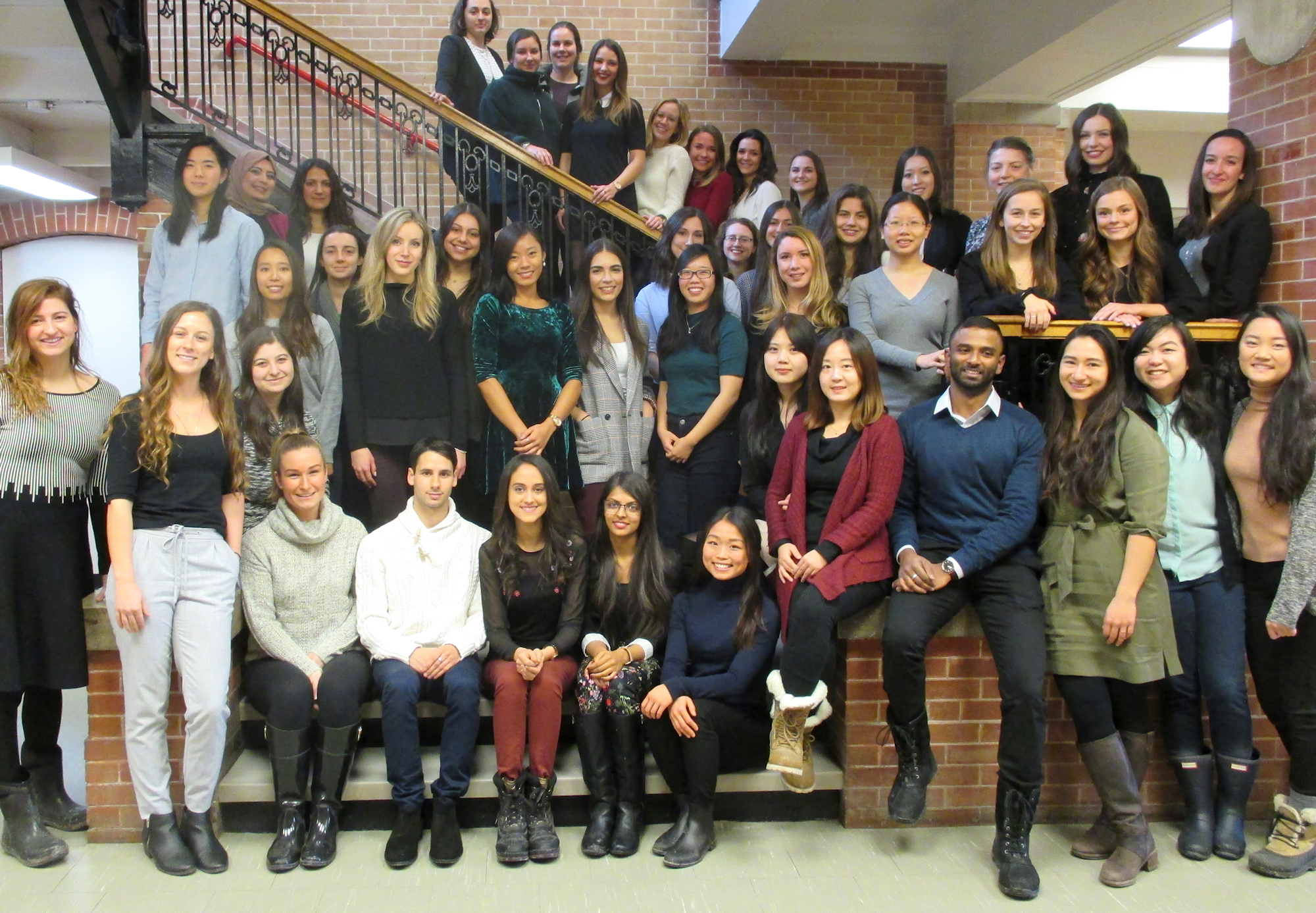 Class of 2017-2018

Class of 2016

Class of 2015

Class of 2014