News
Ten students at McGill University receive Canada's largest Science, Technology, Engineering and Math (STEM) scholarship
Incoming 2022 Schulich Leaders at McGill win $100,000/$80,000 scholarships for undergraduate study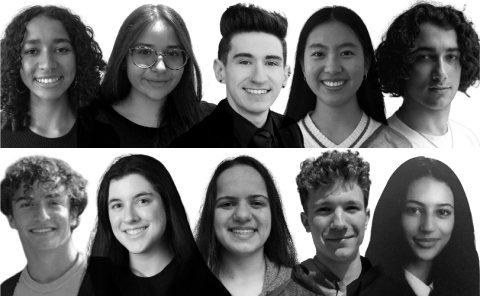 Published:
6
September
2022
Ten students have been named McGill University's recipients of the prestigious Schulich Leader Scholarships, Canada's premier Science, Technology, Engineering and Math (STEM) scholarships.
Created by McGill alumnus Seymour Schulich, BSc'61, MBA'65, DLitt'04, the Schulich Leader Scholarships are awarded to entrepreneurial-minded students who've demonstrated academic excellence and display leadership, charisma and creativity.
Out of a pool of 350,000 potential candidates across Canada, 1,400 students were nominated. For the third year in a row, an additional 50 scholarships are being awarded, for a total of 100. The 10 recipients who are starting their studies at McGill are the largest incoming cohort of Schulich Leaders that McGill has welcomed to date.
Five of McGill's 2022 Schulich Leaders are entering the Faculty of Engineering and have each received a $100,000 scholarship: Aerin Brown, Nicolas Dolgopolyy, Sophia Li, Alexander Lyakishev, and Kristina Kerkelova. The Faculty of Science welcomes five Schulich Leaders who have each received an $80,000 scholarship: Tavio Ficaccio, Maya Foster Thompson, Josh Gertsvolf, Eya Ibrahim and Allison Tsypin.
Brown, a graduate of Southridge School in Surrey, B.C., is studying Software Engineering. In addition to her academic excellence, Brown worked with a team of entrepreneurial STEM students from across Canada on a prize-winning project to reduce water wastage.
Dolgopolyy, a graduate of Collège André-Grasset in Montreal, is entering the Software Engineering program. In addition to his stellar academic success, Dolgopolyy is working on a project in association with a Montreal startup to develop an autonomous underwater robot for pipeline inspection to prevent spills.
Li, a graduate of Prince of Wales in Vancouver, will be studying Software Engineering. In addition to her outstanding academic success, Li co-organized a hack-a-thon that brought together more than 150 participants – beginner and experienced coders alike – from nine countries.
Lyakishev, a graduate of University of Toronto Schools in Toronto, is entering the Mechanical Engineering program. In addition to his academic excellence, Lyakishev competed for Team Canada at the 2019 International Junior Science Olympiad, winning a bronze medal.
Kerkelova, a graduate of Vincent Massey Collegiate in Winnipeg, will be studying Bioengineering at McGill. In addition to her academic excellence, Kerkelova created a robot from scratch with peers using 3D printing, coding and woodworking and hopes to one day develop robotic prostheses.
Ficaccio, a graduate of Renert School in Calgary, will be studying Computer Science. In addition to his academic excellence, Ficaccio founded a student-run video game design studio and serves as its project manager and lead game designer.
Foster Thompson, a graduate of Dartmouth High School in Dartmouth, N.S., is entering the Computer Science program. In addition to her stellar academic record, Foster Thompson has served in leadership roles in and outside of school, including at her local rowing club.
Gertsvolf, a graduate of Sir Robert Borden High School in Ottawa, is enrolled in a Bachelor of Science degree program at McGill. In addition to his stellar academic record, Gertsvolf has been an active student leader and plans to combine his passion for STEM with his aptitude for entrepreneurship in his future career.
Ibrahim, a graduate of Glenlyon Norfolk School in Victoria, B.C., is entering the Bachelor of Science degree program. In addition to her academic achievements, Ibrahim won science fair prizes, including a Society for Canadian Women in Science and Technology award.
Tsypin, a graduate of Marianopolis College in Westmount, Q.C., is entering the Honours Mathematics program. In addition to her outstanding academic record, Tsypin has won many mathematics competitions and chess championships and hopes to combine mathematical concepts with the power of AI to open new avenues for applied scientific research.
McGill has now welcomed 40 Schulich Leaders to the University since the Schulich Foundation launched the scholarship fund in 2012.
"We are proud to celebrate more than 10 years of Schulich Leader Scholarships, the premier STEM scholarship program in Canada and the world. This group of 100 outstanding students will represent the best and brightest Canada has to offer and will make great contributions to society, both on a national and global scale. With their university expenses covered, they can focus their time on their studies, research projects, extracurriculars, and entrepreneurial ventures. They are the next generation of entrepreneurial-minded, technology innovators," says program founder Seymour Schulich.
About Schulich Leader Scholarships Canada
Recognizing the increasing importance and impact that STEM disciplines will have on the prosperity of future generations, businessman and philanthropist Seymour Schulich established this $100+ million scholarship fund in 2012 to encourage our best and brightest students to become Schulich Leader Scholars: the next generation of entrepreneurial-minded, technology innovators.
Through The Schulich Foundation, these prestigious entrance scholarships are awarded to 100 high school graduates enrolling in a science, technology, engineering or mathematics (STEM) undergraduate program at 20 partner universities in Canada. Every high school in Canada can submit one Schulich Leader Nominee per academic year based on academic excellence in STEM, entrepreneurial leadership, and financial need.
---
About McGill University
Founded in Montreal, Quebec, in 1821, McGill University is Canada's top ranked medical doctoral university. McGill is consistently ranked as one of the top universities, both nationally and internationally. It is a world-renowned institution of higher learning with research activities spanning three campuses, 11 faculties, 13 professional schools, 300 programs of study and over 39,000 students, including more than 10,400 graduate students. McGill attracts students from over 150 countries around the world, its 12,000 international students making up 30% of the student body. Over half of McGill students claim a first language other than English, including approximately 20% of our students who say French is their mother tongue.