News
Leading McGill scholars celebrated for sharing their work with the media
Winners of McGill University's 2022 Principal's Prize for Public Engagement announced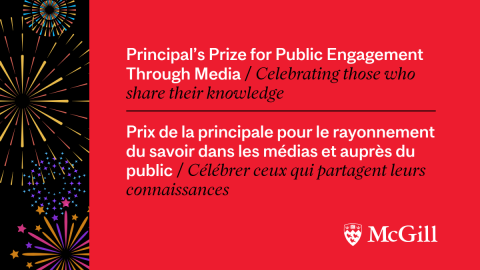 Principal and Vice-Chancellor Suzanne Fortier has announced the 2022 winners of the Principal's Prize for Public Engagement through Media. The prize was created to recognize exceptional scholars who share their knowledge with the media and the public, whether about sustainability, politics, music, science and engineering or COVID-19. The competition, in which awards are given to individuals and groups at all stages in their academic careers, is now in it's sixth year and underlines the University's commitment to public-facing scholarship. This year's prize winners are:
Winner of the Prize for Groups: Transforming women's health experiences
Medical Herstory which works to eliminate sexism, shame, and stigma from women's health experiences through storytelling, medical education, and patient advocacy.
Winner of the Prize for Graduate Students and Postdoctoral Fellows: Using social media to build healthy coping mechanisms during the pandemic
Stephanie Zito, a PhD candidate in the Department of Educational and Counseling Psychology who, building from her own experiences of anxiety during the pandemic, created the selfcare spotlight to share evidence-based information, mainly through social media, about healthy coping mechanisms with students and schools.
Winner of the Prize for Emerging Researchers: Sharing the science behind COVID-19
Jesse Papenburg, Assistant Professor in the Department of Pediatrics wins the prize for his ongoing presence in social and traditional media, providing information on the science behind COVID-19 and the uncertainties of school attendance for children.
Winner of the Prize for Established Academics: Informing our understanding of Canadian politics
Daniel Béland, James McGill Professor, in the Department of Political Science and Director of the McGill Institute for the Study of Canada is the winner of the Prize for Established Academics. In choosing him as the winner, the jury underlined his extensive presence in local, national and international media, presenting well-informed views about a wide-range of political topics in a thorough and accessible way.
Cindy Blackstock is our 2022 Changemaker
The Changemaker Prize is one for which you cannot apply but must be nominated and is awarded on an occasional basis to individuals whose dedication to sharing their knowledge with the media and the public has had a major impact on society.
Cindy Blackstock, Full Professor in the School of Social Work is the recipient of the 2022 Changemaker Prize. Blackstock's dedication and outstanding work with media over the past years, has drawn attention to the systemic inequities faced by Indigenous children. She is committed to the idea that education lies at the heart of reconciliation, and her media work has played an important role in effecting important changes in policy, most notably in relation to this year's $40 billion federal settlement for Indigenous welfare.
The prizes will be awarded at a ceremony on April 29, 2022, at the McGill Faculty Club.
---
About McGill University
Founded in Montreal, Quebec, in 1821, McGill University is Canada's top ranked medical doctoral university. McGill is consistently ranked as one of the top universities, both nationally and internationally. It is a world-renowned institution of higher learning with research activities spanning three campuses, 11 faculties, 13 professional schools, 300 programs of study and over 39,000 students, including more than 10,400 graduate students. McGill attracts students from over 150 countries around the world, its 12,000 international students making up 30% of the student body. Over half of McGill students claim a first language other than English, including approximately 20% of our students who say French is their mother tongue.