Student Contributions
MORSL is proud to be home to Radix, a student-centred magazine providing literary and artistic space for expression on spiritual themes. In print since 2000, Radix is published 3 to 5 times a year, and relies on students to submit poetry, essays, art, photos and reflections on selected themes. The magazine is distributed free on campus, and back issues are available to read online.

In addition to Radix magazine, MORSL is also proud to showcase student work that results from our workshops, conferences, activities and events. Watch this space for thoughtful and insightful articles authored by McGill students, created for the MORSL space, as well as other programs and workshops happening at MORSL for you to get involved in.
Practical Skills for Interfaith Dialogue Program
Are you someone who is curious about faith diversity at McGill? Are you excited to meet and converse with students from different backgrounds? Do you want to enhance your dialogue skills? Apply now to be part of a small cohort that will take part in this four-part series to build a community of practice that is unique on campus. All students are welcome to apply, no prior experience required! Fill in this webform to apply before January 22nd. Click the button below for more information about the workshop.
Queer Spirituality McGill Cohort Winter 2023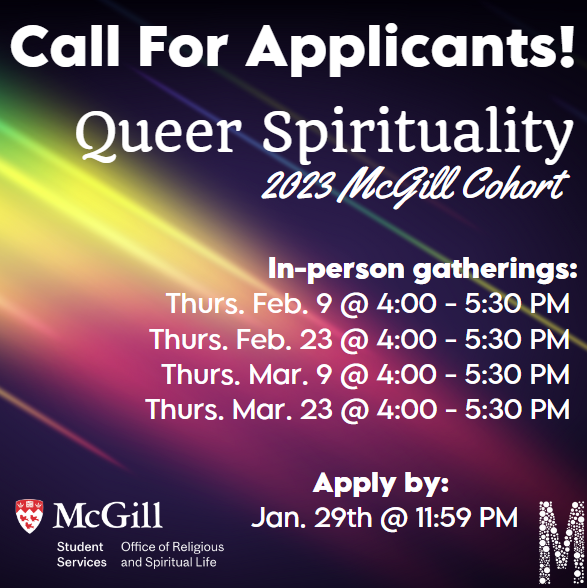 Curious about the crossroads of queerness and spirituality and/or faith? In winter 2023, MORSL is offering a safer space apart from the pressures of heteronormativity for students to explore their questions and lived experiences of queerness and faith. This program includes an exclusive McGill cohort for Queer Spirituality: Global Perspectives a six-week online course offered by The School of Global Citizenry that engages the perspectives of queer women of color throughout history and mythology as a springboard for celebrating queer spirituality. For more information about the program and how to apply, please click on the button below.
MORSL Peer Faith Volunteer Program
Are you looking to connect with other students and enhance your involvement with your faith or spiritual life through peer support? MORSL is excited to announce the first cohort of Peer Faith Volunteers for 2022-2023! Our Peer Faith Volunteers are members of the McGill community who are available to meet with fellow students seeking support. Peer Faith Volunteers are affirming peer supporters who draw on their own life experience and training in their conversations with students. Click on the button below for more information about the program and booking sessions with the volunteers.