Interim Managing Director
Kristina Ohrvall
Tel.: (514) 398-6000
kristina.ohrvall [at] mcgill.ca
Project Manager
Dr. Jing Liu
Tel.: (514) 398-3386
jing.liu2 [at] mcgill.ca
Dr. Jing Liu graduated from McGill University with a Ph.D. degree in genetics/genomics, followed by post-doc training at Harvard University. She joined HBHL with extensive experience in project management, business development and operation, acquired in academic institutions and biotech companies.
From April 2015 to July 2017, Dr. Liu was the Manager of the Infectious Diseases and Immunity in Global Health (IDIGH) Program at the Research Institute of McGill University Health Centre (RI-MUHC) where she managed all aspects of the program's activities, including financial, scientific, business, administration, outreaching, and training. Before this, Dr. Liu worked as a group leader, manager, director and consultant in various academic institutions including the Clinical Proteomics Platform and Systems Medicine Program, the McGill Life Sciences Complex High Throughput Screening Facility and biotech companies (PhageTech and New World Laboratories). She has a proven track record of competency, productivity, vision, creativity, and networking. Click here to see Dr. Jing Liu's detailed bio-sketch.
Business Development Specialist
Dr. Noha Gerges
Tel.: (514) 607-8978
ngerges [at] mitacs.ca
Dr. Noha Gerges received her Ph.D. from McGill University where she spent six years studying the genomics and proteomics of several rare and fatal pediatric brain tumours. From November 2014 until September 2017, Dr. Gerges was the Program Manager of the Child Health and Human Development (CHHD) Program at the Research Institute of the McGill University Health Center. In her role, she was responsible for planning the move of 31 labs to the now Glen site and then establishing the program in this new environment. With over 170 people in CHHD, she wore many hats, and established a sense of community within the new space, managed finances, four staff members, public relations, and ensured that the day-to-day functionality of the program was consistently optimal. Today, Dr. Gerges is a Mitacs Business Development Specialist who specifically focuses on those in who fall under the HBHL umbrella. Her role consists of liaising between academic and industrial or non-for-profit partners, outreach, and ensuring that our labs have multiple opportunities to collaborate with various external bodies when possible.
Project Administrator
McConnel Brain Imaging Centre
Diana Le
Tel. :(514) 398-6918
diana.le [at] mcgill.ca
Ms. Diana Le is a certified Project Management Professional (PMP) with a Graduate Diploma in Healthcare Administration as well as a BSc (Specialization Biochemistry) from Concordia University. She joins McGill with the mandate of overseeing the planning, development, and deliverables of the HBHL/NeuroHub platform. Ms. Le has held many project manager roles in private industry, was responsible for managing various programs through the project lifecycle for continuing medical education, market research, and eLearning, in collaboration with pharmaceutical organizations and their affiliates in North America and internationally. Before joining McGill, Ms. Le was a project manager in the continuing medical education industry, where she oversaw all facets of program development, coordinated logistics for live meetings as well as ensuring financial and administrative compliance.
Program Officer
Dr. Falisha Karpati
falisha.karpati [at] mcgill.ca
Dr. Falisha Karpati is a recent Ph.D. graduate of the Integrated Program in Neuroscience at McGill University. She brings a unique combination of experience in neuroscience research and skills development to the HBHL team. 
Dr. Karpati's research investigated the neural correlates of dance and music using structural and functional neuroimaging techniques in combination with behavioural measures. During and after her doctoral studies, she worked at Teaching and Learning Services at McGill University on a wide range of portfolios including SKILLSETS, SKILLS21, and McGill's graduate supervision website. Her responsibilities included workshop design and facilitation, online resource development, as well as communications and promotion. She has demonstrated excellence in creating and delivering skills development programming for McGill students and is looking forward to bringing her insight and ideas to develop new programming specifically designed for HBHL trainees.
Awards Officer
Dr. Sarah Kaderabek
Tel.: (514) 398-8076
sarah.kaderabek [at] mcgill.ca
Dr. Sarah Kaderabek received her MA and Ph.D. in Russian (Language and Literature) from McGill University.  She taught at Lehigh University in Bethlehem, Pennsylvania, and served for two summers as the Resident Director in Moscow for the American Councils for International Education Contemporary Russia study abroad program.  From 2008-2017 Dr. Kaderabek worked in the Office of the Associate Dean, Research and Graduate Studies, in McGill's Faculty of Arts. In 2017 she joined the Office of Sponsored Research as a member of the Awards Management team, where she oversees award activation for the HBHL project, Canada First Research Excellence Fund grants, Genome Quebec and Genome Canada funding. 
Communications and Events Officer
Jennifer Morrow
Tel.: (514) 398-2573
jennifer.morrow [at] mcgill.ca
Jennifer Morrow holds an MSc from the Columbia School of Journalism. Her passion for storytelling has taken her around the world as both a reporter and professional communicator. After several years as a freelancer based in New Delhi and Geneva, she moved to New York, working as an associate producer for WNYC Radio and a reporter for Dow Jones. In 2003, she was awarded a fellowship at the Metcalf Institute for Marine & Environmental Reporting, University of Rhode Island. She returned to Canada in 2004, working in strategic communications for Aga Khan Foundation and digital communications for the UNESCO Insitute for Statistics.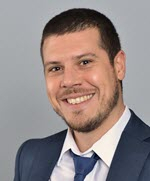 Business Development Advisor
Xavier Linker
Tel.: (514) 267-4135
xavier.linker [at] mcgill.ca
Xavier Linker graduated from the Toulouse National Institute of Applied Sciences with a Diplôme d'Ingénieur (Master of Science in Engineering) in Biochemistry, and from the Toulouse Business School with a Specialized Master's degree in Biotechnology Management.
Xavier joins HBHL with 14 years experience in Business Development, first in France and, since 2012, in Canada. He has held leadership positions in the biotech industry, including with Charles River Laboratories, Biospective (preclinical Contract Research Organizations) and Lallemand Health Solutions (manufacturer of probiotic strains).
Senior Advisor, Metrics & Planning
Daniel Marinescu
Tel.: (514) 267-xxx
daniel.marinescu [at] mcgill.ca
Mr. Daniel Marinescu holds two degrees from McGill University, in biochemistry and biomedical engineering. While coordinating private sector clinical research in MRI analysis of neurodegenerative diseases, he completed an MBA at John Molson School of Business, specializing in data intelligence and analytics. Mr. Marinescu then worked in Business Intelligence for McGill University fundraising efforts – focusing on key performance indicators, metrics, performance management, and complex data analysis for University Advancement.