The main tasks of this committee will be to advice the Institute on the most relevant topics to be addressed by research initiatives, educational programs and outreach activities. More specifically, the committee members will collectively examine upcoming calls for scientific proposals, as well as potential research opportunities to be developed in partnership with other sectors (not-for profit, private, and public/governmental) and make recommendations on the development of research teams able to address call for proposals and potential partnerships.
Members
Caroline Begg, PhD, is a Faculty Lecturer in the Department of Plant Science and Director of Internship (FMT). Dr Begg has worked in the field of sustainable agriculture in Tanzania and the Philippines.  Her main interest is in ecological agriculture; other research interests include the relationships between spatial patterns of crop and soil parameters in agricultural fields. Dr Begg conducts research on food security on the island of Montreal and on ecological agriculture practices focusing on soil and crop management. Caroline teaches a number of courses both at the degree and the college level and supervises 10 to 15 undergraduate projects per year.  She is the mentor to two Macdonald campus clubs; the Macdonald Student-Run Ecological Garden (MSEG), and the Farm-to-School Program. Both student groups have received the McGill Office for Sustainability Catalyst Award (2012 and 2014). Caroline is president of the Marché Ste Anne, a growing farmers market located in Ste-Anne-de-Bellevue. As well, she serves on the Board of Corbeille de Pain, a food security organization in the West Island.
---
Frank Elgar holds a Canada Research Chair in Social Inequalities in Child Health.  An Associate Professor jointly appointed at the Institute for Health and Social Policy and Department of Psychiatry (Douglas Institute), Frank received a PhD in psychology from Dalhousie University and previously worked in university and government settings in Canada and Wales. His research is supported by SSHRC and CIHR and explores social and economic determinants of health and human development. Currently this work focuses on links between income inequality, social capital and population health and the effects of financial stress and parental mental illness on child health outcomes.
---
Aurélie Harou obtained a BSc from the University of Sussex in Brighton, UK, in Environmental Science and Geography and later an MSc from the University of California at Davis in Agricultural and Resource Economics. She worked for several years first for the U.S. Federal Emergency Management Agency on the National Flood Insurance Program and later as a consultant for an economics litigation company in Berkeley, California. After living in D.R. Congo for a year doing humanitarian work for Action Against Hunger, she pursued a PhD in Applied Economics at Cornell University. She then joined the Agriculture and Food Security group at Columbia University as an Earth Institute post-doctoral fellow. Her research on global food security has brought her to work in many countries including Guatemala, Ghana, Malawi, Tanzania, Philippines and Nepal where she has partnered with various local and international organizations to conduct her work, including the World Food Program, Catholic Relief Services, the International Maize and Wheat Improvement Center (CIMMYT), the United Nations Food and Agricultural Organization and the World Bank.
---
Brittany Wenniserí:iostha Jock
Dr. Brittany Wenniserí:iostha Jock is Bear Clan from the Akwesasne Kanien'kehá:ka (Mohawk) Territory. She obtained her bachelor's degree from Syracuse University in chemistry. She holds a master's degree in epidemiology and a doctorate in social and behavioral interventions from the Johns Hopkins School of Public Health. Her public health training focused on the design and application of mixed methods research and the development, implementation, and evaluation of health programs. 
Dr. Jock's research combines epidemiology with social and behavioral science to respond to the obesity and chronic disease inequities experienced by Indigenous Nations and communities. Her research focuses on responding to the dietary shift from Indigenous traditional food systems to highly processed market food systems that resulted from the ongoing colonization of Turtle Island (North America). Dr. Jock's research is in the following streams: (1) nutrition status and obesity prevention interventions (2) policy, systems, and environmental approaches for obesity prevention, and (3) influence of social determinants and historical trauma in shaping Indigenous health. She employs qualitative methods to develop interventions, quantitative research methods to evaluate interventions, and community-based participatory research approaches to guide the involvement of Indigenous Nations in her research. She is honoured to work in the ancestral territory of her people.
---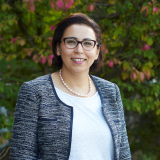 Professor Salwa Karboune is Associate Dean (Research) in McGill's Faculty of Agricultural and Environmental Sciences. She is a graduate from the University of Marseille, France, in Food Biotechnology. Her main research expertise is in the design and development of new "green" approaches for the synthesis of novel functional food ingredients that can improve the quality and the functionality of food products. Her research program is based on a multidisciplinary approach combining food chemistry, enzyme technology and nanotechnology and focuses on carbohydrate-based bioactive molecules. Such a research is important as the structural and molecular roles of oligo/polysaccharides in biological systems are increasingly being recognized. Her research work also contributes to the sustainability of the Agri-Food sector by developing innovative biocatalytic approaches to generating highly added value functional ingredients from food-processing by-products. Her multidisciplinary research program has garnered national and international recognition through the sustained excellence of the research her group conducted. Her research has attracted funding from CFI, FRQNT, NSERC and MAPAQ. As part of her R&D collaboration with industries, she has led NSERC Engage and CRD grants and has partnered with MITACS. The research of her group has been covered in media, such as the McGill Reporter, CBC and Journal of Montreal. At the national and International level, she is a committee member of the CFI Science Advisory Board, CIFST's Scientific Expert Council, and the European Innovation Commission Advisory Board. In 2015-2016, she chaired the NSERC Scholarships and Fellowships Selection Committee for Plant and Animal Biology. She also serves on editorial and advisory boards for journals in her field. Professor Karboune is passionate about science and active learning, and she is a strong supporter of hands-on projects. She successfully mentored teams of students to first place prizes at the prestigious IFT Food Product Development competition.
---
Claudia Mitchell is a Distinguished James McGill Professor in the Department of Integrated studies with the Faculty of Education at McGill University, and an Honorary Professor in the School of Education at the University of KwaZulu-Natal in Durban, South Africa, where she established the Centre for Visual Methodologies for Social Change.
In September 2015 Dr. Mitchell was recognized as a Fellow of the Royal Society of Canada. She is currently the Director of the Institute of Human Development and Well-Being in the Faculty of Education of McGill University. Her research interests span work in schools with teachers and young people, particularly in the context of gender, HIV and AIDS; studies in Higher Education of mainstreaming issues of gender, HIV and AIDS in South Africa and Ethiopia; girlhood studies, in particular work related to gender-based violence; and participatory visual methodologies and community-based research in health education, housing and agriculture.
In 2008 she was given an award by the Canadian Bureau of International Education for her innovative work with young people in development contexts. She is involved in a number of research projects. These include studies funded through the Social Sciences and Humanities Research Council of Canada on the uses of digital technology with teachers, and research on "what difference does this make?" in relation to arts-based methodologies for addressing HIV and AIDS in rural communities in South Africa; the Canadian Institute for Health Research in relation to the uses of participatory methodologies for working with aboriginal youth in addressing HIV and AIDS; and the National Research Foundation (South Africa) focusing on two key areas (gender and sanitation, indigenous knowledge and women teachers in the age of AIDS).
Founder of YAHAnet and the Participatory Cultures Lab at McGill, Claudia is also an editor of the academic journal, Girlhood Studies.
---
Valérie Orsat is a Professor in the Department of Bioresource Engineering and Associate Dean (Student Affairs) on the Macdonald Campus of McGill University. She obtained her PhD from McGill University in 1999. From 1999 to 2007, she coordinated the training activities of international developmental projects in postharvest engineering, first in China with the project "Microwave processing in China", and then in India with the project "Consolidation of Food Security in South India". Since 2007, Valérie Orsat is back at McGill as an academic member contributing to the food engineering sector, recognized in 2015 by the John Clark Award from the Canadian Society of Bioengineering in recognition of her outstanding contributions in this field. In 2016, she was recipient of the McGill University Carrie M. Derick Award for Excellence in Graduate Teaching and Supervision. This award acknowledges outstanding contributions to promoting graduate student excellence through teaching and supervision by a faculty member who has been supervising for 10 years or less.
---
Dr. Elsa Vasseur is an Assistant Professor and the Chairholder of the NSERC/Novalait/Dairy Farmers of Canada/Valacta Industrial Research Chair in Sustainable Life of Dairy Cattle. She received both her BSc and her first MSc in Rural Development from the Institut Supérieur d'Agriculture in Lille, France as well as a second MSc in Animal Behaviour from AgroParisTech in 2005. She then came to Canada where she obtained her PhD in Animal Science from Université Laval in 2009, looking at assessment tools for the on-farm welfare of young dairy animals. After an NSERC Post-doctoral Fellowship, where she worked with some of Canada's leading researchers in dairy-cattle welfare at the University of British Columbia and Agriculture and Agri-food Canada, she took up a position at the University of Guelph's Organic Dairy Research Centre on the Alfred Campus, before joining McGill in January as the Associate Chairholder. Professor Vasseur has an impressive résumé of refereed publications, and scientific presentations, including several keynote seminars. She has been involved in the direction of 14 graduate students to date, and has hit the ground running at McGill with 2 PhDs, and 1 MSc already enrolled in her first official month on the job! Apart from the specific goals of the Chair (in collaboration with Novalait, DFC, and Valacta), Elsa's research interests include: the investigation of risk factors to cow longevity; defining better standards for on-farm management systems; and understanding the barriers to the adoption of best practices. Her international interests and experience include a CIDA project in the DR Congo looking at reducing poverty through renewable charcoal-based agroforestry systems; and work in Jordan comparing goat and sheep value chains. Elsa Vasseur is a member of the International Committee for animal welfare and well-being, the Canadian Dairy Research Cluster, the National Development Program for Animal Care Assessment, and the Working Group of the Canadian General Standards Board for the revision of Canadian organic standards. Vasseur and her team will primarily focus their research work for the next 5 years on the NSERC-Novalait-DFC-Valacta IRC on Sustainable Life of Dairy Cattle.