The main tasks of this committee will be to advice the Institute on the most relevant topics to be addressed by research initiatives, educational programs and outreach activities. More specifically, the committee members will collectively examine upcoming calls for scientific proposals, as well as potential research opportunities to be developed in partnership with other sectors (not-for profit, private, and public/governmental) and make recommendations on the development of research teams able to address call for proposals and potential partnerships.
Members
Professor Adamowski is an Associate Professor and William Dawson Scholar in the Department of Bioresource Engineering, Faculty of Agricultural and Environmental Sciences at McGill University. He is also the Director of McGill's Integrated Water Resources Management Program, Associate Director of the Brace Centre for Water Resources Management, Associate Member of the McGill School of Environment, and Associate Member of the Trottier Institute for Sustainability in Engineering and Design (TISED) at McGill. Professor Adamowski is registered as a professional engineer (P.Eng.) in the province of Ontario, and currently serves on numerous international committees (e.g. International Commission on Water Resource Systems of the International Association of Hydrological Sciences), as well as on the Editorial Boards of numerous international journals (e.g. Journal of Sustainable Water Resources Management; Journal of Modeling Earth Systems and Environment; Proceedings of the Institution of Civil Engineers (ICE): Engineering Sustainability). His research and teaching interests are in the areas of statistical hydrology and water resources engineering and management, with a particular focus on modeling of environmental and water resources processes. Professor Adamowski has published over 140 research papers in refereed journals and 60 papers in refereed conference proceedings, as well as three books, several chapters in books, and several monographs.  He has also given over 50 research talks at academic conferences (including over 10 Keynote Talks at conferences). 
---
Dr. Elena Bennett is an Associate Professor at McGill. She received her BA in Biology and Environmental Studies from Oberlin College in Ohio in 1994, earned her MSc in Land Resources in 1999 (U. Wisconsin) and her PhD in Limnology and Marine Sciences in 2002 (U. Wisconsin). She is co-chair of the international project ecoSERVICES, which aims to set the research agenda for ecosystem services for the coming decade, and lead author on the IPBES Global Assessment. Dr. Bennett was a Leopold Leadership Fellow (2012), and a Trottier Public Policy Professor (2013-2014). At McGill, she has won awards for undergraduate teaching, graduate supervision, and contributions to campus sustainability.  In 2012, she was selected to be one of two representatives of the Royal Society of Canada at the Summer Davos meeting of the World Economic Forum held in Tianjin, China. In 2016, she was named one of six NSERC Steacie Fellows.
---
Dr. Clark is an Associate Professor in the Bioresource Engineering Department at McGill University. Dr. Clark grew up on a small, mixed farm in the beautiful, ecologically diverse parkland region of Central Alberta. He received an industry-cooperative B.Sc. in Agricultural Engineering from the University of Alberta, Edmonton (1993) and a PhD in Biosystems Engineering from McGill University, Montreal (2000). His Ecological Engineering Research Group at McGill uses computational tools and physical systems to study the design, creation and management of ecosystems to provide services.
---
Gordon Hickey completed a Bachelor of Forest Science degree (Honours) at the University of Melbourne, a Ph.D. at the University of British Columbia, and a Master of Public Administration (Executive) at the Australian and New Zealand School of Government, Monash University. He is presently an Associate Professor and William Dawson Scholar in the Department of Natural Resource Sciences at McGill University specializing in sustainable natural resource management, policy and governance. He is the Head of the Sustainable Futures Research Laboratory and Director of the McGill-United Nations Environment Programme Collaborating Centre on Environmental Assessment. Prior to joining McGill, he was the Manager of Forest Policy and Projects in the Department of Sustainability and Environment, State Government of Victoria, Australia. He is presently an Associate Editor of the journal Food Security. Dr. Hickey's research is at the forefront of understanding how government can better support the sustainable governance of complex natural resource management systems at a range of scales. His international and applied research seeks to offer innovative and sensitive public policy guidance on a wide range of sustainable development challenges facing society. 
---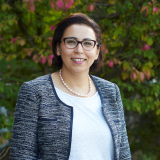 Professor Salwa Karboune is Associate Dean (Research) in McGill's Faculty of Agricultural and Environmental Sciences. She is a graduate from the University of Marseille, France, in Food Biotechnology. Her main research expertise is in the design and development of new "green" approaches for the synthesis of novel functional food ingredients that can improve the quality and the functionality of food products. Her research program is based on a multidisciplinary approach combining food chemistry, enzyme technology and nanotechnology and focuses on carbohydrate-based bioactive molecules. Such a research is important as the structural and molecular roles of oligo/polysaccharides in biological systems are increasingly being recognized. Her research work also contributes to the sustainability of the Agri-Food sector by developing innovative biocatalytic approaches to generating highly added value functional ingredients from food-processing by-products. Her multidisciplinary research program has garnered national and international recognition through the sustained excellence of the research her group conducted. Her research has attracted funding from CFI, FRQNT, NSERC and MAPAQ. As part of her R&D collaboration with industries, she has led NSERC Engage and CRD grants and has partnered with MITACS. The research of her group has been covered in media, such as the McGill Reporter, CBC and Journal of Montreal. At the national and International level, she is a committee member of the CFI Science Advisory Board, CIFST's Scientific Expert Council, and the European Innovation Commission Advisory Board. In 2015-2016, she chaired the NSERC Scholarships and Fellowships Selection Committee for Plant and Animal Biology. She also serves on editorial and advisory boards for journals in her field. Professor Karboune is passionate about science and active learning, and she is a strong supporter of hands-on projects. She successfully mentored teams of students to first place prizes at the prestigious IFT Food Product Development competition.
---
Ajjamada C. Kushalappa obtained his Ph. D. from University of Florida (USA), M.Sc (Plant Pathology) and B. Sc. (Agri) from University of Agricultural Sciences (Bengaluru, India). From 1977-1985 he was a Professor Titular Visitante, at Universidade Federal de Vicosa (Brazil). In 1985 he joined McGill University as an Assistant Professor in the Department of Plant Science, and in 1991 he became an Associate Professor. He is a recipient of CPS sponsored Dr. and Mrs D. L. Bailey award for an exception and distinguished contribution to plant pathology. He was an invited speaker on 'Plant biotic stress resistance genes and genome editing' at 16 national and international conferences in the past six years. As a Plant Pathologist, Dr. Kushalappa 's current research focus is the identification plant biotic stress resistance genes through forward and reverse genetics (systems biology), and the use these genes to replace the susceptible genes in commercial cultivars, based on cisgenetic engineering (gene transfer between sexually compatible plants), using CRISPR-Cas9 systems, to increase the genetic diversity of crop plants.
---
Vijaya Raghavan obtained his PhD (Agr Eng) from Colorado State University, his MSc (Agr Eng) from the University of Guelph, and his BEng (Mech Eng) from Bangalore University. He joined McGill in 1974 as a Research Associate in the Department of Agricultural Engineering, and he is presently a James McGill Professor. He was Departmental Chair from 1993 to 2003.  His research has been on the effects of soil compaction on crop productivity, and on post-harvest technologies related to drying and storage.  He has directed four CIDA-funded projects: Three dealt with the transfer of expertise and post-harvest technologies to southern India for the consolidation of food security, and one was on the transfer of expertise and electro-technologies to China for research into food processing and other applications.  In 2012, he was inducted into the Royal Society of Canada (RSC), and into the National Academy of Agriculture Sciences (India) as a Foreign Fellow. He is currently President of the Canadian Society of Bioengineering (CSBE) and Director of the ASE division of the Academy of Science of the RSC. He is an active member of the Food Expert Advisory Committee which provides informed advice to the Minister of Health. The main thrust of Dr Raghavan's research efforts over the last two decades has been to study and develop post-harvest or post-production processes and technologies for the drying and storage of produce and crops.
---
After receiving her PhD from the Institute of Parasitology at Macdonald Campus of McGill University, Marilyn spent two years at Imperial College, London, UK doing postdoctoral research in experimental parasite epidemiology.  She returned to the Institute of Parasitology as an Assistant Professor in 1982.  She was Director of the Institute of Parasitology from 1990-2000 and Director of the McGill School of Environment from 2008-2013.   She is currently Professor of Parasitology and Associate Dean (Academic) for the Faculty of Agricultural and Environmental Sciences. Through her career, she has trained 46 graduate students and 6 post-doctoral fellows, and has published 1 book, 16 review articles and book chapters, and over 100 original articles.  She was the 1991 recipient of the Henry Baldwin Ward Medal from the American Society of Parasitologists for her contributions to the field by a researcher under the age of 40.  In 2006, she received the Robert Wardle Award from the Canadian Society of Zoologists (Parasitology Section) for outstanding contributions by a Canadian to parasitology.  She was the recipient of both the Macdonald Campus and the Principal's Prize for Teaching Excellence in 2011. The long-term objective of her research program is to understand host-parasite population dynamics using experimental and field epidemiology and theoretical studies. Through this research, she explores factors relevant to, and consequences of, parasite control methods applied at the level of the host population or community.
---
Dr. Smith's research interests are in the area of crop eco-physiology. They can be broken down into several specific areas of activity. One of these is the use of signal compounds to improve legume nitrogen fixation under environmental conditions inhibitory to symbiosis development. This work has led to a number of publications, patents, and the establishment of a spin-off company. A second area is the use of plant growth promoting rhizobacteria (PGPR), and signal compound produced by them, to increase the growth and yield many crops. This led to the isolation of several new PGPR strains and the isolation of a material, produced by a PGPR that causes direct stimulation of plant growth. A third area of research is the use of the signal compounds produced by rhizobia during the establishment of the rhizobia-legume symbiosis to directly promote plant growth. Fourth, research is methods to increase the sequestration of CO2 from the atmosphere into crop plants, including the use of biochar, for ultimate sequestration into soil, or for use in bioproducts.  This is linked to the utilization of crop plants in greenhouse gas management, including use of lignocellulosics produced by crop plants as biofuel feedstocks.
---
Professor Thomassin is a Professor of Agricultural Economics at McGill University.  He received his Ph.D. and M.S. from the University of Hawaii at Manoa and his B.Sc. (Agr.) from McGill University.  His research areas include: agricultural and environmental economics, macroeconomic analysis of food and agriculture policies, food safety, and the economics of climate change.  From 2003-2007, he was the scientific director of Greenhouse Gas Management Canada, a SSHRC-BIOCAP national research network that investigated the social science dimensions of greenhouse gas management.  Professor Thomassin has provided advice to: the UN Standing Committee on Nutrition, the UN Convention on Biological Diversity, the UN National Institutes of Sustainability and the Ministry of Environment of Japan, the OECD, and the Government of Canada.  Professor Thomassin is a Research Fellow at the Center for Interuniversity Research and Analysis of Organizations (CIRANO).  He was a founding director of the McGill Centre for the Convergence of Health and Economics.  He has been a Visiting Professor at the William S. Richardson, School of Law, at the University of Hawaii, Visiting Fellow at the National Centre for Development Studies at the Australian National University, and Honorary Professor in the Division of Science and Technology at the University of Auckland. Professor Thomassin's research investigates the economics of agricultural and environmental policies.   This includes such areas as: changes in management practices to decrease pollution; climate change; the importance of food attributes; and food safety.  Some of the policy questions that have been investigated are: Can carbon markets decrease greenhouse gas emissions?  Can changes in plant varieties mitigate against climate change? What is the impact of healthy eating on the economy?  What is the economic impact of biofuel policy on the Canada?
---
Dr. Elsa Vasseur is an Assistant Professor and the Chairholder of the NSERC/Novalait/Dairy Farmers of Canada/Valacta Industrial Research Chair in Sustainable Life of Dairy Cattle. She received both her BSc and her first MSc in Rural Development from the Institut Supérieur d'Agriculture in Lille, France as well as a second MSc in Animal Behaviour from AgroParisTech in 2005. She then came to Canada where she obtained her PhD in Animal Science from Université Laval in 2009, looking at assessment tools for the on-farm welfare of young dairy animals. After an NSERC Post-doctoral Fellowship, where she worked with some of Canada's leading researchers in dairy-cattle welfare at the University of British Columbia and Agriculture and Agri-food Canada, she took up a position at the University of Guelph's Organic Dairy Research Centre on the Alfred Campus, before joining McGill in January as the Associate Chairholder. Professor Vasseur has an impressive résumé of refereed publications, and scientific presentations, including several keynote seminars. She has been involved in the direction of 14 graduate students to date, and has hit the ground running at McGill with 2 PhDs, and 1 MSc already enrolled in her first official month on the job! Apart from the specific goals of the Chair (in collaboration with Novalait, DFC, and Valacta), Elsa's research interests include: the investigation of risk factors to cow longevity; defining better standards for on-farm management systems; and understanding the barriers to the adoption of best practices. Her international interests and experience include a CIDA project in the DR Congo looking at reducing poverty through renewable charcoal-based agroforestry systems; and work in Jordan comparing goat and sheep value chains. Elsa Vasseur is a member of the International Committee for animal welfare and well-being, the Canadian Dairy Research Cluster, the National Development Program for Animal Care Assessment, and the Working Group of the Canadian General Standards Board for the revision of Canadian organic standards. Vasseur and her team will primarily focus their research work for the next 5 years on the NSERC-Novalait-DFC-Valacta IRC on Sustainable Life of Dairy Cattle.