Dr. Hugo Melgar-Quiñonez, MD
Director of the Institute for Global Food Security, Margaret A. Gilliam Faculty Scholar in Food Security, School of Human Nutrition, Macdonald Campus, McGill University.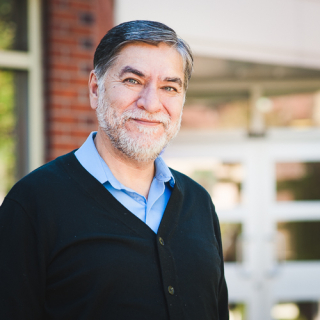 Dr Melgar-Quiñonez is currently the Director of the Institute for Global Food Security. As the Margaret A. Gilliam Faculty Scholar in Food Security he holds an appointment in the School of Human Nutrition at McGill University in Montreal. A Guatemalan and a USA citizen, Dr Melgar-Quinonez moved to McGill University in September of 2012, after 9 years of work as a professor in the Department of Nutrition at the Ohio State University. Previous to his appointment in Ohio, he worked as a researcher in public health nutrition at the University of California in Davis and at the Mexican Institute of Public Health. Dr. Melgar-Quiñonez holds a degree in Medicine from both the Friedrich Schiller University in Germany and the National University of San Carlos in Guatemala. He also received his doctoral degree in sciences from the Friedrich Schiller University in Germany. In addition to his academic appointments, Dr Melgar-Quinonez has worked as an advisor on food security in several countries in Latin America, and maintains strong collaborative relationships with the United Nations Food and agriculture Organization (FAO), among other international institutions and development agencies. His research program on the assessment of household food security includes over 20 countries around the globe.
---
Dr. Linda Wykes
Director, School of Human Nutrition, Macdonald Campus, McGill University
Linda Wykes is a Professor in and Director of the School of Human Nutrition at McGill University. She received her PhD for work at The Hospital for Sick Children in Toronto developing new parenteral nutrition regimens for neonates. During her PDF at the USDA/ARS Children's Nutrition Research Center, of Baylor College of Medicine in Houston, she gained expertise in mass spectrometry. Her research expertise is in developing stable isotope tracer approaches to study how malnutrition and inflammatory stress affect glucose metabolism and protein synthesis. She has developed a piglet model of inflammatory bowel disease to study how diet and inflammatory stress interact to affect the regulation of protein synthesis, oxidative stress, and gastrointestinal pathophysiology. Analysis of her stable isotope tracer studies in her mass spectrometry laboratory is a critical link to translating techniques and concepts developed in the piglet model to patients in the clinical setting.
While at McGill, she has also become NASTY – that is one of a multi-disciplinary team of collaborators with expertise in Nutrition Anesthesiology and Surgery and the Team includes EndocrinologY and KinesiologY. Together they conduct stable isotope tracer and insulin clamp studies in patients during and after surgery. They investigate how nutrition, analgesia and exercise interventions can decrease insulin resistance to improve nutrient utilization, promote anabolism, and ultimately speed recovery following surgery for colorectal or liver resection or coronary artery bypass grafting.
At the undergraduate level, she teaches Nutrition and Health (a broad introductory course which aims to use a knowledge of metabolism as a basis for understanding real life nutrition as well as some of the rationale behind public policy), and Human Nutrition (metabolism in inherited and acquired nutrition-related diseases from the gene to the organismal level). At the graduate level, she teaches Integrated Metabolic Research (critical analysis of nutritional genomics, biochemistry and metabolic research).
---
Dr. Anja Geitmann
Dean, Faculty of Agricultural and Environmental Sciences, McGill University
Anja Geitmann is Dean of the Faculty of Agricultural and Environmental Sciences and Professor in the Department of Plant Science.  She also holds a Canada Research Chair (Tier 1) in Biomechanics of Plant Development. She leads an interdisciplinary team of cell biologists and mechanical engineers. Her research program focuses on the biomechanical principles underlying plant development and reproduction. Using powerful microscopical techniques and micromanipulation, her team investigates how sperm cells are delivered in plants during fertilization, how plant cells grow and divide, and how intracellular transport processes govern morphogenetic features. The ultimate goal of this research is to understand how genetic composition or a plant translates to its physical phenotype.
Dr. Geitmann is actively involved in the executive committees of numerous learned societies. She currently serves as President of the Canadian Society of Plant Biologists and as Past‐President of the Microscopical Society of Canada. She is the Vice-­President of the International Association of Plant Sexual Reproduction Research. She serves on the editorial boards of multiple scientific journals including Plant Physiology. She has served on the organizing committees of numerous international meetings including Plant Biology 2010, Plant Biology 2014, M&M 2014 and Botany 2015. She was the organizer of the first Alumni Meeting of the Human Frontier Science Program, the International BIRS Workshop on 'Multiscale Modeling of Cell Wall Mechanics and Growth in Walled Cells' and a biannual series of Advanced Workshops on Fluorescence Microscopy Techniques. The quality of her teaching merited her a Teaching Award from the Faculté des Arts et des Science de l'Université de Montréal in 2012.
---
Dr. Marco Ferroni
Executive Director, Syngenta Foundation for Sustainable Agriculture
An expert in international agriculture and sustainability issues, Marco Ferroni joined the Syngenta Foundation as its Executive Director in 2008, after a career in multilateral institutions and government.  Before joining the Foundation, Marco Ferroni worked at the Inter-American Development Bank (IDB) and the World Bank in Washington DC. As a Deputy Manager of the Sustainable Development Department of the IDB, he had responsibility for regional sector policy and technical support to the Bank's country departments. As the Principal Officer in
the Bank's Office of Evaluation and Oversight, he directed evaluation studies that assessed the relevance, performance and results of Bank strategies and investments. As a senior advisor at the World Bank he advised on donor relations and directed work on international public goods and their role in foreign aid and international affairs. Earlier in his career, he was an economist and division chief in the Economics and Foreign Affairs Ministries of the Government of Switzerland, working in development finance. Marco Ferroni holds a doctoral degree in agricultural economics from Cornell University. He has worked in Latin America, Africa and Asia and is a frequent lecturer and guest speaker on topics that include agriculture, food security, development finance, and trade.
---
Dr. James W. Fyles
Associate Dean (Student Affairs); Tomlinson Chair in Forest Ecology; Professor, Department of Natural Resource Sciences, Macdonald Campus, McGill University
Jim Fyles is an ecosystem ecologist with broad interest and expertise in the ecology of forests, agro-ecosystems, and devastated lands.  He was raised in Victoria, British Columbia, Canada and obtained his B.Sc. and M.Sc. in ecology from the University of Victoria. He obtained his Ph.D. jointly in Soil Science and Botany at the University of Alberta in 1986, after which he did post-doctoral research in the Faculty of Forestry at the University of British Columbia. Since 1988, Dr. Fyles has been a professor in the Department of Natural Resource Sciences, where he holds the Tomlinson Chair in Forest Ecology. In 2011, he was appointed Department Chair, a position which he held until he took on the role of Associate Dean (Student Affairs) in 2016. He was one of the primary developers of the McGill School of Environment and has served as the Director of the School. He is the Director of the Molson Nature Reserve and the Morgan Arboretum, peri-urban conservation and research areas near the Macdonald Campus. Between 2004 and 2010, he was the Scientific Director of the Sustainable Forest Management Network Centre of Excellence, a national research network involving partners from industry, governments, Aboriginal groups and non-governmental organizations.
Dr. Fyles' research interests focus on the interrelationships between human activity, organisms, soil, disturbance and climate that structure patterns of ecosystem function across multiple scales. Through his multi-disciplinary work on food security and with the SFM-NCE he has become increasingly interested in the relationships between scientific knowledge, policy and management of natural landscapes. Dr. Fyles has published over 80 articles in scientific journals and co-authored many knowledge exchange documents.
Dr. Fyles teaches undergraduate and graduate courses in the global environment and ecosystem ecology. He has received the Macdonald College Award for Teaching Excellence. He has supervised 30 graduate students and 31 senior undergraduate research projects.
---
Dr. Kristine Koski
Associate Professor, School of  Human Nutrition
Dr Kristine G Koski is an Associate Professor in the School of  Human Nutrition and Associate Professor in the Faculty of Medicine at McGill University Montreal Canada. Dr Koski received both her Bachelor and Master Degrees from the University of Washington (Seattle) and her PhD from the University of California (Davis) in 1985. She came to McGill in 1987, after completing a Nestle/ASN Postdoctoral Fellowship in Maternal and Child Nutrition. In 1990, she received the Faculty of Agricultural and Environmental Science's Award for Teaching Excellence.  From 1992- 1998 she was Associate Director of the McGill Nutrition and Food Science Center and from 1998-2003 Visiting Professor in Biochemistry and Nutrition at St Georges University School of Medicine. She is a member of the American Dietetic Association, Dietitians of Canada, the American Society of Nutrition, and the Canadian Society for Nutritional Sciences.  Dr Koski's international multidisciplinary research training program focuses on maternal and child nutrition in Panama and in Guatemala. She and her  collaborator Dr Scott ( Institute of Parasitology)  are exploring : (1) how maternal stressors impact on the infant growth and development? (2) which vitamin and mineral deficiencies impair fetal growth and result in low birth weight babies in mothers in living in extreme poverty? (3) whether supplements improve perinatal growth and development or is the high infection burden of pregnant and lactating mothers a more serious problem? and (4) do conditional transfer programs improve infant and child growth in developing countries. Dr Koski and her graduate students have published 80 articles in journals such as Proceedings of National Academy of Sciences, Canadian Medical Association Journal, Biology of Reproduction and The Journal of Nutrition, to name a few. She has received funding from NSERC, CIHR, SENACYT, FCAR and FQRNT. Over the past 4 years, she has been a member of several Expert Advisory Groups that have provided insight to Health Canada and NIH on the development of the new Guidelines for Nutrition for a Healthy Pregnancy.
---
Mr. Bruce H. Moore
International Development and Social Activist


Bruce H. Moore is an international development and social activist.  He is the immediate past Chair of the North South Institute, an international development research institute; and, the Forum on Democratic Global Governance. At present, he is a member of the Global Advisory Boards of the Huairou Commission, an international alliance of grassroots women's organizations.  Additionally, he is a member of the C20, the civil society consultative body to the G20 and of Transparency International.  From 1998-2008, he was the founding Director of the International Land Coalition (headquartered in Rome), an alliance of United Nations, civil society, and multilateral organizations working to enable rural poor families to gain their land and resource rights.   He currently represents the Asian NGO Coalition and the Social Development Foundation in North America.  His civil society career, from 1973 to 1998, included 10 years as the Director of Partners in Rural Development. He has chaired the NGO Advisory Committee to the United Nations International Fund for Agricultural Development; served on the international executive of the Society for International Development 1998-2008; been an advisor to the European Commission, FAO, African Union, Asian Development Bank, and World Bank.  He has chaired   a number of high-level policy dialogues during the UN Commission on Sustainable Development; and served on the committee that designed the action plan for the Commission on the Legal Empowerment of the Poor.
---
Mr. Thomas Pesek
Partnership Officer, North American Liaison Office, Partnership and Resource Mobilization, International Fund for Agricultural Development
Thomas Pesek joined the International Fund for Agricultural Development (IFAD) in 2005 and manages its North American Liaison Office in Washington, DC.  In this capacity, he works to influence the direction and content of national and international poverty reduction policies and processes, cultivate and maintain strategic partnerships between IFAD and the Canadian and US governments, international institutions and civil society organizations, and to mobilize resources in North America on behalf of IFAD's efforts to enable the rural poor to overcome poverty. 
Prior to joining IFAD, he served as Project Officer at the United Nations Department of Economic and Social Affairs, Office of the Under-Secretary-General at UN Headquarters in New York, where he evaluated and finalized proposals for projects to be funded by the United Nations Development Account. Previously, he worked as a Liaison Officer for the United Nations World Food Programme in New York, where he coordinated on global emergencies with United Nations development and humanitarian agencies, as well as NGOs and UN Member States, and issued situation reports to WFP leadership worldwide. 
---
Dr. Philip Oxhorn
Professor of Political Science and Founding Director ISID, Institute for the Study of International Development, McGill University
Philip Oxhorn is a Professor of Political Science at McGill University and the Founding Director of McGill's Institute for the Study of International Development, as well as the Editor-in-Chief of the international journal Latin American Research Review. A former Associate Dean (Graduate and Postdoctoral Studies) at McGill, his research focuses on the comparative study of civil society and its role in supporting democratic regimes, particularly in Latin America. Professor Oxhorn's publications include Sustaining Civil Society: Economic Change, Democracy and the Social Construction of Citizenship in Latin America (Penn State University Press, 2011) and Organizing Civil Society: The Popular Sectors and the Struggle for Democracy in Chile (Penn State University Press, 1995), as well as numerous articles and four co-edited volumes: What Kind of Democracy? What Kind of Market? Latin America in the Age of Neoliberlism (with Graciela Ducatenzeiler, Penn State University Press, 1998), The Market and Democracy In Latin America: Convergence or Divergence? (with Pamela Starr, Lynne Rienner Publishers, 1999), Decentralization, Civil Society, and Democratic Governance: Comparative Perspectives from Latin America, Africa, and Asia (with Joseph Tulchin and Andrew Selee Woodrow Wilson Center Press/the Johns Hopkins University Press, 2004), and Beyond Neoliberalism? Patterns, Responses, and New Directions in Latin America and the Caribbean (with Kenneth Roberts and John Burdick, Palgrave Macmillan, 2009). Professor Oxhorn has lectured extensively in North and South America, Western Europe, Asia and Australia. He has also worked as a consultant to the Inter-American Development Bank, the United Nations Development Program, the United Nations Population Fund, the Canadian International Development Agency (CIDA), the International Development Research Centre (IDRC), the Department of Foreign Affairs and International Trade, Canada, Department for Aboriginal Affairs and Northern Development, Canada, the Ford Foundation, The Carter Center, the Woodrow Wilson Center for International Scholars, and the Mining Association of Canada.  He has a PhD in Political Science from Harvard University.
---
Dr. Mark W. Rosegrant
Director of the Environment and Production Technology Division at the International Food Policy Research Institute (IFPRI), Washington, DC
Mark W. Rosegrant is the Director of the Environment and Production Technology Division at the International Food Policy Research Institute (IFPRI) in Washington, DC. With a Ph.D. in Public Policy from the University of Michigan, he has extensive experience in research and policy analysis in agriculture and economic development, with an emphasis on water resources and other natural resource and agricultural policy issues as they impact food security, rural livelihoods, and environmental sustainability. He currently directs research on climate change, water resources, sustainable land management, genetic resources and biotechnology, and agriculture and energy. 
He is the author or editor of 12 books and over 100 refereed papers in agricultural economics, water resources, and food policy analysis. Dr. Rosegrant has won numerous awards, such as Outstanding Journal Article (2008), Quality of Communications Award (2004), and Distinguished Policy Contribution Award (2002) awarded by the Agricultural and Applied Economics Association (formerly American Agricultural Economics Association); and Best Article Award (2005) from the International Water Resources Association.  Dr. Rosegrant is a Fellow of the American Association for the Advancement of Science; and a Fellow of the Agricultural and Applied Economics Association. 
---
Dr. Miguel Garcia-Winder
IICA Representative in the USA and as Head of the Center for Strategic Analysis for Agriculture
Miguel Garcia-Winder holds a BSc. in agronomy with a major in animal production from the National School of Agriculture, an MSc. in Animal Science from the University of Nebraska and a Ph. D in Reproductive Physiology from West Virginia University. During his professional career, Miguel has occupied diverse positions with government, education, private industry and international organizations. Since joining IICA in 2002, he has served as Director for Agribusiness and Trade, Director for Agribusiness and Commercialization and currently he serves as the Institute Representative in the USA and as Head of the Center for Strategic Analysis for Agriculture. He has published more than 40 papers in referenced journals and has also served in several national and international organization and has represented IICA in diverse international fora. His current professional interest center in the area of food and nutrition security, animal production and its contribution to sustainability and poverty reduction, youth in agriculture, and the development of a competitive agricultural sector capable of improving living condition and reducing social inequalities. During his career, Miguel has received several recognitions for his work in agriculture and animal production.  
---