The Métro @ Montérégie Team, a group of geoscientists and educators from McGill and Montréal Polytechnique, have built dynamic virtual field trips that work from your home office or your mobile device. Google's recently released Earth tools allowed the team to embed photos, geologic diagrams, and instructional videos presented by scientific experts in both French and English. The Métro @ Montérégie team hopes that these trips will find their way into classrooms--from primary to university levels--where students may be especially appreciative of a view of the great outdoors.
Building Stones Downtown Montreal 
Recommended time for trip: 45 minutes -1.5 hours
Accessibility: All stops are on paved sidewalks.
Summary: This field trip guides you through 10 stops in the downtown core of Montreal near the McGill University campus. Each building in the guide features different types of rocks and fossils from Quebec and across Canada. We will get a glimpse of some of North America's most attractive rocks dating back more than a billion years in Earth's history, and learn of their significance to Canada.
Rule: As these stones are part of the building, please only take pictures and no samples.
Be careful: The stops are in downtown Montreal, please respect traffic rules and watch out for cars and bicycles.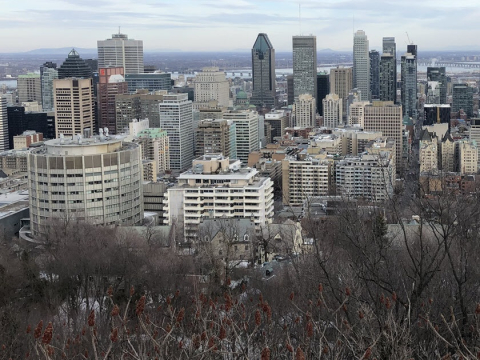 Mont Royal Geology
Recommended time for trip: A 4-hour loop hike that begins and ends at Jeanne Mance Park.
Accessibility: Paths are mostly paved, although some stops may be difficult to access by those with limited mobility. Check Amis de la Montagne website for up-to-date information about washrooms and other services in the park.
Summary: Mont Royal, the heart of Montréal, is a core of hard igneous rock, surrounded by fossil-bearing sedimentary rocks. There have been rumours that it's an ancient volcano, but geologists say it's not. See the evidence for yourself on this refreshing walking tour while enjoying the best views of the city.
Park Rules: The park is free and has no closing hours.
Be careful: Traffic moves fast on Camilien Houde so be careful walking along and crossing the road. It may be cool/windy at the overlooks.
Kaleidoscope of Research on Mont Saint-Hilaire
Recommended time for trip: ½ day
Accessibility: With dirt trail hikes and steep slopes, parts of the reserve are inaccessible to individuals with mobility challenges. Services are available at the museum at the main parking lot.
Summary: Explore the breadth of research happening on this Monteregie hill located about 40 km east of Montreal. Learn about geology, hydrology, biology, meteorology and more! Mont Saint-Hilaire is home to a pristine lake, a thriving ecosystem and 9% of the known mineral species on Earth. On this field trip you will find a representation of historical science and recent studies by McGill researchers at this gem of the Monteregie.
Park Rules: Gault Nature Reserve is currently open to the public 8 am to 6 pm but requires online ticket reservation. Please visit their website for the latest information. Parts of the reserve are not accessible to the public.