In engineering design, the off-the-shelf (OTS) components are hardware products that are ready-made and available for sale to the general public. OTS components vary from the pieces as simple as plain washers and to the most complicated units such as servomotors, car transmissions, robotic grippers and many others. In this section definitions of basic standard elements, commonly used in mechanical design, are provided. It should be noted that these descriptions and figures give just a general idea about components, since more shapes and models of the latter are available on the market.

Anchor (Mechanical Anchor)
Mechanical anchors are used to connect structural and non-structural elements to the concrete, transferring different types of load: tension forces and shear forces. For this, the base of an anchor expands in diameter being inserted into the hole, thus, the expansion strongly grips the base material and wedges the anchor firmly in place.

Ball Detent
A simple mechanical arrangement used to hold a moving part in a temporarily fixed position relative to another part. The moving part has a bored cylinder with a ball inside pressed by a spring. The spring pushes the ball against the detent, a hole of smaller diameter than the ball. When the hole is in line with the cylinder, the ball falls partially into the hole under spring pressure, holding the parts at that position. Additional force will push the ball back into its cylinder, compressing the spring, and allowing the parts to move.


Bearing
A machine element used to constrain relative motion between parts to only one degree-of-freedom (free linear motion or free rotation/angular motion around fixed axis), and to reduce friction between these moving parts. Normally, most bearings (
ball
,
roller
, or
spherical bearings
) are stronger in radial direction than in axial.
  However,
thrust bearings
, like other bearings permitting rotation between parts, are designed to support a predominantly axial load. The thrust bearings often require special design of the housing since they consist of several separate components.
Tapered roller bearings
are designed to accommodate combined loads: they can take both radial and axial loads and used for gear boxes for heavy trucks, bevel-gear transmission, lathe spindles, etc. Tapered roller bearing forms a cup and cone assembly, where the cup is comprised of the outer ring and the cone assembly consists of inner ring, rollers, and cage.

Bell crank
A pivoting double lever used to change the direction of applied motion through an angle. Angle can be any between 0 and 360 degrees, but 90 and 180 degrees are typical.
Bolt
A bolt is a type of fastener that commonly comprises a head at one end, a chamfer at the other, and a shaft with an external mail thread. Bolts are used for the assembly of two or more unthreaded components, with the aid of a nut applying an axial clamping force. This distinguishes bolts from screws, where the latter are used in components which contain their own thread, and the screw may even cut its own internal thread into the object.
 
Bushing
A type of bearing – a hollow cylinder used as an interface between a hole and a shaft to reduce friction and wear inside a hole. Another application – an elastic bearing made of rubber used as a type of vibration isolator.
Chuck
A specialized type of clamp used to hold an object with radial symmetry, especially a cylinder. In drills and mills it holds the rotating tool whereas in lathes it holds the rotating workpiece.
Clamp

Clamps are versatile tools that serve to temporarily or permanently hold parts securely in place. They can be of different types and used for many applications. Some examples of the clamps are screw clamp, hose clamp, U-clamp, quick release clamp, L-clamp, etc. As can be seen in the figures, the clamps have various designs based on their application.
Clevis

A U-shaped fastener with holes at the end into which a link is inserted, or a pin or bolt pass through. It is used as a fastening device which allows rotational motion.

Collet
A cone-shaped sleeve that forms a collar around an object to be held (a workpiece or a tool) and, being tightened, produces a strong clamping force on the object, usually by means of a tapered outer collar. Typically used for holding cylindrical parts in a lathe or other machine-tools.

Collar
A cylindrical ring-type piece used as mechanical stops, locating components, and bearing faces. Collars are used in many power transmission applications, most notably motors and gearboxes. Can be of two main styles: collars with set screws protruding into the shaft; clamp-type collars where screws compress the collar and lock it into place.

Coupling
A device used to connect two shafts together at their ends for the purpose of transmitting power. Shafts can have same or different diameters. Normally, couplings do not allow disconnection of shafts during operation, however there are torque limiting couplings which can slip or disconnect when torque limit is exceeded. Some models may be used to account for minor misalignment of the connected shafts.

Double-universal Joint
See Universal Joint.


Fastener
A hardware device that mechanically joins or affixes two or more objects together, usually non-permanently, i.e. joints can be removed or dismantled without damaging the joining components. See examples: bolts, screws, nuts, rivets, etc.


Gasket
A mechanical seal which fills the space between two or more mating surfaces, in order to prevent leakage from the joined objects or into them (for example, a seal for joining two water pipes, or in fuel tanks). Gaskets are often used during high compression, can be chemical resistant.

Gauge
A standard dimension, quantity, or capacity in specific application. A measurement tool used for determining the magnitude, amount, or contents of something (e.g., tire pressure gauge, fuel gauge, strain gauge, etc.)


Gauge blocks
Precision machined metal or ceramic blocks having two flat parallel surfaces, that has been precision ground and lapped to a specific thickness with a guaranteed high accuracy. They are used as a reference for the calibration of measuring equipment and are the main means of length standardization used by industry.

Gusset (plate)
A triangular metal piece used to transfer stresses between connected members and to strengthen a structural joint, e.g., in connection of a beam or girders with columns. A gusset plate can be fastened to a permanent member either by bolts, rivets or welding or a combination of the three.

Hasp
A slotted hinged metal plate that forms part of a fastening for a door or lid and is fitted over a metal loop and secured by a pin, bolt or padlock.

Nut
A fastener with a threaded hole used in conjunction with a mating bolt for fastening two or more parts together.

O-Ring
A mechanical gasket in the shape of a torus, or donut. it is a loop of elastomer with a round cross-section, designed to be placed in a groove and compressed during assembly between two or more cylindrical parts. O-ring creates a seal at the interface preventing in or out leakage. Special-purpose O-rings may have non-round cross-sections, e.g., X-profile O-ring.


Pillow Block
A bearing housing on pedestal or on a flange used to provide support for a rotating shaft with the help of compatible bearings. Pillow block material is typically cast iron or cast steel. The housing typically mounts on a single planar face and may be split or un-split to accommodate insertion/removal of the bearing.

Ratchet
A mechanical device consisting of a bar or wheel with a set of angled teeth in which a pawl, cog, or tooth engages, allowing motion in one direction only.




Retaining Ring
A fastener that holds components or assemblies onto a shaft or in a bore and typically is installed in a groove. The exposed portion of the retaining ring sitting in the shaft or internal groove acts as a shoulder which retains the component in its specific place. There are four main types of retaining rings: tapered section, constant section, spiral and self-locking. Each of the type may be further broken down into sub-types depending on unique application needs.

Rivet
A permanent mechanical fastener, initially consisting of a smooth cylindrical shaft with a head on one end. During installation, the end opposite to the head, called the tail, is inserted in a punched or drilled hole. After that the tail is bucked, so that it expands to about 1.5 times the original shaft diameter and creates a new "head", holding the rivet in place. The original head is called the factory head and the deformed end is called the shop head or buck-tail.
Another type is a double-headed rivet, where the buck-tail expands inside the hollow secondary head.
Because there is a head on each end of an installed rivet, it can support tension loads. However, it is much more capable of supporting shear loads (loads perpendicular to the axis of the shaft).


Scotch Yoke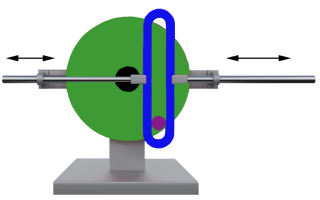 A reciprocating motion mechanism used to convert the linear motion of a slider into rotational motion, or vice versa.
Screw

A fastener, typically made of metal or plastic, having external (male) thread. Screws are used to fasten materials by digging in and wedging into a material when turned, while the thread cuts grooves in the fastened material thus puling fastened materials together and preventing pull-out. Screws do not use nuts as opposed to bolts (see the
Bolt
description).

Sheave
A grooved wheel used to accommodate a belt, wire rope, or rope and incorporated into a pulley for the transmission of power. Sometimes referred to as a pulley sheave since it spins on an axle or bearing inside the frame of the pulley, allowing the cable to move freely by minimizing its friction and wear.


Shim
A thin and often tapered or wedged piece of material inserted between two surfaces to adjust them for fit, align parts, or reduce wear. Shims are used to fill up an unwanted gap. They are often specified as "select to fit" parts, rather than as a part with a predefined thickness.

Slip Yoke
An internally splined shaft that is connected to the driveshaft by means of a universal joint. The purpose of the slip yoke is to transfer power from the transfer case to the driveshaft. It slides in and out of the transfer case allowing it to change length in response to the car's chassis movements on and off-road.

Spacer
A solid material fixed size component designed to separate two parts by a known amount in an assembly. Spacers (or
standoffs
) can vary in size from microns to centimeters and do not necessarily fill all the space between the components (e.g., if used to separate parts for electrical insulation, or to allow cooling air to flow between them). Spacers can be made of metal, plastic, glass and other materials. Among others, shapes include flat sheet, cylindrical and spherical.

Sprocket
A profiled wheel with teeth, or cogs, that mesh with a chain, track or other perforated or indented material, to transmit rotary motion between two shafts where gears are unsuitable or to impart linear motion to a track, tape etc. The most common form of sprocket may be found in the bicycle, in which the pedal shaft carries a large sprocket-wheel, which drives a chain, which, in turn, drives a small sprocket on the axle of the rear wheel.


Universal joint
A mechanical device that allows two rotating shafts that are not in line with each other to be linked together, allowing the transmission of torque and rotary motion. For example, in the cars universal joints allow drive shafts to move up and down with the suspension such that power can be transmitted when the drive shaft isn't in a straight line between the transmission and drive wheels. Universal joint (a.k.a. universal coupling, U-joint, Cardan joint, Spicer or Hardy Spicer joint, or Hooke's joint) consists of a pair of hinges, oriented at 90° to each other and connected by a cross shaft. The drawback of the U-joint is that it is not a constant-velocity joint, having a jerky output rotation. To overcome this disadvantage, a
double-universal joint
is used which has two U-joints joined by an intermediate shaft, where the second U-joint is phased with respect to the first one to cancel the changing angular velocity.


Yoke end
A component having a forked end, as in a clevis or Hooke's joint. Yoke and clevis are often used as synonyms, however, sometimes term yoke defines a bulkier, or "meaty", frame with the same function as clevis has.


Washer
A thin plate (typically disk-shaped, but sometimes square) with a hole that is normally used to distribute the load of a threaded fastener, such as a bolt or nut.
Special types of washers also can be used as springs which maintains the washer hard against the part and the bolt thread hard against the nut or part thread: Belleville washer (cupped spring), curved disc spring, wave washer, split (spring lock) washer.