Event
Colloquium on the Spirituality of Young People
Wednesday,
March
22,
2023
08:30
to
16:00
Birks Building
3520 rue University, Montreal, QC, H3A 2A7, CA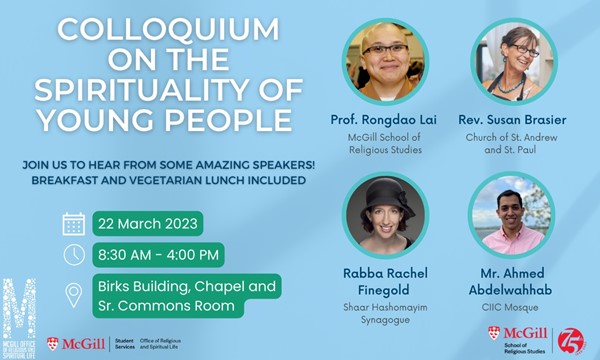 Join us on Wednesday March 22nd to hear some amazing speakers discuss topics related to spirituality, community, and connection. The event is taking place in the chapel and Sr. Commons room of the Birks Building at McGill. No registration needed.
A brief outline of the schedule is as follows:
8:30-9:00 AM: Arrival and breakfast
9:15 - 10:00: Speaker 1 - Rev. Susan Brasier. Is spirituality just a private matter?
10:00 - 10:45: Speaker 2 - Rabba Rachel Finegold. Lonely souls looking for a connection?
10:45 - 11:30: Speaker 3 - Prof. Rongdao Lai. Doubters seeking understanding?
11:30 - 12:15: Speaker 4 - Mr. Ahmed Abdelwahhab. Community as spiritual food?
Guest speakers will be followed by a vegetarian lunch, stories from students, and a group discussion.