November 16th, 2007
Thompson House
Media@McGill presents a media conference as part of the social debate about reasonable accommodation. Media@McGill wants to provide a public space for journalistic exchange and to highlight several important levels of the media operation.

The colloquium, Mediated Cultures: Stereotypes, Perceptions and Representations, aims to situate different issues around reasonable accommodation while allowing a relevant and unavoidable exchange on the role of media, media constraints, perceptions, and representations of mediated cultures. These will be highlighted throughout the day, which will be attended by university researchers and speakers from various levels of the media.
Presentations in French and English.
---
Conference report by Florian Sauvageau, Professor at Université Laval and director of the Centre d'études sur les médias.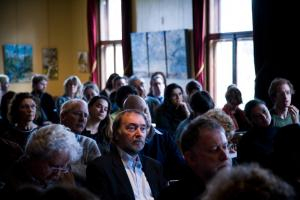 Two or three things really stand out for me from this very interesting event. Firstly, a strong critical view from certain panelists, but overall the participation of many different media players involved in the reasonable accommodation dossier. Amplification and generalization of isolated incidents, sensationalism and media spectacle, resorting to stereotypes, etc. In addition to journalists who, in this case as in others, always find good explanations to use in response to criticism. The excuse of time and space constraints seems somehow to apply to all critics of journalists.
In reality, there is nothing particularly new here. The coverage of the reasonable accommodation discussions reflects the type of coverage that minority rights questions always seem to receive; here and elsewhere. As a student in the United States 40 years ago, I remember the criticisms that we had of the media coverage directed toward the place of blacks in America at the time. The media, we argued, seemed interested only in covering black people in relation to crime and sports. Is that different from the coverage our media directs toward the Haitian community for example? Street gangs and boxing champs. Should we have expected something else in the case of Muslims? For some decades we have been speaking about the need for journalists of minority background to have a presence in newsrooms. Their influence could only change the situation. But, our editors still remain a largely homogeneous group.
Media criticism is useful. Discussion between the press and its critics is as well. It is, however, necessary to amplify the debate and interrogate - beyond these isolated incidents and the coverage that they have received - the responsibility and the role of our media in regard to the coverage of our rapidly changing society more generally. In this regard, the presentation of Professor Robins is full of material to consider. "Let's move beyond the logic of integration," he proposed.
This is not simple for the media; for television in particular. Many see the media as tools of social cohesion and integration. We have to escape this logic and see how the media might reflect diversity without completing abandoning their role in making consensus. This is a big challenge.
Media@McGill asked distinguished commentator Florian Sauvageau to sum up its November 16th colloquium on the role of the media in Québec's debate on reasonable accommodation.