NSERC - Undergraduate Student Research Awards
The NSERC Undergraduate Student Research Awards (USRA) are meant to stimulate your interest in research in the natural sciences and engineering. They are also meant to encourage you to undertake graduate studies and pursue a research career in these fields. If you would like to gain research work experience in an academic setting, these awards can provide you with financial support through your host university during the Summer 2012 period.  More information can be found here:  http://www.mcgill.ca/medresearch/biomedical/nserc
Work Study Program
The Physiology teaching laboratories currently employs several students as lab helpers and/or computer/software resource persons. These technical support positions are usually filled in early September. The application is done on-line at: http://www.is.mcgill.ca/studentaid/workstudy/
 
Undergraduate Student Course Assistants -  Applications For 2017 Now Available
The Department of Physiology offers a limited number of undergraduate students work as course assistants. Approximately 24-30 positions available September 2016-May 2017.  A separate application must be submitted for both Postings - Applications are attached to Postings: PHGY 209 and PHGY 210 .

Research Laboratories
Employment opportunities exist year-round through our research laboratories. Please contact individual lab directors for information. Research Labs

Career Opportunities with a Physiology Degree
Upon completion of a B.Sc. in Physiology, graduating students are qualified to work as research technicians and assistants in academic or industry settings.  Graduating students may also enroll in a biotechnology co-op program,  moving quickly (within a year) into the job market.
Furthermore, an undergraduate degree in Physiology provides excellent preparation and a competitive advantage for further training in a variety of fields.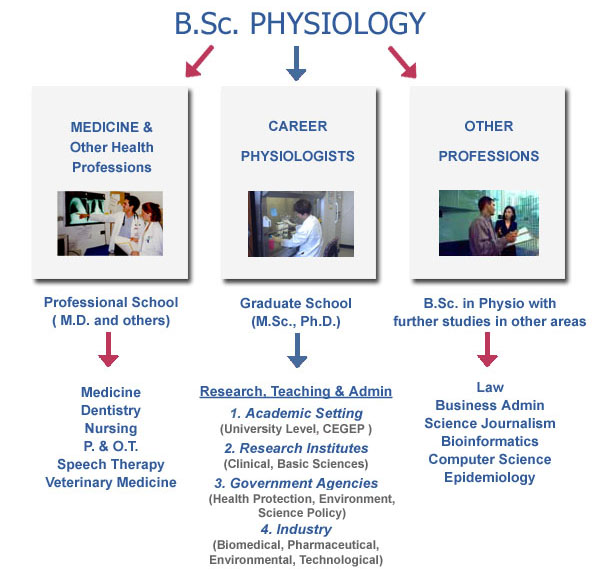 Other Employment Opportunities
For general employment opportunities, please refer to McGill CaPS (Career Planning Services)
www.mcgill.ca/caps
Information on post-graduate studies in medicine, dentistry and research
http://redbooks.sus.mcgill.ca/
Information on undergraduate summer research employment
http://research.sus.mcgill.ca/