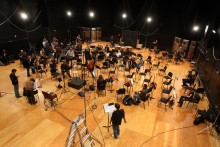 Music Multimedia Room
Compared to some of the world's best soundstages in Hollywood and Europe, the MMR is a floating box within an insulated building.  The only sounds heard in the room are those that are produced inside the room.
The MMR is one of the largest sound stages in North America and is highly sought after for film and orchestra recording.  Schulich students participate in rehearsals, performances, and recordings in this great space for music.
Depicted in the picture above, Kent Nagano of the Montreal Symphony Orchestra is overseeing the preparations for a recording of the MSO in the MMR.
In the coming years, the MMR's spaces will echo with the brilliance and artistry of those destined to be part of its story.
Address:
555 Sherbrooke Street West, Montreal, QC
Canada